"When you Google 'Plesiosaur,' Robin comes up pretty quickly."
---
Published in The Neuron – Winter 2018

---
O'Keefe, professor of biology at Marshall University, has dedicated his life to evolutionary biology and paleontology. A self-proclaimed "Air Force brat", he spent much of his adolescence hopping from base-to-base with his family before settling in Seattle. His interest in the natural world started young.
"Like a lot of little kids, I loved dinosaurs," O'Keefe said. "I had my first fossil collection in a cigar box when I was 9 or 10 years old. I mailed away this comic book for a 50 cent collection, got one of my dad's cigar boxes, drew little lines in the bottom of the box and put each fossil in its own little space. I wasn't just a typical kid who was into dinosaurs for a few years and then goes on to other things."
O'Keefe earned a Bachelor of Science in Biology from Stanford University and a Ph.D. in Evolutionary Biology from The University of Chicago. He spent three years editing  textbooks for Addison Wesley and six years at New York College of Osteopathic Medicine before an ideal job opened up at Marshall University. O'Keefe found his niche because of the school's dedication to research and teaching.
"Marshall values both of those things and I wanted that. I wanted to teach undergraduates. I wanted to have graduate students. I wanted to do research. I wanted to do it all. Finding a place where you can do that, and both are valued, is actually kind of rare."
A firm believer in the "publish or perish" paradigm, O'Keefe's work has been featured in numerous publications including scientific journals Science, Nature and Palaeontologia Electronica as well as media outlets NBC News, CBS News, BBC News, MSNBC, National Geographic, Scientific American, Smithsonian and The Guardian. O'Keefe has also lectured worldwide including a 2010 invitation to China for a symposium on Triassic marine  reptiles.
O'Keefe's most notable work was an August 2011 paper in the journal Science revealing that a 78-million-year-old plesiosaur fossil contained the bones of one large fetus. This discovery was the first evidence that plesiosaurs gave birth to live young instead of hatching multiple eggs.
"The reason that fossil kind of fell in my lap was because I was 'the Plesiosaur Guy.' I had published enough over the last ten years that when my colleague Luis Chiappe at the Natural History Museum of Los Angeles needed 'the Plesiosaur Guy' to work on this he called me."
The paper states that this plesiosaur birthing a baby of that size would be like a human female delivering a six-year-old. However, skeptics pointed out that this phenomenon could have been the result of cannibalism or the reptiles simply fell on top of each other before dying.
To further test the finding, O'Keefe turned to histology, a branch of anatomy that deals with the minute structure of animal and plant tissue. By testing the theory this way, questions like how big plesiosaur babies were at birth and whether they were warm-blooded or cold-blooded were answered. Examinations also showed stomach acid did not eat away at the infant's bones and some of those bones were actually inside of the mother's skeleton.
"The good news is that it all checks out. We take this histological approach and we come up with the same basic story that the females were giving birth to very big babies. That's exciting for me because you went from a completely different direction and different kind of data and you get the same answer."
O'Keefe's most recent research focuses on filter feeding of late Cretaceous plesiosaurs. In  2017, he and a team of South American researchers discovered whale-like feeding habits of the marine reptile using never before interpreted fossils from Antarctica. Their research has since been published in the Journal of Vertebrate Paleontology.
This recent success can be partially attributed to the John Deaver Drinko Academy at Marshall, which awarded O'Keefe the Drinko Distinguished Research Fellowship in 2013. The money assists with research and travel expenses.
"They've been very generous in supporting my work in South America. A lot of people at Marshall don't know about the Drinko Academy, but it's this fabulous foundation that supports Marshall's top-flight researchers. I'm gratified that they picked me and I'm gratified that they gave me this grant money and they've enabled me to do this research."
O'Keefe believes increasing similar funding at the federal level for the National Science Foundation and the National Institutes of Health would be beneficial, but many scientists fall short on selling the importance of their work.
"I think we have to do a better job of communicating what we've learned to the general public, our wonder at the scientific world, both our fears and our hopes of human impact on the natural world."
Passing that wonder on to the next generation and reminding adults of childlike curiosity could change the conversation around science in general.
"We need to be able to talk rationally about science and have a discourse and everyone needs to understand how science works. This thing that's happening now, this idea that my opinion is as good as your scientific knowledge is almost willful ignorance. Kids love science. We lose our fascination when we become adults."
O'Keefe's fascination still runs strong. The creatures that motivated an inquisitive child to build his own fossil collection keeps him inspired as an adult searching for lessons among the ancient bones.
"It just gives me a really deep sense of wonder. I think that if we can translate that sense of wonder to people, to kids and adults, we'll have a better audience when we want to
talk about climate change or global warming or other serious discussions that we need to have as a culture and as a species."
Published in The Neuron –
Winter 2018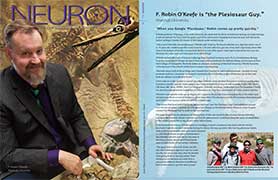 The Neuron is produced by West Virginia Science & Research (WVSR), a division of the West Virginia Higher Education Policy Commission. WVSR coordinates federal and state scientific research grants, including WVEPSCoR, to academic institutions in West Virginia and conducts outreach activities to broaden the public's understanding of science, technology, engineering and mathematics (STEM). Visit www.wvresearch.org for more information.