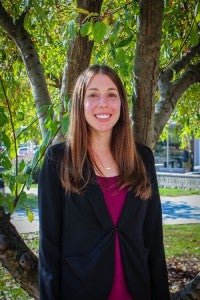 Rank
Associate Professor and Director of Digital Humanities
Educational Background
PhD English, University of Kansas, 2011
MA English, Ohio University, 2006
BA English and Philosophy, Baldwin-Wallace College, 2004
Interests and Specializations
Digital Humanities; American Literature, particularly 20th- and 21st-century literature; African American Literature; Posthumanism; Women and Gender Studies
About
Dr. Lillvis's research investigates issues of identity in diverse texts across a range of media, including works of electronic literature. Her book Posthuman Blackness and the Black Female Imagination explores future-focused visions of black women's identity and culture in neo-slave narratives by African American authors, including Toni Morrison, Gayl Jones, and Sherley Anne Williams. She argues that these writers set their stories in the past yet use their characters, particularly their women, to assert that the potential inherent in the future inspires black authority and resistance.
In her courses, which include Digital Literary Studies, Coding for the Digital Humanities, Contemporary American Literature, African American Literatures, Technology and the Evolution of Human Identity, and Posthumanism, Dr. Lillvis teaches electronic and traditional works of poetry, fiction, nonfiction, and speculative fiction, as well as graphic narratives and video games, by multicultural authors.
Selected Publications
Posthuman Blackness and the Black Female Imagination. Athens: U of Georgia P, 2017.
Community Boundaries and Border Crossings: Critical Essays on Ethnic Women Writers. Ed. Kristen Lillvis, Robert Miltner, and Molly Fuller. Lanham: Lexington, 2016. Transforming Lit. Stud. Ser.
"Mama's Baby, Papa's Slavery? The Problems and Promise of Mothering in Octavia E. Butler's 'Bloodchild.'" MELUS 39.4 (Winter 2014): 1-16.
"Becoming Self and Mother: Posthuman Liminality in Toni Morrison's Beloved." Critique: Studies in Contemporary Fiction 54.4 (2013): 452-64.
"Maternal Bodies and Posthuman Culture in Nalo Hopkinson's Midnight Robber." Feminist and Critical Perspectives on Caribbean Mothering. Ed. Dorsía Silva and Simone A. James Alexander. Trenton: Africa World P, 2013. 243-62.
"Essentialism and Constructionism in Octavia E. Butler's Fledgling." Practicing Science Fiction: Critical Essays on Writing, Reading and Teaching the Genre. Ed. Karen Hellekson, Craig B. Jacobsen, Patrick B. Sharp, and Lisa Yaszek. Jefferson, NC: McFarland, 2010. 168-82.