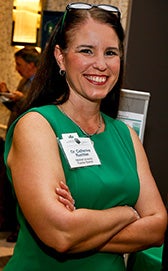 Catherine G. Rushton received a B.S. in Biological Sciences (1995) and a M.S. in Forensic Science (1997) from Marshall University.  She began teaching at MU's Forensic Science Graduate Program in 1997. Her courses include FSC 612 Forensic Microscopy and FSC 618 Comparative Sciences.
FSC 612 Forensic Microscopy is a hands-on course that allows students the opportunity to use a stereo, compound light, polarized light, and scanning electron microscopes. FSC 618 Comparative Sciences allows students to begin learning how to examine fingerprints, firearms, toolmarks, questioned documents, and more.
Her diverse research interests span palynology, fingerprints, and forensic science education.  In collaboration with Dr. D. Evans (retired), Catherine examined pollens of West Virginia.  She worked on the history and use of stains, optimization of media for preservation, and heat tolerances.  In collaboration with A. Maldonado, they created a procedure for the development of latent prints on both sides of adhesive tape simultaneously.
Over time, Catherine became curious about the way faculty members teach. She completed a Doctorate (2016) in Education at Marshall University. She discovered her passion for active learning pedagogies, particularly game-based learning.
---
<< Back to Faculty & Staff Contacts
---