Forensic Analysis of a Playstation® 3 'Slim' Model
Biography:
Elise Chom is from Fraser, Michigan.  She graduated from Michigan State University in 2009 where she received a Bachelors of Science in Biochemistry and Molecular Biology.  Elise is currently a graduate student at Marshall University where she is studying for a Masters degree in Forensic Science with emphases in computer forensics, forensic chemistry, and crime scene investigation. She completed her internship at Marshall University, specifically in the Marshall Information Security and Digital Evidence lab. Elise performed forensic research and analysis on a Sony Playstation® 3 'Slim' Model.
Abstract:
Gaming consoles have greatly advanced since the 1970s, with seventh generation game consoles including the Sony PlayStation® 3 (PS3) almost functioning as a personal computer. Because of this functionality, the PS3 can be used for activities beyond its intended use.  Investigating the PS3 'Slim' offers a unique challenge and this research was undertaken to uncover ways to retrieve evidence from a PS3.  Standard computer forensic protocol cannot be followed because each PS3 system has a unique encryption algorithm.  Without decryption, evidence retrieval must be done natively, via a USB flash drive, or through controller syncing.
Poster: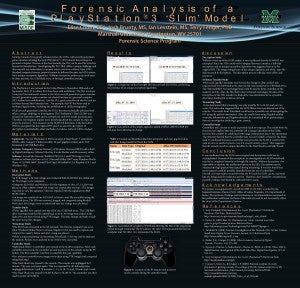 References:
Sony Computer Entertainment Inc. (n.d.). PlayStation®3 Worldwide Hardware Unit Sales. Retrieved from http://www.scei.co.jp/corporate/data/bizdataps3_sale_e.html
Potter, N. (2009, Mar 13). PlayStation sex crime: criminal used video game to get girl's naked pictures. Retrieved from http://abcnews.go.com/Technology/story?id=7009977&page=1
Turnbull, B. (2008). Forensic Investigation of the Nintendo Wii: A First Glance. Small Scale Digital Device Forensics Journal, 2(1). Retrieved from http://www.ssddfj.org/vol2_1.asp
Burke, P. K., Craiger, P. (2006). Xbox Forensics. Journal of Digital Forensic  Practice, 1(4), 275-282
Xynos, K., Harries, S., Sutherland, I., Davies, G., Blyth, A. (2010). Xbox  360: A digital forensic investigation of the hard disk drive. Digital Investigation, 6(3-4), 104-111.
Sony Computer Entertainment Inc. (n.d.). Playstation®3. Retrieved from http://us.playstation.com/ps3/
Conad, S., Dorn, G., & Craiger, J. P. (2009). Forensic analysis of a sony  playstation 3 gaming console. Proceedings of the 6th Annual conference of the international federation of information processing, Retrieved from http://consoleforensics.com/wp-content/uploads/2009/12/2009_Dorn_et_al_PS3.pdf