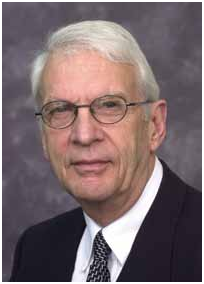 June 22, 1934 – December 12, 2017
Mack Henry Gillenwater was born in Crumpler, West Virginia, where received his early years of schooling at the local elementary school but graduated from Northfork High School in Northfork, WV in 1952. The fall of the same year he attended Emory and Henry College but later transferred to Marshall University where he graduated with a Bachelors of Arts degree in geography the spring of 1957. He continued in the program earning a Master of Arts degree in 1958, and quickly started his career as an educator serving the Logan and Wyoming county school systems for six years as a social studies teacher.
In 1965 he joined the academic ranks as an instructor at Pembroke State College, serving East Carolina University in the same capacity in 1966. As it is evident by his record, Dr. Gillenwater did not allow any gaps in his timeline, and then went on to pursue a PhD at The University of Tennessee-Knoxville. Under the supervision of Dr. Robert G. Long he served as a graduate teaching assistant his first year in the program, and in 1968 he returned to Marshall University to join the geography faculty as an assistant professor. His research culminated in 1972 with the successful defense of his dissertation where he examined the cultural and historical geography of mining settlements in the Pocahontas coal field of Southern West Virginia between 1880 and 1930. This seminal work identified four spatial morphologies of mining settlements and has been widely cited by multiple academics and books, just to name a few:
​Hard Places: Reading the Landscape of America's Historic Mining Districts
​Restoring Women's History Through Historic Preservation
S​​oft Coal, Hard Choices: The Economic Welfare of Bituminous Coal Miners
Appalachian Aspirations: The Geography of Urbanization and Development in the Upper  Tennessee River Valley, 1865–1900
​U.S. Steel and Gary, West Virginia: Corporate Paternalism in Appalachia
​Strategies for Survival: Women's Work in the Southern West Virginia Coal Camps
It becomes clear by this representative references, that Dr. Gillenwater's research is fundamental in the study of mining in Appalachia. His command of the subject allowed him to review books in this area and to be interviewed by prominent national outlets such as the Los Angeles Times and PBS regarding this subject. He was instrumental in the establishment, under the auspices of Congressman Nick Rahall, of the Coalways and Coal Mining Heritage projects designed to determine the feasibility of protecting and preserving significant cultural and historic sites associated with the coal mining heritage of southern West Virginia. He also coordinated a comprehensive study of historic preservation and tourism in the greater Huntington metropolitan area including Ashland, Kentucky and Ironton, Ohio. Additionally, he completed 10 historic preservation surveys for the West Virginia Department of Culture and History.
During his tenure in the Geography Department, Dr. Gillenwater served as interim chair of the department in 1983 and was an active participant in the Southeastern Division Association of American Geographers. He took students to multiple academic meetings, organized panels where he served as lead discussant, and served the organization as State Representative for West Virginia in 1992. During his 28 years of service to the university, he taught a variety of human geography courses and advised hundreds of undergraduate and graduate students. He participated in faculty exchange programs at the Universitas Nebrissenis in Madrid, Spain and at Beijing Normal University in China. He was awarded the 1995-1996 John Deaver Drinko Distinguished Fellowship to recognize his outstanding service and contributions to Marshall University faculty and to assist him in undertaking innovative curriculum reforms and promote his research and publications. Dr. Gillenwater was a member of the American Association of Geographers, the National Geographic Society, the National Council for Geographic Education, and the West Virginia Geographers' Association. He retired Professor Emeritus in 1996.