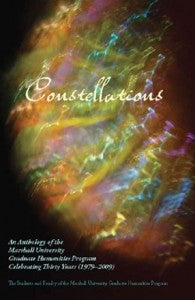 Our students and faculty take pride in the creative and intellectual process: as writers, artists, and thinkers. While seminars and independent study encourage both faculty and students to think through and dialogue about involved and complicated ideas, we also actively encourage one another to extend the life of the mind into the practice and joy of creative and scholarly dissemination. Publications and creative works engendered by those in our Program take a variety of forms, from books and articles by individual faculty and students to collaboratively produced exhibits, from our bi-annual newsletter to our recent "Occasional Publications of the Graduate Humanities Program" series. Working in the vein of scholarly and creative expression has been important to the Program since its inception in 1979 at the West Virginia College of Graduate Studies (for more on this history, see here.). Our very first graduate, for example, Dolly Sherwood ('80), published her revised thesis as Harriet Hosmer, American Sculptor, 1830-1908 (University of Missouri Press, 1991). To this day, we remain dedicated to the process and practice of expressing ourselves via a variety of media. Follow the links below for more information.
For more about Graduate Humanities, our Program newsletter published bi-annually without interruption since 1977, see here.
For more about student and faculty writings and creative work that have appeared in our "Occasional Publications of the Graduate Humanities Program" series, see here.
For more on faculty publications and creative works, see the websites of individual faculty, which can be accessed here.
For more on student projects, publications, and other creative works, see here.