Twin Towers East Residence Director

---
Hello Everyone,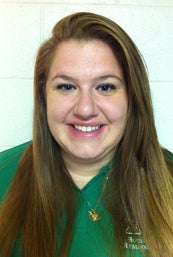 Welcome to Marshall University! My name is Sarah Martin and I am the Residence Director (RD) for Towers East. My staff and I are very excited about your arrival to Marshall University! There are tons of friendly faces ready to support you throughout the year. Besides myself, you will also meet the Resident Assistant (RA) staff, which consists of 14 RAs who are ready to assist you throughout the year and provide you with any resources you may need. We are here to help you in any way we can, create opportunities for you to grow, and provide a safe and enriching atmosphere in Towers East.
As a member of this community, you may find times where you have questions or concerns. Please feel free to ask any staff member or even stop by my office so that we can address your needs and concerns. My office is located behind the front desk on the first floor. You can ask someone at the desk if I am available, or you can check and see if my door is open.
Enjoy your time here at Marshall University. I encourage you to get involved in programs and events so that you can meet new people and gain new experiences. If you have an idea for a program, share it and hopefully we can make it happen.
Again, WELCOME to Marshall University and to Twin Towers East! I look forward to meeting everyone and having a wonderful year!!
GO Herd!
Sarah Martin