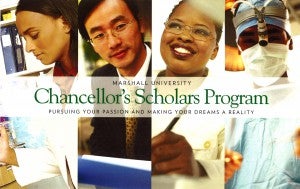 Orchestrated via Old Main 107, The Chancellor's Scholars Program, funded by Marshall University and the WV Higher Education and Policy Commission, seeks to recruit, educate and graduate underrepresented via minority doctoral students. Tuition, stipends and research assistance funds are available for all eligible candidates/students.
Programs a part of the Chancellor's Scholars Program include:
Biomedical Sciences, Ph.D.
Being a part of the Chancellor's Scholars Program offers participants:
Research Stipend
Research Opportunities
Professional Development Opportunities
Guidance and mentoring via Marshall University & Southern Regional Education Board