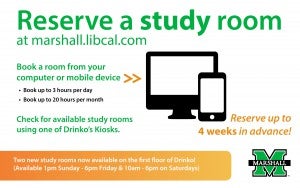 Drinko Library has added two new study spaces for students in the Drinko Study Center. The two rooms, originally set aside for scanning and special equipment, are now available as student study rooms 24 hours a day from 1 p.m. Sunday until 6 p.m. Friday and from 10 a.m. until 6 p.m. on Saturdays.
All spaces can be reserved by students online at marshall.libcal.com. Students are able to reserve rooms up to four weeks in advance and can reserve up to three hours per day, for a total of up to 20 hours per month.
"One of the primary concerns we've heard from SGA is the ability for students to have quiet study space during off-peak hours," said Jody Perry, Executive Director, Technology Services. "Now, students will have access to study spaces whenever the building is open."
As a reminder – Drinko Library hours can be found at www.marshall.edu/library/hours/drinko.aspx.
Renovations are currently underway for the new MUOnline Design Center on the second floor of Drinko Library. The Drinko Library Collaboration Room (DL 234) will be converted into office space for the design center staff and no longer available to students. The staff lounge is also being renovated for the new design center.