Pushing Marshall Forward through technology innovation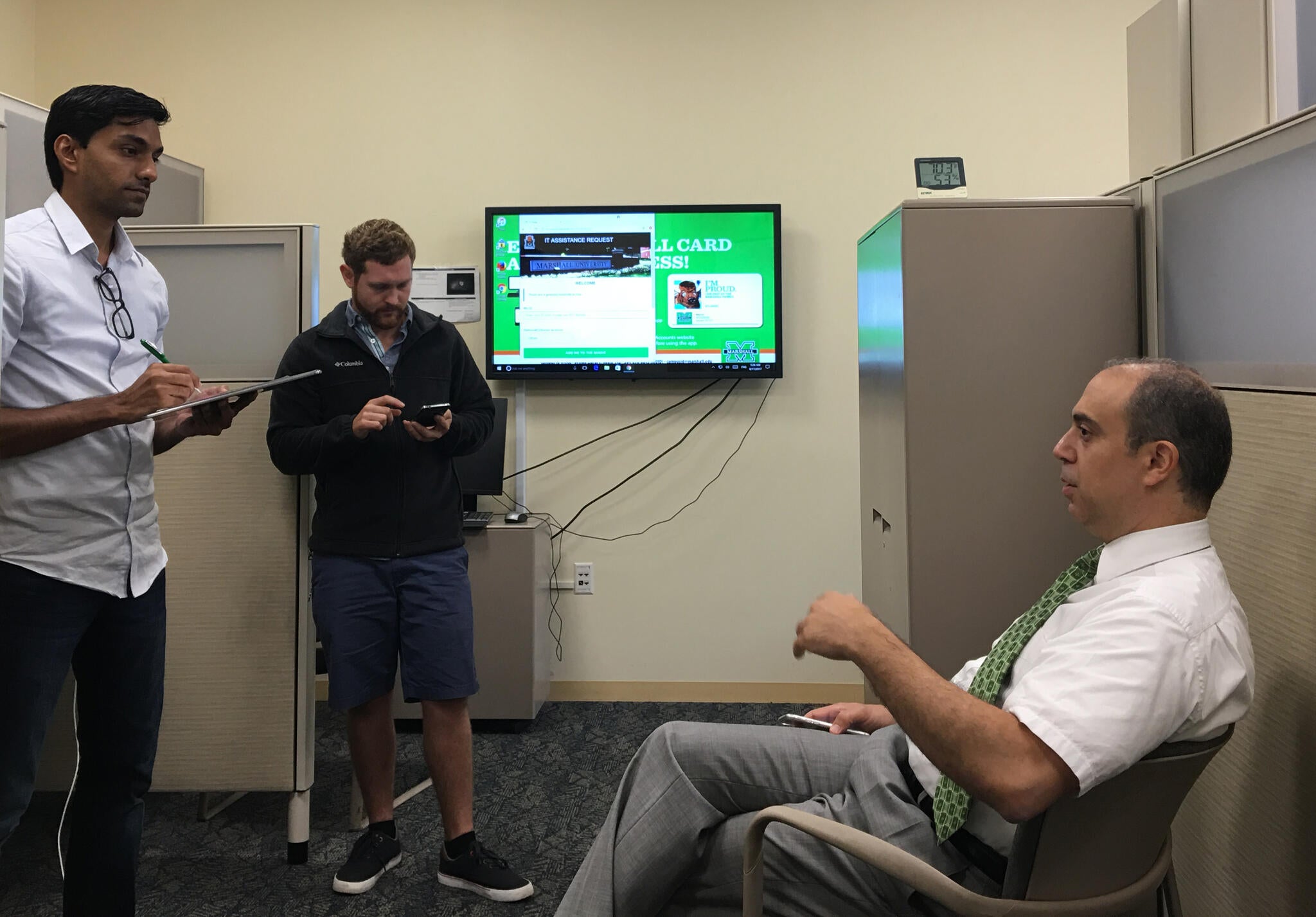 Part of Marshall University Information Technology, the Technology Innovation, Exploration & Research Lab is staffed by student interns, contributing to various projects to improve student and staff experience across the entire University.
Active Projects
Our students are hard at work to innovate the way you interact with Marshall University IT. Learn more about all the active projects.
| Project Name | Description | Student Team | Status |
| --- | --- | --- | --- |
| Service Desk Queue Manager | Visitors to the IT Service Desk will be able to pre-populate basic information by tapping their MUID on a reader to sign in. Additionally, the IT Service Desk will be able to take schedule appointments for visits. | Robert Gaum, Yigitcan Celik | Ongoing |
| Computer Usage Analytics | Usage analytics will be provided for Drinko Library computers to gather when the most users are signed on, and which computer is in use. Using this data, we will be able to image and perform updates at the times when usage is low to prevent interruption. | Yigitcan Celik | Ongoing |
| Facial Recognition System | Using facial recognition, we will be able to gather more data about experiences in the library, and who is in restricted rooms and when. This will provide a layer of security and analytical data for our use. | Shahid Ali | Completed |
| Chatbot | Using artificial intelligence, the IT Chatbot Assistant will be available to assist students and staff with various troubleshooting scenarios. | Yangbo Song | Ongoing |
| Social Media Marketing | Special event planning for campus outreach to Marshall Students regarding MUIT services. | Carolyn Ball, Kristin Salustro | Ongoing |
Our Team
Our student team has a diverse set of skills and backgrounds. Learn more about themselves and their passions. View previous interns here.
Student Interns

Carolyn Ball

Adam D'Alessandro
Carolyn is a sophomore pursuing her B.B.A. in Marketing, and is anticipating to graduate in May 2020. She is the TIER Lab Marketing intern, responsible for utilizing various social media outlets and event coverage to promote MUIT services. Carolyn is very involved on campus and maintains officer positions in her sorority, Marshall's Panhellenic Council, and the Student Recreation Council. Carolyn enjoys spending time with family, friends, and all things Marshall!
Adam is a military veteran and has spent time living all over the country and traveling the world. He is a Digital Forensics student in his third year. He is the oldest of five brothers and sisters. In his free time, he enjoys the gym and playing Xbox one. Home for him is Colorado. He is hoping that the knowledge he learned in the USAF will translate into something on the civilian side.

Preston McNair

Kevin Mullins
Preston graduated in May 2018 with a bachelors in Digital Forensics & Information Assurance. Preston serves as a Student Assistant in Information Technology assisting the interns with any logistical needs they may have. Preston is also a member of Google's Top Contributor Program and serves as a Trusted Flagger and Policy Ambassador for YouTube. He is passionate about information security, the Internet of Things, consumer electronics, and digital media.
Kevin Mullins was a senior pursuing his degree in CIT. He loves spending time tinkering with anything electronic and playing video games. He is an avid League of Legends and Player Unknown's Battlegrounds player. He also love college football, Go Herd! Kevin has since been hired by Marshall University IT as a Student Assistant in networking.

Owen Guilliams

Yangbo Song
Owen is a Junior Digital Forensics and Information Assurance major expected to graduate in May 2019. He is a member of the Marshall University Chamber choir and Marching band, and serves as the Secretary of Phi Mu Alpha Sinfonia Zeta Eta Chapter. In his free time he plays video games such as Player Unkown's Battlegrounds, CS:GO, Overwatch, and R6S.
Yangbo is a Graduate Student pursuing his Masters in Business Administration. However, he has already received his Masters of Science degree in computer science in Marshall University in May 2016. Yangbo serves as a Student Assistant and collaborator in the Information Technology team. Because Yangbo has a strong curiosity about network-related technology, he is working hard in the network area. Yangbo is a Certified Cisco Network Associate (CCNA), Certified Cisco Network Professional (CCNP), and Internet of Things.

Yigitcan Celik

Kristin Salustro
Yigitcan is a Graduate Student pursuing his M.S. degree in Computer Science, expecting to graduate in May, 2018. He is originally from Turkey. He has graduated from Istanbul Technical University (ITU) with a Bachelor degree in Computer Engineering. He mainly has experience on web development but also enjoys developing mobile applications.
Kristin is a senior pursuing her B.B.A. in Marketing, and is expected to graduate in May 2018. She is currently the TIER Lab Marketing intern, responsible for social media outlets and event coverage. Kristin is very involved on campus, maintaining membership to various clubs and organizations including the American Marketing Association. Her interests include various forms of Internet and promotions marketing, as well as involvement in philanthropic efforts.

Leh Osborne

Nicholas Price
Leh is currently a senior pursuing his Bachelor's Degree in Digital Forensics and Information Assurance. His interests are information security and forensics. When he is not sitting in class or hanging with my friends, you can find him at the Marshall Rec Center where he works as a Facility Manager. His main goal is to leave a positive impact wherever he ends up. "Believe you can and you're halfway there." — Theodore Roosevelt
Nicholas is a junior in Computer Information Technology. He's always been interested in how things work ever since he was young.He is a sports fan, and his favorite team is the Cincinnati Reds.

Alymbek Damir Uulu

Frederick Pierson
Alymbeck is a sophomore and an international student at Marshall. His current major is Computer Science. He is here from Kyrgyzstan, a small country in Central Asia. He started programming when he was 14 y.o. He enjoys reading Agatha Christie's detective books. He is interested in Blockchain technology.
Frederick is a senior Computer Information Technology major expected to graduate in May 2019. Passionate about programming and eager to learn, he began developing programs for his graphing calculator when he was only 9. Although experienced with desktop, web, and mobile programming, he continues to read about and learn new technologies regularly. He is also a Society of Physics Students member, helping his club program an autonomous robotic boat for entry in the Roboboat competition. In his spare time, he enjoys playing old-school first-person-shooters such as Doom, Quake, and Unreal.

Scarlett Scarberry

Jared Lewis
Scarlett is a junior CIT major expected to graduate in December of 2019. She is passionate about web design, web functionality, and the application of programs to improve user interface. Her hobbies include reading, volunteering for her Church, exploring the outdoors, spending time with family, and making life changes. Her goal is to continue stepping out of her comfort zone, challenging herself, and growing to serve others – life is full of change for those who are willing!
Jared Lewis is a junior Computer Science student expected to graduate in May 2019. He has lived in West Virginia for all of his life and is
very passionate about Marshall University. Jared is skilled in software development, programming and cyber-security. In his spare time, he loves to play instruments such as guitar or piano and play video games with his friends. After he graduates, he hopes to apply his skills to help develop applications for the local businesses in West Virginia.

Shahid Ali
Shahid recently received his Master's Degree in Computer Science and he is originally from India. He works as a Programming Analyst for Marshall University and he is also a part of our TIER Lab. Shahid has his focus more on data science and programming but he believes that "The world is a book and those who do not travel read only one page." – Augustine of Hippo. This quote reflects his ideology.
Become part of the Intern Team!