Pushing Marshall Forward through technology innovation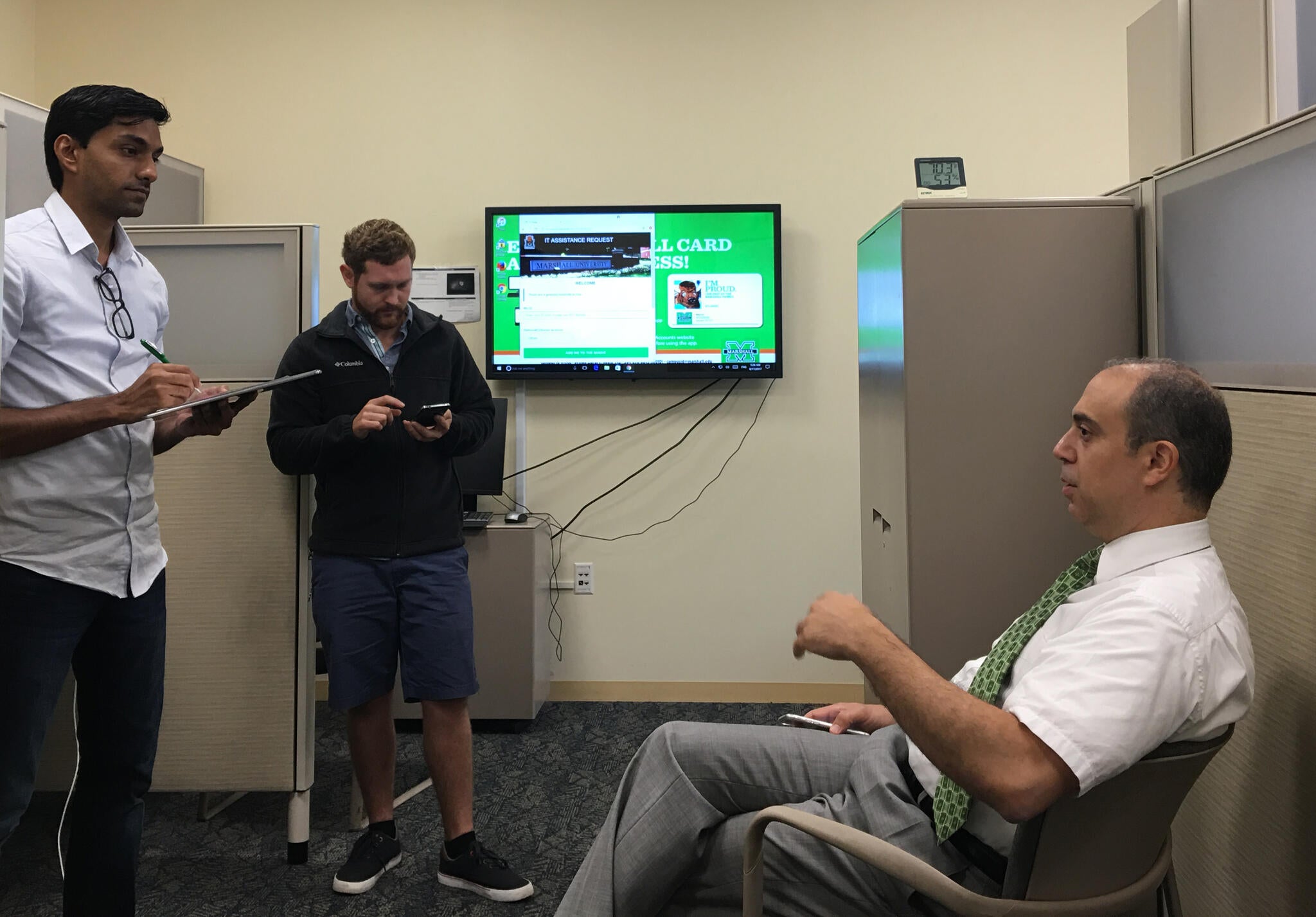 Part of Marshall University Information Technology, the Technology Innovation, Exploration & Research Lab is staffed by student interns, contributing to various projects to improve student and staff experience across the entire University.
Active Projects
Our students are hard at work to innovate the way you interact with Marshall University IT. Learn more about all the active projects.
| Project Name | Description | Student Team |
| --- | --- | --- |
| Service Desk Queue Manager | Visitors to the IT Service Desk will be able to pre-populate basic information by tapping their MUID on a reader to sign in. Additionally, the IT Service Desk will be able to take schedule appointments for visits. | Robert Gaum, Gang Yang, Shahid Ali |
| Computer Usage Analytics | Usage analytics will be provided for Drinko Library computers to gather when the most users are signed on, and which computer is in use. Using this data, we will be able to image and perform updates at the times when usage is low to prevent interruption. | Robert Gaum, Gang Yang, Shahid Ali |
| Facial Recognition System | Using facial recognition, we will be able to gather more data about experiences in the library, and who is in restricted rooms and when. This will provide a layer of security and analytical data for our use. | Shahid Ali |
| Chatbot | Using artificial intelligence, the IT Chatbot Assistant will be available to assist students and staff with various troubleshooting scenarios. | Yangbo Song |
Our Team
Our student team has a diverse set of skills and backgrounds. Learn more about themselves and their passions.
Student Interns
| | | |
| --- | --- | --- |
| Shahid Ali | | Robert Gaum |
| Shahid is pursuing his Master's Degree in Computer Science and he is originally from Pune, India. He works as a Graduate Assistant for Marshall Artists Series. He is a member of Golden Key International Honor Society at Marshall University. His focus is more on data analytics and information technology services but he believes that "The world is a book and those who do not travel read only one page." ― Augustine of Hippo. This quote reflects his ideology. | | Robert Gaum is a Graduate Student at Marshall University. He is pursuing his M.S. degree in Computer Science and is entering his final year. His passion is web development while using a wide array of technologies. He is originally from South Africa, where he grew up. He moved to the USA at the end of his high school career, before attending Marshall for his undergraduate studies in Computer Science. |
| | | |
| Preston McNair | | Kevin Mullins |
| Preston is a senior Digital Forensics and Information Assurance major expected to graduate in May 2018. Preston serves as a Student Assistant in Information Technology assisting the interns with any logistical needs they may have. Preston is also a member of Google's Top Contributor Program and serves as a Trusted Flagger and Policy Ambassador for YouTube. He is passionate about information security, the Internet of Things, consumer electronics, and digital media. | | Kevin Mullins is a senior pursuing his degree in CIT. He loves spending time tinkering with anything electronic and playing video games. He is an avid League of Legends and Player Unknown's Battlegrounds player. He also love college football, Go Herd! He spent his entire summer as an intern for Marshall and has enjoyed his time |
| | | |
| Gang Yang | | Yangbo Song |
| Gang Yang is a Graduate Student in computer science, expecting to graduate with a masters in computer science in May 2018. He is passionate in all areas of computing and believes that technology drives the world. He graduated from Chongqing Jiaotong University with a bachelors degree in Geographic Information Systems. He is currently performing research with regards to system and website design. | | Yangbo is a Graduate Student pursuing his Masters in Business Administration. However, he has already received his Masters of Science degree in computer science in Marshall University in May 2016. Yangbo serves as a Student Assistant and collaborator in the Information Technology team. Because Yangbo has a strong curiosity about network-related technology, he is working hard in the network area. Yangbo is a Certified Cisco Network Associate (CCNA), Certified Cisco Network Professional (CCNP), and Internet of Things. |
| Yigitcan Celik | | Kristin Salustro |
| Yigitcan is a Graduate Student pursuing his M.S. degree in Computer Science, expecting to graduate in May, 2018. He is originally from Turkey. He has graduated from Istanbul Technical University (ITU) with a Bachelor degree in Computer Engineering. He mainly has experience on web development but also enjoys developing mobile applications. | | Kristin is a senior pursuing her B.B.A. in Marketing, and is expected to graduate in May 2018. She is currently the TIER Lab Marketing intern, responsible for social media outlets and event coverage. Kristin is very involved on campus, maintaining membership to various clubs and organizations including the American Marketing Association. Her interests include various forms of Internet and promotions marketing, as well as involvement in philanthropic efforts. |
Become part of the Intern Team!