Pushing Marshall Forward through Technology Innovation
Part of Marshall University Information Technology, the Technology Innovation, Exploration & Research Lab is staffed by student interns, contributing to various projects to improve student and staff experience across the entire University.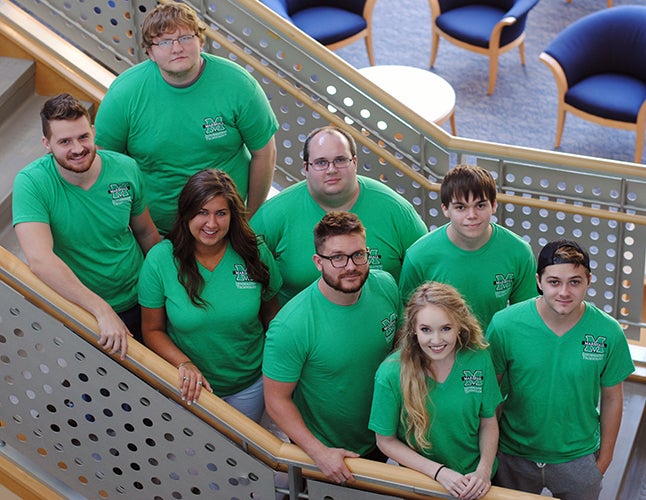 Projects
Our students are hard at work to innovate the way you interact with Marshall University IT. Learn more about all the active projects.
Project
Description
Student Team
Service Desk Queue Manager
Visitors to the IT Service Desk will be able to pre-populate basic information by tapping their MUID on a reader to sign in. Additionally, the IT Service Desk will be able to take schedule appointments for visits.
Robert Gaum, Yigitcan Celik
Computer Usage Analytics
Analytics will be provided for Drinko Library computers to gather when the most users are signed on, and which computers are in use. Additionally, a computer availability map was built into the MUMobile App.
Yigitcan Celik
Facial Recognition System
Using facial recognition, we will be able to gather more data about experiences in the library, and who is in restricted rooms and when. This will provide a layer of security and analytical data for our use.
Shahid Ali
Social Media Marketing
Special event planning for campus outreach to Marshall Students regarding MUIT services
Carolyn Ball
Additionally, students can also be paired with a team within Information Technology to assist with various
projects. These students report to a manager in which assignments are given.
---
Meet Our Interns…
Our student team has a diverse set of skills and backgrounds. Learn more about themselves and their passions.
| Intern | Photo | Biography | Team |
| --- | --- | --- | --- |
| Andrew Leveridge | | | General IT Team |
| Caleb Arbaugh | | Caleb is a senior CIT major originally from Phillippi, West Virginia. To go along with his CIT degree, he will also have an Information Assurance certification upon graduation. He has always been intrigued by innovative technology. "Being a disabled nerd, I have adapted to an independent lifestyle solely by learning/crafting different ways I could utilize the power of computer functionality", Caleb says. His priority in life is focused on improving the lives of others and using his knowledge to make someone else's life easier. Caleb also enjoys staying busy around campus. He is a member and the Scholastic Chairman of his fraternity, Lambda Chi Alpha. He is the National Communications Coordinator and Holderby Hall Representative for Marshall University's Residence Hall Association. Caleb does everything he can to make our campus as accessible as possible for individuals with disabilities. He looks forward to improving the Marshall community with this awesome group of interns! | General IT Team |
| Frederick Pierson | | Frederick is a senior Computer Information Technology major expected to graduate in May 2019. Passionate about programming and eager to learn, he began developing programs for his graphing calculator when he was only 9. Although experienced with desktop, web, and mobile programming, he continues to read about and learn new technologies regularly. He is also a Society of Physics Students member, helping his club program an autonomous robotic boat for entry in the Roboboat competition. In his spare time, he enjoys playing old-school first-person-shooters such as Doom, Quake, and Unreal. | General IT Team |
| Gage Childers | | Gage is a Senior Digital Forensics and Information Assurance major. He is part of the infosec interns and is working with IT Administration as well. Gage is a member of Lambda Chi Alpha and serves as the High Beta. He enjoys learning new tools and software to better his future. | Information Securities Team |
| Griffin Perry | | Griffin is a freshman Digital Forensics Information Assurance Major with interests in Web Development. He is a member of Lambda Chi Alpha and serves as the Treasurer. In his spare time he works with Hackers for Charity and the Collegiate Cyber Defense Competition team on campus.  | General IT Team |
| Jacob Vaughan | | Jacob is a West Virginia native and is currently enrolled at Marshall for Digital Forensics and Information Assurance. He expects to graduate in 2020. He loves to program, work with network defense and offense, play video games, and solve puzzles (Rubik's Cubes are his favorite). | MU ID Office Team |
| Jason Lambert | | Jason is originally from Elkins, WV. He is currently working towards his BBA in Management Information Systems (MIS). Jason is quite involved on campus as he is apart of the MU Film Club and a brother of Alpha Sigma Phi. He is very interested in technology design and design programs. He is looking forward to getting IT experience and learning more about the field from our employees! | Digital Media Team |
| Nicholas Price | | Nicholas is a junior in Computer Information Technology. He's always been interested in how things work ever since he was young.He is a sports fan, and his favorite team is the Cincinnati Reds. | General IT Team |
| Peter Estephan | | Peter was born and raised in Lebanon until the age of 27. He received his B.S. in Computer Communication Engineering at AUL University in 2015. A few years later in 2018, he moved to the US and started working towards his double major degree in Electrical and Computer Engineering here at Marshall. Now, his tentative graduation date is set for 2020. His professional background is based in IT, leadership, and customer service. His favorite hobby is working out and he also enjoys skiing and reading.  | General IT Team |
| Scarlett Scarberry | | Scarlett is a junior CIT major expected to graduate in December of 2019. She is passionate about web design, web functionality, and the application of programs to improve user interface. Her hobbies include reading, volunteering for her Church, exploring the outdoors, spending time with family, and making life changes. Her goal is to continue stepping out of her comfort zone, challenging herself, and growing to serve others – life is full of change for those who are willing! | General IT Team |
| Shawn Kay | | | |
| Tyler Waugh | | Tyler Waugh is a junior from Lesage, West Virginia with a major of Computer and Info Tech pursuing his bachelors Degree. He is a web development TIER Lab intern. Tyler enjoys playing basketball in his spare time, going to as many Marshall sporting events as he can, and also enjoys being with friends and family! | General IT Team |
Click this link to learn more about our previous interns!
Click this link to learn more about our INTO interns!
Become part of the Intern Team!