Pushing Marshall Forward through Technology Innovation
Part of Marshall University Information Technology, the Technology Innovation, Exploration & Research Lab is staffed by student interns, contributing to various projects to improve student and staff experience across the entire University.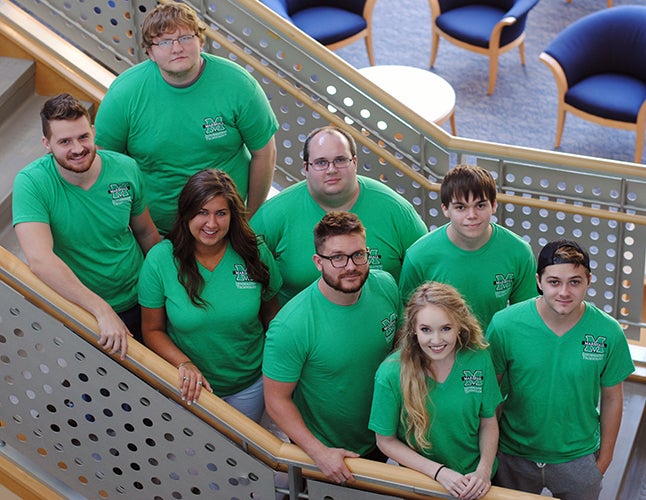 Projects
Our students are hard at work to innovate the way you interact with Marshall University IT. Learn more about all the active projects.
Project
Description
Student Team
Service Desk Queue Manager
Visitors to the IT Service Desk will be able to pre-populate basic information by tapping their MUID on a reader to sign in. Additionally, the IT Service Desk will be able to take schedule appointments for visits.
Robert Gaum, Yigitcan Celik
Computer Usage Analytics
Analytics will be provided for Drinko Library computers to gather when the most users are signed on, and which computers are in use. Additionally, a computer availability map was built into the MUMobile App.
Yigitcan Celik
Facial Recognition System
Using facial recognition, we will be able to gather more data about experiences in the library, and who is in restricted rooms and when. This will provide a layer of security and analytical data for our use.
Shahid Ali
Social Media Marketing
Special event planning for campus outreach to Marshall Students regarding MUIT services
Carolyn Ball
Additionally, students can also be paired with a team within Information Technology to assist with various
projects. These students report to a manager in which assignments are given.
---
Meet Our Interns…
Our student team has a diverse set of skills and backgrounds. Learn more about themselves and their passions.
Intern
Name
Biography

Kamron Aminzadeh-Jouyomi

General IT Team

Kamron is a Junior majoring in Digital Forensics and Information Assurance with a minor in Criminal Justice. He is also a member of the Collegiate Cyber Defense Club and works as a Resident Advisor here on campus. He has a passion for video games, learning more about others, and making positive change in the world. He plans on graduating in May, 2021 and would like to attend the Master's Program in Cyber Forensics and Defense here at Marshall University.

Carolyn Ball

Marketing Team

Carolyn is a sophomore pursuing her B.B.A. in Marketing, and is anticipating to graduate in May 2020. She is the TIER Lab Marketing intern, responsible for utilizing various social media outlets and event coverage to promote MUIT services. Carolyn is very involved on campus and maintains officer positions in her sorority, Marshall's Panhellenic Council, and the Student Recreation Council. Carolyn enjoys spending time with family, friends, and all things Marshall!
 
Izzy Bennett

General IT Team

Izzy Bennett is a Junior at Marshall working towards their degree in Computer Information Technology: Game Design and Simulation. Driven to develop innovative projects for good Izzy wants to learn more about the world of tech outside of their gaming world. Originally from Wheeling WV, Izzy wants to do the most with themselves that they possibly can. Izzy is the President of the Marshall Game Guild, has volunteered at GDC, and wishes they had the money to do academia forever. Beyond an interest in gaming tech, Izzy is interested in Internet Of Things tech, in single board microcontrollers, and in micro-computers. They can't wait for the VR/AR revolution!

 
Jacob VaughanMUID Office Team
Jacob is a West Virginia native and is currently enrolled at Marshall for Digital Forensics and Information Assurance. He expects to graduate in 2020. He loves to program, work with network defense and offense, play video games, and solve puzzles (Rubik's Cubes are his favorite).

Jason Lambert

Digital Media Team

Jason is originally from Elkins, WV. He is currently working towards his BBA in Management Information Systems (MIS). Jason is quite involved on campus as he is apart of the MU Film Club and a brother of Alpha Sigma Phi. He is very interested in technology design and design programs. He is looking forward to getting IT experience and learning more about the field from our employees!

Peter Estaphan

General IT Team

Peter was born and raised in Lebanon until the age of 27. He received his B.S. in Computer Communication Engineering at AUL University in 2015. A few years later in 2018, he moved to the US and started working towards his double major degree in Electrical and Computer Engineering here at Marshall. Now, his tentative graduation date is set for 2020. His professional background is based in IT, leadership, and customer service. His favorite hobby is working out and he also enjoys skiing and reading.

Taylor Patterson

General IT Team

Taylor is a junior from Berkeley Springs, WV. He is currently studying Management Information Systems along with a minor in Computer Science. Taylor is a first year member of the Marshall Cheerleading program as well as Sergeant at Arms for his fraternity, the Kappa Alpha Order.
Click this link to learn more about our previous interns! Click this link to learn more about our INTO interns!
Become part of the Intern Team!