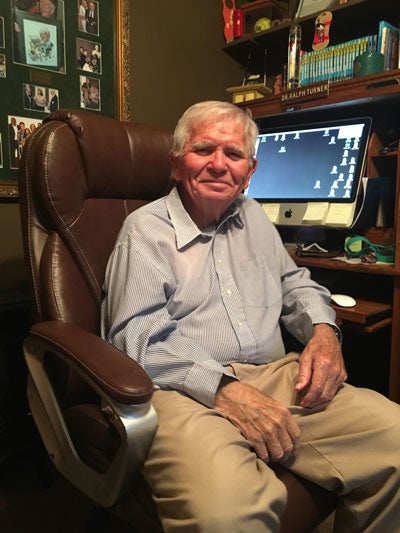 Ralph J. Turner is a veteran journalist and journalism educator with 46 years of professional and academic experience.  Ten years as a professional journalist combined with 36 years as a university professor and leadership achievements on campus and the community have provided the maturity, background and competence to serve successfully in a variety of challenging situations.
Special strengths include a high level of energy, effectiveness in working with professional journalists for program support, knowledge of curriculum development, use of computers for publication production, ethics of mass communication, classroom teaching, dedication to dealing with change, success in a number of leadership situations and outstanding credentials as a writer, reporter, editor and designer of print publications.
EDUCATIION
Ph.D.(Mass Communication/Journalism)
Ohio University, Athens, OH
1982
M.A.J. (Journalism)
Marshall University, Huntington, WV
1969
B.A. (Journalism)
Marshall University, Huntington, WV
1967
Also attended Rochester (NY) Institute of Technology to study graphics.
1971
EXPERIENCE
August, 2003-May 2006: Professor emeritus, W. Page Pitt School of Journalism & Mass Communications, Marshall University, Huntington, WV.
Faculty Emeritus status was granted on retirement as a full-time professor, Marshall University.  The University's distinguished Service Award was presented in recognition of his service to the university.
Continued work conducting workshops for students and professionals relating to ethics, editing, writing and publication design.  Frequent writing of magazine articles for Huntington Quarterly, Marshall magazine and St. Mary's Medical Center magazine.
1985-2003:  Professor, W. Page Pitt School of Journalism & Mass Communications, Marshall university, Huntington, WV
Teaching responsibilities included mass communications ethics, mass communications research and methodology, newspaper editing and design, advanced reporting, public affairs reporting, graphics of communications, public relations, magazine editing, thesis direction, independent study and journalism internships.  Co-Adviser to the student chapter of the Society of professional journalists, selected twice as the outstanding chapter in the nation.  Director of Marshall University's Journalism Internship program that was cited as a model for other universities.
Summers of 1984, 1985, 1986, 1987, 1988 and 1989:  Office of University Relations, Marshall University, Huntington, WV
Responsibilities included magazine article writing, magazine design, writing news releases, editing university newsletter, slide show script writing, development of materials for multi-million dollar endowment campaign and researched, wrote and designed the university's official 180-page Sesquicentennial book. work completed was parrt of a public relations program selected as best in West Virginia.
Summers of 1985 and 1986:  Design director and consultant to The Wayne County News, West Virginia's larges weekly newspaper.
1983-85: Associate professor and magazine sequence head, School of Journalism, Media & Graphic Arts, Florida A&M University, Tallahassee, FL.
Teaching responsibilities included publication editing and design; magazine article writing, magazine layout and design; magazine management, and principles of magazines.  Also conducted workshops in writing and design for professional and student groups in Miami, Orlando, Gainesville, St. Petersburg, Jacksonville, Pensacola and Tallahassee.
1969-83: W.Page Pitt School of Journalism, Marshall University, Huntington WV.  Promoted from instructor to assistant professor and the associate professor.
Courses taught were beginning reporting, advanced reporting, feature writing, editorial writing, pblic relations publications, beginning copy editing, advanced copy editing, school publications, graphics of communication, public affairs reporting, in-depth reporting, theory of mass communication special topics, magazine editing and production and magazine editorial practices.  Adviser to the student daily newspaper, adviser to student magazines, acting co-chairman for the department of one year.
Also conducted workshops and seminars for professional and student groups in publication writing and design; frequently judged regional and national contest in areas of writing and design.
Summer 1972:  Editor of The Wayne County News, West Virginia's largest weekly newspaper.
The newspaper won top award in the state for page one news and design work done by Turner.
1967-69:  Full-time professional adviser to The Parthenon, award winning student daily newspaper at Marshall University.
The newspaper increased publication from twice weekly to four times a week during this period.
1960-67:
Two and one-half years as a reporter and feature writer at The Charleston (WV) Gazette, and five years with The Herald-Dispatch and Huntington Advertiser, daily newspaper in Huntington, WV, as crime reporter, city hall reporter, federal government reporter, county government reporter, court reporter, feature writer, assistant regional editor, and statehouse reporter covering the governor and Legislature.
SOME REPRESENTATIVE STUDENT COMMENTS FROM COURSE EVALUATIONS:
"An overall fantatsic instructor.  Makes learning fun."
"Dr. Turner has strong knowledge of subject matter and has a real ability to communicate with students."
"I have had D. Turner for several classes and I have enjoyed them all.  He always goes above and beyond the call of duty to help -- not just in course work, but also with students' personal problems."