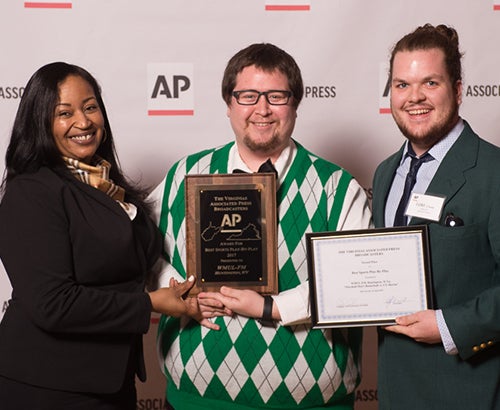 Students from Marshall University's public radio station, WMUL-FM, received two first place awards and two second place awards in the metropolitan classification during the fifth annual "The Virginias" Associated Press Broadcasters awards ceremony April 21 at The Greenbrier in White Sulphur Springs, West Virginia.
For the first time, the university's radio station competed in the Radio I/Metropolitan Division with the major commercial and noncommercial radio stations from throughout the two states, said Dr. Chuck G. Bailey, professor of radio-television production and management in the W. Page Pitt School of Journalism and Mass Communications at Marshall and faculty manager of WMUL-FM.
"Winning the 2017 Outstanding Sports Operation of the Virginias and Best Sport Play-by-Play first place awards are an amazing accomplishment, considering that the FM 88 Sports Staff and sports anchor/reporter Luke Creasy did this while competing against veteran broadcasting professionals working for all the major news/sports talk radio stations across both West Virginia and Virginia," Bailey said. "WMUL-FM was named the Outstanding Sports Operation for the ninth time since 1985. The last times in 'The Virginias' were for 2016 and 2014. The other years were for just West Virginia in 1990, 1991, 1994, 2000, 2005 and 2010.
"Overall, this four total award effort helps to build upon another successful year and demonstrates the value of this campus radio station to Marshall University, the College of Arts and Media and the W. Page Pitt School of Journalism and Mass Communications."
The two first-place station and individual award-winning entries were:
Outstanding Sports Operation for the Virginias, which went to the FM 88 sports staff led by Luke Creasy, a senior from Huntington and the 2017 WMUL-FM sports director. "It's great to hear such extensive sports operations for radio in 2018," the judges said in their comments. "It's not the case everywhere anymore. And love the enthusiasm from everybody. Clearly passionate about your stuff."
Best Sports Play-by-Play, recognizing WMUL-FM's broadcast of Marshall football versus North Carolina State University played at Carter-Finley Stadium in Raleigh, North Carolina on Sept. 9, 2017. The students calling the football game broadcast over FM 88.1 were announcer Adam Rogers, a graduate student from Milton; and Creasy, the color commentator. Bailey, faculty manager who served as analyst/on-site producer, as well as engineer Spencer DuPuis, a sophomore from Leesburg, Virginia, were recognized as well. "Any contest entry which includes the phrase 'smack dab' is a winner. Automatically. You guys sound great," the judges said in their comments.
The two second-place award-winning entries were:
Best Sports Play-by-Play for the broadcast of Marshall men's basketball versus University of Tennessee-Martin played at the Cam Henderson Center in Huntington on Nov. 10, 2017. Students involved in calling that men's basketball game broadcast over FM 88.1 were Rogers, Creasy, and engineer Marquez Davila, a senior from Sterling, Virginia.
Best Sports Anchor, earned by Creasy for a compilation of work he wrote and announced during the "5:00 p.m. Edition of Newscenter 88" throughout 2017.
——-
Photo: From left to right are Starr Talley, Associated Press Director-Local Markets; Adam Rogers, WMUL-FM Student Manager and Luke Creasy, WMUL-FM Sports Director.