Message from the Director

---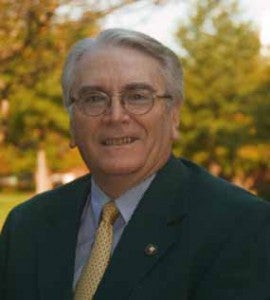 The June Harless Center has been very fortunate to have developed partnerships over the past thirteen years that have provided valuable experiences that will be embedded in the Cabell County pre-k – 5 Incubator School.  The educational journey has been profound in providing lessons for us to build upon to establish an educational research center for the state of West Virginia.  The analogy of such a center would be based on the medical model of the Cleveland Clinic – the research center (Incubator School) will become the "Cleveland Clinic of Education." Not every hospital needs to be the Cleveland Clinic, but every hospital needs a Cleveland Clinic to visit and learn the most effective strategies and techniques for medical care.  The Incubator will serve as a location for an educational "residential" program for educators to spend a period of time learning the most effective strategies and techniques for educational care.  After the residency program is completed and the educators return to their school site, the June Harless Center staff will support their efforts in replicating what they have experienced.  I believe that this process will transform how professional development is conducted in the years to come.
Phase one of the journey included our work at Kellogg Elementary in Wayne County.  We learned the value of embedded professional development on a weekly basis; the value of teacher and administrator leadership; the value of international and foreign language studies for Appalachian children; and the value of an immediate and effective response to intervention program.
Phase two of the journey involved the contractual agreements with Innovation Zone schools and Priority schools.  We learned the value of purpose-driven professional development that results from the Harless  Retrofit: Strengthening schools to excel in the 21st century process for identifying unique needs of a school or school system.
These learning and transformational phases are depicted in the graphic on the right.  Click on the graphic to see more detail regarding the phases.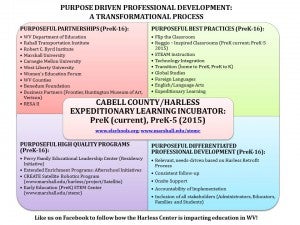 The graphic demonstrates how our lessons learned have combined into creating a Cabell County/Harless Center Expeditionary Learning Incubator.
The June Harless Center and Marshall University continue to explore opportunities to serve the educators and students of West Virginia.  The quality of any effort is tremendously enhanced when collaboration and synergy are a part of the equation.  The June Harless Center is positioned to continue the present partnerships and to forge new ones to meet future needs in the educational venue.