In September 2011, an official partnership was established between Marshall University's June Harless Center and Carnegie Mellon University's CREATE Lab. This partnership provides the June Harless Center's network of rural Appalachian schools continuous and seamless access to technologies and ideas generated at the CREATE Lab in Pittsburgh.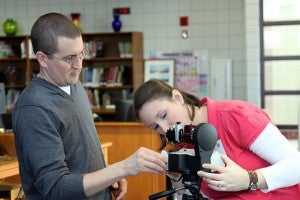 As a CREATE Lab satellite, the June Harless Center has brought a rural network, not otherwise accessible or familiar to the lab's existing outreach team. to the table as meaningful co-participants involved in shaping future technology not yet created.  Projects currently being disseminated include GigaPan, Arts & Bots, Children's Innovation Project and Message from Me.  GigaPan enables students to take panoramic images of their communities and activities and share them with peers across the world.   Arts and Bots integrate technology, literature, and history through the use of familiar art supplies, circuit boards, lights, motors and sensors.  Students design, build, and program robots that tell the stories of literary and historical characters and events while promoting technological literacy and informal learning.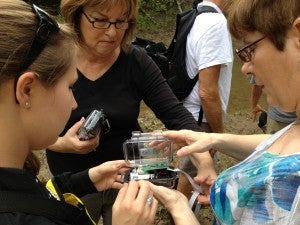 The Children's Innovation Project aims to engage young children in exploration and innovation with technology. Children explore and learn about electricity and simple circuits through hands-on engagement with a kit of components designed for young hands. Message From Me enables young children to better communicate with parents and caretakers about their daytime activities at childcare centers through the use of digital cameras, microphones, email, phone messaging and other technologies.
According to Dror Yaron, Director of Outreach for the CREATE Lab,  the partnership has been invaluable.  "We are fortunate to have the team at the June Harless Center bring their educational expertise to our team and empower educators to see the potential in community robotics education.  Besides the educational value, they area also making the programs locally relevant for West Virginia and representing rural West Virginia as a partner in the development process of our technologies, providing feedback and meeting needs every step of the way. "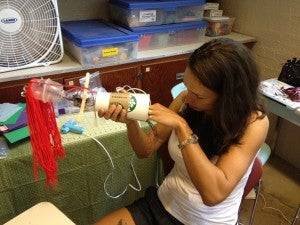 As a result of this successful partnership funded by the Claude Worthington Benedum Foundation, students and teachers in Cabell, Wayne, Lincoln, Putnam, Kanawha, Mason, Mingo, Logan, Randolph, and Nicholas have participated in cutting edge technology and professional development not otherwise accessible in their communities.  The Harless CREATE satellite has also teamed with the Huntington Museum of Art to offer Arts & Bots professional development and summer camps with plans for future expansion.
The CREATE satellite model has recently grown to include West Liberty University, West Virginia University, Carlow University in Pittsburgh and ASSET STEM Education.  This network of interstate universities and organizations shows a promising future in the way that pre-service and in-service teachers are prepared using engaging, hands-on technologies that promote critical thinking as well as citizen scientists.