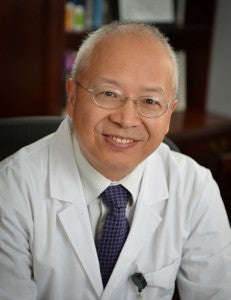 Zijian Xie, Ph.D.
Director
Dr. Zijian Xie was named director of the Marshall Institute for Interdisciplinary Research in November 2013.
His laboratory is internationally recognized for its groundbreaking work to understand the behavior of cellular pathways and their relationship to cancer, renal disease and cardiac failure.
Xie holds international patents and patent applications on seven medical inventions resulting from his research. He has served as principal investigator, project leader or co-investigator on National Institutes of Health-funded projects totaling more than $10 million, and has established active international collaborations with total funding of more than $1 million. He has been involved with the creation of two spin-off companies from his research.
He is the author or co-author of more than 100 articles published in scientific journals, has authored a number of book chapters and has been invited to give numerous presentations as part of national and international conferences, symposia, seminars and visiting professorships. He serves as a regular member of NIH study sections and has chaired and co-organized several international symposia.
Dr. Xie came to Marshall from the faculty of the University of Toledo's College of Medicine, where he was a professor of physiology, pharmacology and medicine, and served as the co-director of the M.D./Ph.D. program.
He earned a bachelor's degree from the Nanjing College of Pharmacy in Nanjing, China, in 1982, a master's degree in toxicology at the Chinese Academy of Medical Sciences in Beijing in 1984 and a doctorate in pharmacology at the Medical College of Ohio (now University of Toledo) in 1990.
Training
B.S., Pharmacy, 1982, Nanjing College of Pharmacy, Nanjing, P.R. China
M.S., Toxicology, 1984, Chinese Academy of Medical Sciences, Beijing, P.R. China
Ph.D., Pharmacology, 1990, Medical University of Ohio, Toledo, OH
Appointments
Director, Marshall Institute for Interdisciplinary Research, Marshall University, 2013-present
Professor of Medicine, Department of Medicine, University of Toledo College of Medicine, Health Science Campus, 2005-2013
Professor of Department of Physiology and Pharmacology, University of Toledo College of Medicine, Health Science Campus, 2005-2013
Associate Professor of Medicine, Medical University of Ohio, 2001-2005
Associate Professor of Pharmacology and Therapeutics, Medical College of Ohio, 2000-2005
Assistant Professor of Pharmacology and Therapeutics, Medical College of Ohio, 1996-1999
Research Assistant Professor of Pharmacology and Therapeutics, Medical University of Ohio, 1992-1996
Instructor of Pharmacology and Therapeutics, Medical College of Ohio, 1991-1992
Postdoctoral Fellow, Departments of Pharmacology and Pathology, Medical University of Ohio, 1990-1991
Research Interests
Molecular mechanism of membrane transported-mediated signal transduction
Development of novel agonists and antagonists of receptor Na+/K+-ATPase
Renal and cardiac physiology of endogenous cardiotonic steroids
Representative Publications
Li, H. and Xie, Z. (1995): Molecular cloning of two rat Na+/Pi cotransporters: Evidence for differential tissue expression of transcripts. Cell. Mol. Biol. Res. 41, 451-460.
Xie, Z., Wang, Y., Liu, G., Zolotarjova, N., Periyasamy, S.M., and Askari, A. (1996): Similarities and differences between the properties of native and recombinant Na+/K+-ATPases. Arch. Biochem. Biophys. 330, 153-162.
Li, H., Ruch, R., Ren, P., Onwochei, M.O., and Xie, Z. (1996): Regulation of rat Na+/Pi cotransporter-1 gene expression: The roles of glucose and insulin. Am. J. Physiol. 271:E1021-E1028.
Huang, L., Li, H., and Xie, Z. (1997): Ouabain-Induced hypertrophy in cultured cardiac myocytes is accompanied by changes in expressions of several late response genes. J. Mol. Cell. Cardiol. 29, 429-437.
Askari, F., Hitomi, Y., and Xie, Z. (1997): Augmentation of ouabain sensitivity of liver Na/K-ATPase by adenovirus-mediated in vivo expression of the Na/K-ATPase alpha2 gene. FEBS Lett. 405, 5-10.
Huang, L., Kometiani, P., and Xie, Z. (1997): Differential regulation of NaK-ATPase alpha-subunit isoform gene expressions in cardiac myocytes by ouabain and other hypertrophic stimuli. J. Mol. Cell. Cardiol. 29:3157-3167.
Kometiani, P., Li, J., Gnudi, L., Kahn, B.B., Askari, A., and Xie, Z. (1998): Multiple signal transduction pathways link Na+/K+-ATPase to growth- related genes in cardiac myocytes: The roles of ras and mitogen-activated protein kinases. J. Biol. Chem. 273:15249-15256.
Xie, Z., Kometiani, P., Liu, J., Li, J., Shapiro, J.I., and Askari, A. (1999): Intracellular reactive oxygen species mediate the linkage of Na+/K+- ATPase to hypertrophy and its marker genes in cardiac myocytes. J. Biol. Chem. 274:19323-19328.
Xie, Z., Li, H., Kahn, B.B., Najjar, S.M., and Shah, W. (2000): Metabolic regulation of Na+/Pi-cotransporter-1 gene expression in H4IIE cells. Am. J. Physiol. Endocrinol. Metab. 278, E648-E655.
Haas, M., Askari, A., and Xie, Z. (2000): Involvement of Src and epidermal growth factor receptor in the signal transducing function of Na+/K+-ATPase. J. Biol. Chem. 275, 27832-27837.
Liu, J., Tian, J., Haas, M., Shapiro, J.I., Askari, A., and Xie, Z. (2000): Ouabain interaction with cardiac Na+/K+-ATPase initiates signal cascades independent of changes in intracellular Na+ and Ca2+ concentrations. J. Biol. Chem. 275, 27838-27844.
Kometiani, P., Tian, J., Li, J., Nabih, Z., Gick, G., and Xie, Z. (2000): Regulation of Na/K-ATPase beta1-subunit expression by ouabain and other hypertrophic stimuli in neonatal rat cardiac myocytes. Mol. Cell. Biochem. 215, 65-72.
Kometiani, P., Askari, A., Liu, J., Xie, Z., and Askari, F.K. (2001): Downregulation of cardiac myocyte Na+/K+-ATPase by adenovirus-mediated expression of an alpha-subunit fragment. Am. J. Physiol. Heart Circ. Physiol. 280, H1415-H1421.
Tomita, M., Irwin, K.I., Xie, Z., and Santoro, T.J. (2002): Tea pigments inhibit the production of type I (TH1) and type 2 (TH2) helper T cell cytokines in CD4+ cells. Phytother. Res.16, 36-42.
Xie, Z., Kometiani, P., Liu, J., Haas, M., and Tian, J. (2000): Na/K-ATPase as a signal transducer: Regulation of growth-related pathways by cardiac glycosides. in Na/K-ATPase and Related ATPase, K. Taniguchi and S. Kaya, Eds., Excerpta Medica Internat. Congress Series 1207, Elsevier, Amsterdam.
Xie, Z. (2001): Ouabain interaction with cardiac Na/K-ATPase reveals that the enzyme can act as a pump and a signal transducer. Cell. Mol. Biol. 47:383-390.
Tian, J., Gong, X., and Xie, Z. (2001): Signal transducing function of Na+/K+-ATPase is essential for ouabain's effect on intracellular Ca2+ in rat cardiac myocytes. Am. J. Physiol. 281, H1899-H1907.
Mohammadi, K., Kometiani, P., Xie, Z.J., and Askari, A. (2001): Role of protein kinase C in the signal pathways that link Na+/K+-ATPase to ERK 1/2. J. Biol. Chem. 276, 42050-42056.
Haas, M., Wang, H., Tian, J., and Xie, Z. (2002): Src-mediated interreceptor cross-talk between the Na/K-ATPase and the EGF receptor relays the signal from ouabain to mitogen-activated protein kinases. J. Biol. Chem. 277, 18694-18702.
Xie, Z. and Askari, A. (2002): Na+/K+-ATPase as a signal transducer. Eur. J. Biochem. 269, 2434-2439.
Tian, J., Liu, J., Shapiro, J.I., Garlid, K., and Xie, Z. (2003): Involvement of mitogen-activated protein kinases and reactive oxygen species in the inotropic action of ouabain on cardiac myocytes. A potential role for mitochondrial KATP channels. Mol. Cell. Biochem. 242, 181-187.
Mohammadi, K., Liu, L., Tian, J., Kometiani, P., Xie, Z., and Askari, A. (2003): The positive inotropic effects of ouabain on the isolated heart is accompanied by the activation of signal pathways that link Na/K-ATPase to ERK1/2. J. Cardiovasc. Pharmacol. 41, 609-614.
Liu, L., Mohammadi, K., Aynafshar B., Wang, H., Li D., Liu J., Ivanov, AV., Xie, Z., and Askari, A. (2003): Role of caveolae in the signal transducing function of cardiac Na+/K+-ATPase. Am. J. Physiol. Cell Physiol. 284, C1550-C1560.
Xie, Z.J. and Cai, T. (2003): Na+-K+-ATPase-mediated signal transduction: From protein interaction to cellular function. Molecular Interventions 3, 157-168.
Xie, Z.J., Tian, J., and Cai, T. (2003): Mini molecule page documentation for AfCS protein A002647. AfCS Nature.
Kennedy, D., Omran, E., Periyasamy, S.M., Nadoor, J., Priyadarshi, A., Willey, J.C., Malhotra, D., Xie, Z., and Shapiro, J.I. (2003): Effect of chronic renal failure on cardiac contractile function, calcium cycling and gene expression of proteins important for calcium homeostasis in the rat. J. Am. Soc. Nephrol. 14, 90-97.
Priydarshi, S., Valentine, B., Han, C., Fedorova, O.V., Bagrov, A.Y., Liu, J., Periyasamy, S.M., Kennedy, D., Malhotra, D., Xie, Z., and Shapiro, J.I. (2003): Effect of green tea extract on cardiac hypertrophy following 5/6 nephrectomy in the rat. Kidney Int. 63, 1785-1790.
Xie, Z. (2003): Molecular mechanism of Na/K-ATPase-mediated signal transduction. Annals N.Y. Acad. Sci. 986, 497-503.
Liu, J., Kesiry, R., Periyasamy, S.M., Malhotra, D., Xie, Z., and Shapiro, J.I. (2004): Ouabain induces endocytosis of plasmalemmal Na/K-ATPase in LLC-PK1 cells by a clathrin-dependent mechanism. Kidney Int. 66, 227-241.
Wang, H., Haas, M., Cai, T., Tian, J., Liang, M., Li, S., and Xie, Z. (2004): Ouabain assembles signaling cascades through the caveolar Na+/K+-ATPase. J. Biol. Chem. 279, 17250-17259.
Liu, J., Liang, M., Liu, L., Malhotra, D., Xie, Z., and Shapiro, J.I. (2005): Ouabain induced endocytosis of the plasmalemmal Na/K-ATPase in LLC-PK1 cells requires caveolin-1. Kidney Int. 67, 1844-1854.
Periyasamy, S.M., Liu, J., Tanta, T., Kabak, B., Wakefield, B., Malhotra, D., Nadoor, O., Fedorova, O.V., Gunning, W., Xie, Z., Bagrov, A.Y., and Shapiro, J.I. (2005): Salt loading induces redistribution of the plasmalemmal Na/K-ATPase proximal tubule cells. Kidney Int. 67, 1868-1877.
Yuan, Z., Cai, T., Tian, J., Turner, D.A., Ivanov, A.V., Giovannucci, D.R., and Xie, Z. (2005): Na/K-ATPase tethers phospholipase C and IP3 receptor into a signalplex in response to ouabain in LLC-PL1 cells. Mol. Biol. Cell 16, 4034-4045.
Xie, Z. and Xie, J. (2005): The Na/K-ATPase-mediated signal transduction as a target for new drug development. Frontiers Biosci. 10, 3100-3109.
Tian, J., Cai, T., and Xie, Z-J. (2005): Na+/K+-ATPase alpha 1 subunit. AfCS-Nature Signaling Gateway (A002647).
Tian, J., Cai, T., Yuan, Z., Wang, H., Liu, L., Haas, M., Maksimova, E., Huang, X-Y., and Xie, Z. (2006): Binding of Src to Na+/K+-ATPase forms a functional signaling complex. Mol. Biol. Cell 17, 317-326.
Oweis, S., Wu, L., Kiela, P.R., Zhao, H., Malhotra, D., Ghishan, F.K., Xie, Z., Shapiro, J.I., and Liu, J. (2006): Cardiac glycoside downregulates NHE3 activity and expression in LLC-PK1 cells. Am. J. Physiol. Renal Physiol. 290, F997-F1008.
Liang, M., Cai, T., Tian, J., Qu, W., and Xie, Z-J. (2006): Functional characterization of Src-interacting Na/K-ATPase using RNA interference assay. J. Biol. Chem.281(28), 19709-19719.
Kennedy, D.J., Vetteth, S., Xie, M., Periyasamy, S.M., Xie, Z., Han, C., Basrur, V., Federov, V., Mutgi, K., Malhotra, D., and Shapiro, J.I. (2006): Ouabain decreases sarcoplasmic calcium ATPase (SERCA2a) activity in rat hearts by a process involving protein oxidation. Am. J. Physiol. Heart 291, H3003-H3011.
Liu, L., Li, J., Yuan, Z., Pierre, S., Qu, W., Zhao, X., and Xie, Z. (2006): Involvement of Na,K-ATPase in hydrogen peroxide-induced hypertrophy in cardiac myocytes. Free Rad. Biol. Med. 41:1548-1556.
Pierre, S.V. and Xie, Z.-J. (2006): The Na,K-ATPase Receptor Complex: Its Organization and Membership. Cell Biochem Biophys. 46(3):303-316.
Pierre, S.V., Yang, C., Yuan, Z., Seminerio, J., Mouas, K., Dos Santos, P., and Xie, Z.J. (2007): Ouabain triggers preconditioning through activation of the Na+,K+-ATPase signaling cascade in rat hearts. Cardiovasc Res. Feb 1;73(3), 488-96. Epub 2006 Nov 6.
Liang, M., Tian, J., Liu, L., Pierre, S., Shapiro, J., and Xie, Z-J. (2007): Identification of a pool of non-pumping Na/K-ATPase. J. Biol. Chem. 282, 10585-10593.
Cai, H., Wu, L., Qu, W., Malhotra, D., Xie, Z., Shapiro, J.I., and Liu, J. (2008): Regulation of apical NHE3 trafficking by ouabain-induced activation of the basolateral Na+-K+-ATPase receptor complex. Am. J. Physiol. Cell. Physiol. 294, C555-C563.
Kennedy, D.J., Elkareh, J., Shidyak, A., Shapiro, A.P., Samili, S., Mutgi, K., Gupta, S., Tian, J., Morgan, E., Khouri, S., Cooper, C.J., Periyasamy, S.M., Xie, Z., Malhotra, D., Fedorova, O.V., Bagrov, A.Y., and Shapiro, J.I. (2008): Partial nephrectomy as a model for uremic cardiomyopathy in the mouse. Am. J. Physiol. Renal Physiol. 294, F450-F454.
Li, D., Yang, C., Chen, Y., Tian, J., Liu, L., Dai, Q., Wan, X., and Xie, Z. (2008): Identification of a PKC{varepsilon}-dependent regulation of myocardial contraction by epicatechin-3-gallate. American Journal of Physiology (Heart) 294(1):H345-353.
Li, Z, and Xie, Z. (2008): The Na/K-ATPase/Src complex and cardiotonic steroid-activated protein kinase cascades.Pflugers Arch. (Feb.) DOI. 10.1007/s00424-008-0470-0.
Cai, T., Wang, H., Chen, Y., Liu, L., Gunning, W.T., Quintas, L.E.M., and Xie, Z.-J. (2008): Regulation of caveolin-1 membrane trafficking by the Na/K-ATPase. Journal of Cell Biology 182 (6):1153-1169, 2008. Editorial Review by Mitch Leslie, Journal of Cell Biology.
El-Okdi, N., Smaili, S., Raju, V., Shidyak, A., Gupta, S., Fedorova, L., El-Kareh, J., Periyasamy, S., Shapiro, A.P., Kahaleh, M.B., Malhotra, D., Xie, Z., Chin, K.V., and Shapiro, J.I. Effects of cardiotonic steroids on dermal collagen synthesis and wound healing. J Appl Physiol. 2008 Jul;105(1):30-6.
Tian, J. and Xie, Z.J. (2008): The Na-K-ATPase and calcium-signaling microdomains. Physiology (Bethesda). Aug;23:205-11. Review.
Li, Z. and Xie, Z. (2009): The Na/K-ATPase/Src complex and cardiotonic steroid-activated protein kinase cascades. Pflugers Arch. 2009 Jan; 457(3):635-44. Review.
El-kareh, J., Periyasamy, S.M., Shidyak, A., Vetteth, S., Schroeder, J., Raju, V., Hariri, I.M., El-Okdi, N., Gupta, S., Fedorova, L., Liu, J., Fedorova, O.V., Kahaleh, M.B., Xie, Z., Malhotra, D., Watson, D.K., Bagrov, A.Y., and Shapiro, J.I. (2009): Marinobufagenin induces increases in procollagen expression in a process involving protein kinase C and Fli-1: implications for uremic cardiomyopathy. Am J Physiol Renal Physiol. May; 296(5):F1219-26.
Tian, J., Li, X., Liang, M., Liu, L., Xie, J.X., Ye, Q., Kometiani, P., Tillekeratne, M., Jin, R., and Xie, Z. (2009): Changes in Sodium Pump Expression Dictate the Effects of Ouabain on Cell Growth J Biol Chem. May 29; 284(22):14921-9.
Chen,Y., Cai, T., Wang, H., Li, Z., Loreaux, E., Lingrel, J,B., and Xie, Z. (2009): Regulation of intracellular cholesterol distribution by Na/K-ATPase. J Biol Chem. 2009 May 29; 284(22):14881-90.
Wansapura, A.N., Lasko, V., Xie, Z., Fedorova, O.V., Bagrov, A.Y., Lingrel, J.B., and Lorenz, J.N. (2009): Marinobufagenin enhances cardiac contractility in mice with ouabain-sensitive a1 Na+-K+-ATPase. Am J Physiol Heart Circ Physiol. Jun; 296(6):H1833-9.
Li, Z., Cai, T., Tian, J., Xie, J.X., Zhao, X., Liu, L., Shapiro, J.I., Xie, Z. (2009) NaKtide, a Na/K-ATPase-derived peptide Src inhibitor, antagonizes ouabain-activated signal transduction in cultured cells. J Biol Chem. Jun 8. [Epub ahead of print]