Dr. Marty Laubach, Associate Professor & Chair of the Department of Anthropology & Sociology

---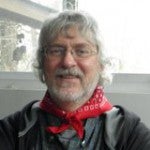 Dr. Laubach received his Ph.D. in Sociology from Indiana University in 2002. He specializes in work and organizations, social psychology, knowledge and science. His basic research interest focuses on how people construct social realities from lived experiences. In the workplace, this translates into consent and informal organization.
Dr. Laubach's prior career (1978-1994) was in Information Systems in both the public and private sectors. He worked as a Data Specialist for Indiana University's School of Public and Environmental Affairs, Division of Public Service (1978-1979); as a Data Analyst for the Marion County IN Metropolitan Development Department, Planning and Zoning Division (1979-1982); as a Data Processing Manager for the City of Bloomington, IN (1982-1989); as a Data Processing Manager for The Associated Group/U.S.B.P.I. (1989-1990); as a manager in the Indiana University Student Computing Centers (1990-1994); and a database administrator and consultant for the General Acceptance Corporation (1995-1999).

Contact
Email