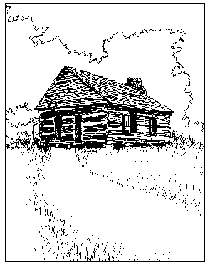 Old Main, the administration building at Marshall University, stands on a site once known as Maple Grove. A small log building erected there in the early part of the 1800's was called Mount Hebron Church – used by many denominations.
Marshall traces its origin to 1837 when residents of the community of Guyandotte, then part of Virginia, and the farming region nearby turned their attention to providing better educational facilities for their sons and daughters. According to tradition, they met at the home of local lawyer John Laidley, planned their school, and named it Marshall Academy in honor of a friend of Laidley's, the late Chief Justice of the United States John Marshall. They chose Maple Grove as the site for their school. It had been the site of a three-month subscription school as well as the church. It remained a subscription school for another term.
On March 30, 1838, the Virginia General Assembly formally incorporated Marshall Academy. Its first full term was in 1838-1839. For decades the fledging school faced serious problems, most of them financial. The Civil War forced it to close for several years, but in 1867 the now West Virginia Legislature renewed the school's vitality by creating the State Normal School of Marshall College to train teachers. This eased Marshall's problems somewhat, but it was not until the tenure of President Lawrence J. Corbly, 1896-1915, that the college began its real growth. In 1907, enrollment surpassed 1,000.