We Are Marshall Today
2000-Present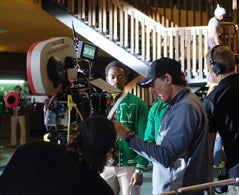 In April 2006 filming for "We Are Marshall" began in Huntington. For three weeks the film crew worked on MU's campus and at other locations throughout Huntington. Scenes were filmed in the Morrow Library, the Memorial Student Center, Twin Towers, and a variety of outdoor campus locations.
Members of the Marshall community, as well as town's people, served as extras in a number of the scenes. It was an exciting and heady time—when Hollywood came to Marshall University.