Monday, Dec. 5, 2011
---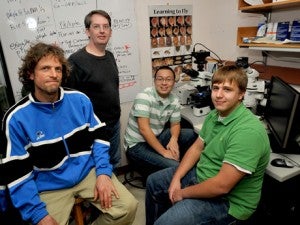 HUNTINGTON, W.Va. – Two area high school students working in the lab of Dr. Simon Collier at Marshall University are receiving national recognition for their research.
The students, Nathan N. Wang and Jared M. Galloway, are seniors at Fairland High School in Proctorville, Ohio. They have been working in Collier's lab since summer 2010 with Marshall graduate student David Neff on a project to explore the function of a rubber–like protein, resilin, in insect flight.
Research in Collier's lab focuses on the genetic control of the basic developmental processes of the fruit fly Drosophila melanogaster. According to Collier, Drosophila has been studied for more than 100 years because the organism has many genes and genetic pathways similar to humans. An associate professor of biology at Marshall, Collier is considered a pioneer in the field.
Neff, who is overseeing the students' research, said, "This is an important project because not only has it increased our understanding of insect flight, is also has potential implications for the design of biotechnological devices and possibly tissue implants, which could employ molecularly engineered protein sheets."
Wang and Galloway were nationally recognized for their research in October, when they were named semifinalists in the 2011 Siemens Competition in Math, Science & Technology. The highest science honor awarded to American high school students, the award is sponsored by the Siemens Foundation. Their project was one of only three from Ohio to reach the national semifinals.
Earlier this year, their project earned them superior ratings at the Fairland Schools Local Science Fair, the Ohio Academy of Science District 14 Science Day and the Ohio Academy of Science State Science Day, where they were recognized with the Sigma Xi Interdisciplinary Research Award presented by the Ohio State University chapter of the scientific research society.
Collier said, "Nathan and Jared are indeed outstanding young students with very bright futures ahead of them. They are doing exemplary research in our lab and I'm looking forward to watching where their academic careers take them."
The research was supported with funding from the National Science Foundation and the NASA West Virginia Space Grant Consortium.
For more information, contact Collier at (304) 696-6111 or simon.collier@marshall.edu.
Photo Caption:  Fairland High School students Nathan Wang, third from left, and Jared Galloway, far right, have been named semifinalists in the 2011 Siemens Competition in Math, Science & Technology for their research conducted at Marshall University. They are shown here with Marshall graduate student David Neff, left, and Dr. Simon Collier, associate professor of biology.
---
Contact:  Ginny Painter, Communications Director, Marshall University Research Corporation, 304.746.1964
---
Related:
High school students do research at Marshall [WV Public Radio:  Dec. 12, 2011]
Fairland seniors take honors for research work [Ironton Tribune:  Dec. 8, 2011]