Thursday, Sept. 22, 2011
---
HUNTINGTON, W.Va. – Marshall University doctoral student J. Adam Hall and faculty member Dr. Philippe T. Georgel have collaborated to write a chapter for a new book focusing on RNA processing in animal and plant cells.
Their chapter describes the interaction between RNA splicing and chromatin, and appears in the book "RNA Processing," which was edited by Paula Grabowski and published in August. The book is freely available online through open access publisher InTech.
In describing their research, Hall explains that RNA, or ribonucleic acid, acts as the "middle man" of molecular biology. DNA, or deoxyribonucleic acid, is the carrier of basic genetic information. A cell uses DNA to make RNA, which in turn makes proteins.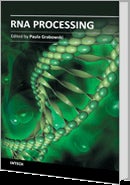 Hall says that alterations to RNA can have a significant influence on the type and/or amount of protein produced, creating crucial differences in the identity of the cell and how it functions. The study of these modifications caused by factors outside of the DNA sequence itself is known as "epigenetics."
"Factors and mechanisms involved in the epigenetic regulation of gene expression and protein production have been linked to a variety of human diseases and developmental disorders," said Hall. "Furthering the knowledge of these epigenetic processes and the factors involved, including the information we highlighted for this publication, will be a crucial component of translating scientific advances into potential medical breakthroughs down the road."
Georgel added, "In recent years, a much better understanding of gene regulation has lead to many important breakthroughs in the fields of cellular differentiation, development and disease. The specific mechanism of regulation we describe in this chapter has never been reported before in any biological system, so we think it could be an important contribution to the existing body of work."
A native of Crown City, Ohio, Hall received his bachelor's degree in molecular biology from Marshall in 2005 and started his doctoral studies in 2006. He finished his graduate coursework with a 4.0 grade point average and was awarded the Biomedical Sciences program's top award for academic performance in 2007 and research performance in 2008. In 2009, Hall became the first Marshall student to receive the prestigious National Institutes of Health Ruth L. Kirschstein Pre-doctoral Fellowship, which provided two years of support totaling more than $70,000. He will complete his Ph.D. in December and plans to continue his scientific career in the field of epigenetics, with a focus on translational research.
Georgel is a professor of biological sciences and director of Marshall's Cell Differentiation and Development Center. He has been at Marshall since 2002.
The complete chapter is available at http://www.intechopen.com/source/pdfs/18456/InTech-The_worlds_of_splicing_and_chromatin_collide.pdf.
For more information, contact Georgel at georgel@marshall.edu or call (304) 696-3965.
---
Contact: Ginny Painter, Communications Director, Marshall University Research Corporation, 304.746.1964