Wednesday, May 23, 2012
---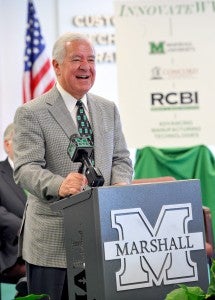 HUNTINGTON, W.Va. – Congressman Nick J. Rahall II; Marshall University President Stephen J. Kopp; Dr. John Maher, Vice President for Research at Marshall University; and Charlotte Weber, Director and CEO of the Robert C. Byrd Institute for Advanced Flexible Manufacturing (RCBI), today announced five small manufacturers have been selected as the state's first INNOVATE West Virginia companies.
INNOVATE WV is a program sponsored by Marshall University, Concord University and RCBI, and is designed to help entrepreneurs, small businesses and manufacturers in the southern part of the state develop and commercialize new products. As part of the West Virginia EDA University Center partnership, the initiative is funded in part through the U.S. Economic Development Administration (EDA).
The five companies selected to receive assistance to support their entrepreneurial efforts and develop novel manufacturing ideas are:
Blue Gold Inc. of White Sulphur Springs
Carbon Fiber Composites of Ona
Stinson-Lane LLC of Williamsburg
Tramco of Williamson
Vintec Manufacturing LLC of Gauley Bridge
The companies will receive business and technical support to assist in the design and development of new products. Each business will have access to RCBI's experts and state-of-the-art equipment and services, including computer-aided design, reverse engineering, rapid prototyping, and sophisticated fabrication and machining. The levels of assistance provided will vary based on project needs.
"Yankee ingenuity meets southern hospitality with INNOVATE West Virginia," Rahall said. "How we can best introduce entrepreneurs' ideas to the latest tools in technology and get them conversing to produce jobs is the aim of INNOVATE West Virginia. We don't want the conversation to end with the first five men and women receiving awards, we hope they will continue as ambassadors for the program. Ideally, they will spread the word to other local entrepreneurs, creating and strengthening business opportunities across southern West Virginia."
Kopp thanked Rahall and EDA for their commitment to the INNOVATE WV program and the EDA University Center partnership and recognized the award recipients, adding, "Congratulations to the first five firms selected for this exciting initiative to connect small businesses and entrepreneurs with the advanced manufacturing resources they need to flourish. We wish this inaugural round of awardees all the best, and look forward to their future success."
Weber said, "By taking advantage of INNOVATE WV, these small businesses will access advanced manufacturing capabilities to help them turn concepts into reality. Combining the innovative ideas of each of these entrepreneurs with the leading-edge capabilities we have available at RCBI, we should be able to help accelerate the process by which they turn their ideas into commercial opportunities.
"INNOVATE WV is the latest new program in our state that is providing support and direct assistance to help spur new ideas, generate added business activity, grow a broader jobs base and strengthen the economy, particularly in southern region."
Weber said a second round of INNOVATE WV applications will be taken later in 2012.
For more information, visit www.rcbi.org, call 800-469-RCBI (7224) or e-mail InnovateWV@rcbi.org.
---
Contact:  Ginny Painter, Communications Director, Marshall University Research Corporation, 304.746.1964
---
Related:
W.Va. businesses honored for innovative products (Herald-Dispatch:  May 24, 2012) – Photo Gallery
Five businesses selected as Innovate WV companies (WV Public Radio:  May 24, 2012)
Marshall University: INNOVATE West Virginia (HerdVideo/YouTube:  May 23, 2012)