Wednesday, August 5, 2009
---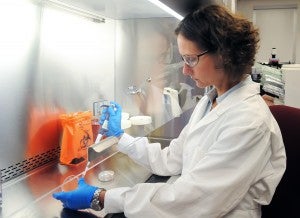 HUNTINGTON, W.Va. – Dr. Joan E. Wilson has been named senior scientist at the Marshall University Institute for Interdisciplinary Research (MIIR). An expert in gene regulation, Wilson is the second scientist to join the institute created through the state's new "Bucks for Brains" research trust fund.
Wilson most recently was a researcher at System Biosciences LLC (SBI), a high-tech company based in Mountain View, Calif. At SBI, she managed a fast-growing product portfolio that contributed 40 percent of the company's total sales revenue. Prior to that, she was a senior applications scientist and product manager with Panomics (now Affymetrix) and a research fellow at the Harvard Institute of Proteomics.
The goal of MIIR is to develop a focused program of pioneering research dedicated to producing patentable scientific breakthroughs and creating new high-tech businesses based on those discoveries. The institute will build on existing areas of research strength and provide opportunities for pioneering research collaborations with scientists already working at Marshall University. Wilson's group at MIIR will focus on identifying non-coding RNA disease biomarkers and developing non-coding RNA-based tools for gene regulation and genome manipulation.
"I am tremendously excited about Joan Wilson and what she brings to MIIR," said Marshall University President Stephen J. Kopp. "When we envisioned this institute, she is exactly what we had in mind – a brilliant scientist with a history of commercializing research. The focus of 'Bucks for Brains' is economic development and she will be a major contributor to MIIR's efforts in that regard."
Dr. Eric Kmiec, director of MIIR and the institute's lead research scientist, added, "I could not be more pleased that Dr. Wilson has joined our institute. She is exactly the kind of person I want to attract to this organization – someone with both an academic and biotechnology corporate background, who has taken basic discoveries and made them successful in the marketplace. She represents an impressive work ethic and discipline and we all look forward to working with her."
Wilson has a bachelor's degree in biology from the College of William and Mary. She went on to complete a doctorate in biological sciences at Stanford University, supported by a National Science Foundation pre-doctoral fellowship. Her thesis work, in the lab of Dr. Paul Macdonald, focused on elucidating molecular mechanisms underlying specification of the embryonic body pattern in the model genetic organism Drosophila. Her post-doctoral work, with Dr. Peter Sarnow, also at Stanford, characterized a novel mechanism of initiation of protein synthesis in a polio-like virus, and was supported by a Jane Coffin Childs Fellowship.
"MIIR's mission – to advance local and regional economic development through biotechnology entrepreneurship – presents a unique opportunity, and the university, community and state government support for this endeavor are compelling," said Wilson. "My academic and corporate experience and interest in technology-focused science align perfectly with the institute's objectives. My research focus, on developing non-coding RNA-based tools and technologies, not only offers exciting synergies with Dr. Kmiec's group but also provides a platform for productive collaborations within the Marshall University research community as well as external corporate partnerships."
Wilson several years ago took time off from her science career to pursue another passion – bicycle racing. As a member of the United States National Cycling Team from 2000-03, she competed nationally and internationally, including such prestigious events as the Tour de France and Giro d'Italia.
The $50 million "Bucks for Brains" trust fund was created last year to match state dollars with private donations to encourage university research and leverage private giving, ultimately leading to business spin-offs, new patents and job creation.

---
Contact:  Ginny Painter, Communications Director, Marshall University Research Corporation, 304.746.1964
---
Related:
Marshall gene regulation researcher Dr. Joan Wilson appears on "We Are Marshall Today" [September 18, 2009] – video available
Marshall appoints scientist at MIIR [Herald-Dispatch, August 15, 2009]
New MIIR Scientist Brings RNA Possibilities to State [State Journal, August 14, 2009]