Thursday, May 24, 2012
---
HUNTINGTON, W.Va. – Marshall University's Center for Environmental, Geotechnical and Applied Sciences (CEGAS) and the West Virginia Brownfields Assistance Center at Marshall are continuing their ongoing partnership with the West Virginia Division of Energy (WVDOE) Office of Coalfield Community Development with a project to install a solar panel system at University High School in Morgantown.
The venture will be the second of its type undertaken by the partners, who have been working over the last year to demonstrate renewable energy applications on former surface-mined properties. Earlier this year, they installed a similar solar panel system at Mount View High School in Welch.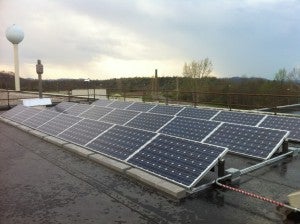 Brownfields Assistance Center Project Coordinator George Carico has been assisting the WVDOE with locating sites where solar panels could be installed for demonstrating this type of renewable energy. He says University High School is located on a reclaimed surface mine site with extensive "sky-view" well situated for a solar panel array system.
The system will consist of approximately 24 panels with a total rated output of 6 kilowatts, mounted awning-style directly onto the school's south-facing gymnasium wall. It should be installed this summer.
Carico said that like the installation in McDowell County, the Morgantown project will provide both renewable solar energy to the school and an educational component for students. The system will include real-time monitors to evaluate system performance, and the results will be incorporated into science-based classroom projects.
"There continues to be a great deal of interest in renewable energy from solar panels," he added. "There are many challenges while this technology is still evolving, with initial system cost and the rate of financial return being the largest hurdles. This system will help people understand the various aspects—both good and bad—of utilizing this type of energy. At University High School, the students, teachers, parents and community will be getting hands-on knowledge. We'll be educating a wide variety of people."
Dr. Tony Szwilski, CEGAS director, said this project demonstrates the assertive approach Marshall is taking to evaluate renewable energy resource potential across West Virginia. "Along with our other ongoing solar, wind and biomass initiatives with the WVDOE, the project at University High School shows we're taking a significant role in assessing energy resource potential on surface-mined lands. We're pleased to be a key player in this valuable venture."
A total of $55,000 in federal, state and county funding is being provided for the project, including $45,000 from the Appalachian Regional Commission, $5,000 from the Monongalia County Board of Education and $5,000 from the WVDOE. Additional educational support is being provided by the West Virginia University Department of Chemistry.
Caption:  The solar panel system at University High School will be similar to this one installed earlier this year at Mount View High School in Welch. The University High School panel will be mounted awning-style directly onto the school's south-facing gymnasium wall.
---
Contact:  Ginny Painter, Communications Director, Marshall University Research Corporation, 304.746.1964
---
Related:  UHS & Marshall Partnering On Solar Project [MetroNews:  June 4, 2012]