Monday, December 20, 2010
---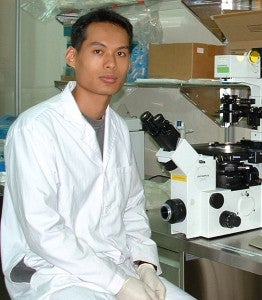 HUNTINGTON, W.Va. – Dr. Jingwei Xie has been named senior scientist at the Marshall Institute for Interdisciplinary Research (MIIR), effective Jan. 3.
He is the third senior scientist to join the institute, which was created in 2008 through the state's "Bucks for Brains" West Virginia Research Trust Fund. Scientists at MIIR are conducting vital biotechnology research designed to improve the lives of people everywhere who suffer from Huntington's disease, muscular dystrophy, sickle cell anemia, juvenile macular degeneration and other diseases. The institute has experienced steady growth since its inception, and recently signed its second co-development agreement with a major biotechnology company.
Xie has more than 10 years experience in biomaterials, tissue engineering, micro-/nanofabrication, biosurfaces, formulations, drug delivery, biotechnology and nanotechnology. In his most recent appointment as a post-doctoral research associate at Washington University in St. Louis, he developed a number of projects related to biomedical applications, including neural tissue engineering, tendon-to-bone insertion site repair and drug delivery.
The goal of MIIR is to develop a focused program of pioneering research dedicated to producing patentable scientific breakthroughs and creating new high-tech businesses based on those discoveries. The institute is building on existing areas of research strength at Marshall and providing opportunities for collaborations with scientists already working at the university. Xie's group at the institute will focus on bionanotechnology and will collaborate with researchers at Marshall's new Center for Diagnostic Nanosystems, where scientists are working to apply advances in nanosensor technology to improve the accessibility and capabilities of rural health care resources.
"I am most pleased to welcome Dr. Xie to MIIR," said Marshall University President Stephen J. Kopp. "He is an extraordinarily creative scientist with a strong background in one of today's fastest-growing scientific disciplines. With his addition to the team at MIIR—along with a growing portfolio of contracts with biotechnology companies—we are rapidly approaching critical mass.
"Our strategic commitment to hiring the brightest, most talented researchers we can find is paying off. I am confident in our vision for the institute as an economic development engine and remain energized about the possibilities ahead of us."
Dr. Eric Kmiec, director of MIIR and the institute's lead research scientist, added, "Dr. Xie is truly a transformative hire for us. Not only does he come from one of the most respected nanotechnology labs in the country, but his work to develop devices to aid in bone growth and development will complement the genetics work currently under way at the institute and allow us to move into exciting new areas of discovery."
Kmiec said that in addition to working with colleagues at the Center for Diagnostic Nanosystems, Xie also will collaborate with researchers in the university's College of Science and College of Engineering and Computer Sciences.
Xie said, "My specialty, tissue engineering, is a multidisciplinary field that combines biological sciences, materials sciences, pharmacology, engineering principles and surgery to develop constructs for restoring, replacing or regenerating defective tissues or organs. It is a good fit with the interdisciplinary research focus at MIIR, and I look forward to collaborating with faculty members in all departments at Marshall.
"I am also enthusiastic about the opportunity to build relationships with biomedical and pharmaceutical companies to develop commercial products."
Prior to joining Washington University in 2007, Xie was a post-doctoral research associate at the University of Washington in Seattle and a research fellow at the National University of Singapore. He is the co-inventor on two patents, was co-investigator of a National Institutes of Health-funded pilot project and has co-authored more than 30 peer-reviewed journal articles.
Xie has bachelor's and master's degrees from Nanjing University of Technology in China. He earned his doctorate in chemical and biomolecular engineering from the National University of Singapore.
The West Virginia Research Trust Fund was created two years ago to stimulate and accelerate world-class research at the state's two research universities, with the goal of advancing new enterprise development in the high-technology sector. For a limited time, Marshall University can tap into the fund to double private gifts that support research initiatives—like MIIR—that are linked to economic development, health care and job growth. For more information about how to support research at Marshall and automatically double your gift through the trust fund, visit www.marshall.edu/b4b or call toll-free 1-866-632-5386.
For more information about MIIR, visit www.marshall.edu/miir.
---
Contact: Ginny Painter, Communications Director, Marshall University Research Corporation, 304.746.1964