Tuesday, March 13, 2012
---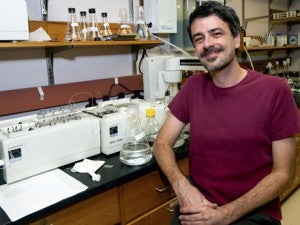 HUNTINGTON, W.Va. – Marshall University is hosting Fulbright Visiting Scholar Dr. Radim Hédl from the Czech Republic this semester.
An expert in forest ecology, Hédl is head of the Department of Vegetation Ecology at the Institute of Botany of the Academy of Sciences of the Czech Republic. He is one of approximately 800 outstanding foreign faculty and professionals teaching or conducting research in the United States this year through the Fulbright Visiting Scholar Program.
His research, which has taken him to a number of countries including Chile, Malaysia and Brunei, focuses on the diversity and dynamics of forest vegetation, the historical human impact on ecosystems and the conservation of forest ecosystems.
While at Marshall, Hédl is working in the laboratory of Dr. Frank S. Gilliam, professor of biological sciences, to study environmental factors responsible for maintaining forest understory diversity.
According to Hédl and Gilliam, this topic is critical considering the recent losses of species and ecosystem biodiversity. Their research is focusing on small-scale variation in soil resources, which is important for the composition of herb communities in hardwood forests, common both in West Virginia and the Czech Republic.
While working with Gilliam, Hédl expects to learn more about the role of nitrogen in temperate hardwood ecosystems, using two sites in West Virginia where long-term research has been conducted.
"Though we had never met personally, Dr. Hédl and I had been familiar with each other's research through the scientific literature," said Gilliam. "I was quite honored that he chose our laboratory for his Fulbright study. Certainly, our work with forest ecosystems is very similar, even complementary, but just on different continents."
Tomorrow at noon Hédl will be presenting a seminar, "Between the Czech Republic, Borneo, and West Virginia: Research opportunities in vegetation ecology," about his past, current and collaborative work in West Virginia. The seminar, which is free and open to the public, will be held in Room 277 of the Science Building.
An informal pre-talk reception will be held at 11:30 a.m. in Room 350 of the Science Building.
Hédl has bachelor's and master's degrees in geobotany from Charles University in Prague, and a doctorate in forest ecology from Mendel University in Brno, Czech Republic.
The Fulbright Program, America's flagship international educational exchange program, is sponsored by the United States Department of State's Bureau of Educational and Cultural Affairs. Since its establishment in 1946, the Fulbright Program has provided nearly 300,000 people—approximately 110,000 of them from the United States—with an opportunity to study, teach or research abroad. Approximately 180,000 students, scholars and teachers from other countries have participated in the Fulbright Program since its inception. The program allows grantees to observe each others' political, economic, educational and cultural institutions, exchange ideas, and embark on joint ventures of importance to the general welfare of the world's inhabitants. The program operates in more than 150 countries worldwide.
Recipients of Fulbright awards are selected on the basis of academic or professional achievement, as well as demonstrated leadership potential in their fields. For more information about the Fulbright Program, visit http://fulbright.state.gov.
---
Contact:
Ginny Painter
, Communications Director, Marshall University Research Corporation, 304.746.1964