Monday, Aug. 8, 2011
---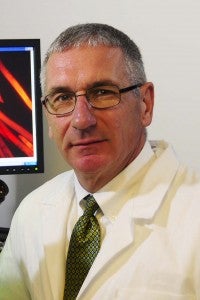 HUNTINGTON, W.Va. – Dr. Eric B. Kmiec, director and lead research scientist at the Marshall Institute for Interdisciplinary Research (MIIR), will be the featured speaker at the Huntington's Disease Society of America (HDSA) "Dining for a Cure" event on Sunday, Aug. 21, from 5-9 p.m. at Bridge Road Bistro in Charleston.
Kmiec will be speaking about his research on inherited disorders. Widely recognized as a pioneer of gene editing—a technique in which synthetic DNA molecules are used to patch or repair mutations in human chromosomes—Kmiec's research focuses on exploring therapies for diseases such as Huntington's disease, spinal muscular atrophy and muscular dystrophy.
"One of the most rewarding things about biotechnology and biomedical research is knowing that the work you do every day in the lab may some day help real people who are suffering from these terrible degenerative diseases," said Kmiec. "I enjoy sharing the research we're doing at our institute and how it may eventually lead to new treatments for Huntington's disease and other hereditary disorders."
"We look forward to welcoming Dr. Kmiec as our guest speaker and to hearing about the cutting-edge biological research he is doing to support a cure for Huntington's disease," said Caryn Freas, HDSA development director for the Mid-Atlantic Region. "There are many families in West Virginia who are affected by this devastating condition, and research like that being done at Marshall University by Dr. Kmiec provides hope that new therapies are on the horizon."
Huntington's disease is a hereditary, degenerative brain disorder that results in a loss of cognitive, behavioral and physical control, and for which, presently, there is no treatment or cure. The disease slowly diminishes the affected individual's ability to walk, think, talk and reason. According to the HDSA, more than 30,000 people in the United States are currently diagnosed with Huntington's disease. Each of their siblings and children has a 50 percent risk of developing the disease.
Although medications can relieve some symptoms in certain individuals, research has yet to find a means of conquering or even slowing the deadly progression of Huntington's disease. The first therapy approved by the U.S. Food and Drug Administration specifically for Huntington's disease was released only one-and-a-half years ago. Several new potential treatments currently are moving through Phase 3 clinical trials.
Before joining MIIR in 2009, Kmiec was professor of biology at the University of Delaware and director of applied genomics at the Delaware Biotechnology Institute. Research in his laboratory is supported through grants from the National Institutes of Health, private research foundations and the Discovery Initiative at the High Q Foundation. He is also the managing editor of Frontiers in Bioscience and is on the editorial board of the Journal of Cellular and Molecular Medicine.
He has more than 60 issued patents or patent applications to his credit and has founded several biotechnology companies. He is a co-founder and chief scientific officer of OrphageniX Inc., a biotechnology company focused on correcting genes that cause "orphan diseases."
For more information about MIIR or his research, contact Kmiec at (304) 696-3830 or kmiec@marshall.edu. For more information about the Aug. 21 HDSA event, contact Freas at (610) 260-0421 or cfreas@hdsa.org.
The event is being sponsored by Alpha Natural Resources.
###
About the Marshall Institute for Interdisciplinary Research
MIIR was created at Marshall University in 2008 through the state's "Bucks for Brains" West Virginia Research Trust Fund. Scientists at MIIR are conducting vital biotechnology research designed to improve the lives of people everywhere who suffer from Huntington's disease, muscular dystrophy, sickle cell anemia, juvenile macular degeneration and other diseases. The institute has experienced steady growth since its inception, and in the last two years has signed two co-development agreements with major biotechnology companies.
---
Contact: Ginny Painter, Communications Director, Marshall University Research Corporation, 304.746.1964