Tuesday, February 22, 2011
---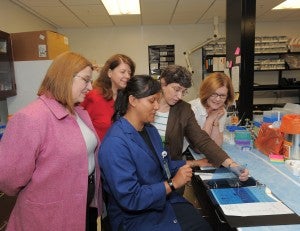 HUNTINGTON, W.Va. – A segment featuring Marshall University's acclaimed MU-ADVANCE program will air Friday at 8 p.m. on the West Virginia Public Television program "This Week in West Virginia."
The National Science Foundation's Advancement of Women in Academic Science and Engineering Careers (ADVANCE) program supports projects, like the one at Marshall, to help institutions transform long-standing practices and academic climate that discourage women from pursuing careers in high-tech fields. The MU-ADVANCE program was established in 2006 with a $1.2 million NSF grant. Additional funding of $750,000 in 2009 extended the program for two years.
The story set to air on Friday will explore the innovative recruitment, retention and policy efforts undertaken to increase the number of female science, technology, engineering and mathematics faculty members at the university over the past five years. Dr. Marcia Harrison, professor of biological sciences; Dr. Piyali Dasgupta, assistant professor of pharmacology, physiology and toxicology; Dr. Laura McCunn, assistant professor of chemistry; and Dr. Shari Clarke, vice president for multicultural affairs, are featured.
According to Harrison, who is the principal investigator for MU-ADVANCE, research indicates that the lack of women's full participation in science and engineering academic careers is unrelated to their ability, interest and technical skills, but is more often a systemic consequence of the culture and organizational structure at institutions of higher education. Difficulty balancing work and family demands also plays a key role.
In addition, she said, the MU-ADVANCE goal of increasing the number of female faculty members in science and technology fields represents broader impacts both by providing much-needed role models for West Virginia's young, female students and by providing an additional economic development stimulus.
The story is part of a new series, "Mountain State Science," intended to highlight science and research in West Virginia. The series is made possible with support from the West Virginia Experimental Program to Stimulate Competitive Research.
---
Contact:  Ginny Painter, Communications Director, Marshall University Research Corporation, 304.746.1964.
---
Related:  Mountain State Science:  MU-ADVANCE [WV Public Broadcasting:  February 25, 2011] – video, audio