Friday, May 4, 2012
---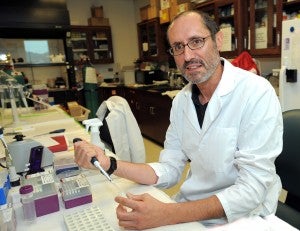 HUNTINGTON, W.Va. – Dr. Philippe Georgel, a professor of biological sciences at Marshall University, recently traveled to San Antonio to present his research at the 20th International Analytical Ultracentrifugation Conference.
The biennial conference is focused on research done using a specific laboratory technique to characterize the size, shape and interactions of molecules and macromolecules in solutions. Analytical ultracentrifugation is widely used in molecular biology, biochemistry and polymer science.
Georgel studies the effects of chromatin—the combination of DNA and proteins that make up the contents of the nucleus of a cell—on nuclear functions. His conference presentation focused on his use of a new method called Quantitative Agarose Gel Electrophoresis, or QAGE. QAGE allows for analysis of structure and composition of nucleo-protein complexes, and is complementary to the use of analytical ultracentrifugation.
The research Georgel presented was a collaborative effort among his group at Marshall; Dr. James Denvir, associate professor of biochemistry and microbiology at the university's Joan C. Edwards School of Medicine; and Dr. Stuart Lindsay and Dr. Qiang Fu from Arizona State University.
Georgel has already been invited back to present at the 2014 conference, which will be held in Japan.
For more information, contact Georgel at georgel@marshall.edu or (304) 696-3965.
---
Contact:
Ginny Painter
, Communications Director, Marshall University Research Corporation, 304.746.1964