Monday, March 19, 2012
---
HUNTINGTON, W.Va. – Marshall University biomedical sciences researchers are presenting their work in the fields of toxicology and cancer biology at international scientific meetings this month and in April.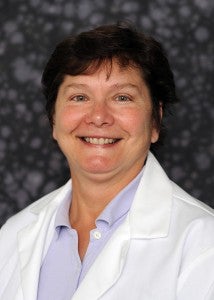 Dr. Monica Valentovic, a professor in the Department of Pharmacology, Physiology and Toxicology, presented at last week's Society of Toxicology Annual Meeting in San Francisco. Her talk focused on her lab's work to evaluate ways to reduce the side effects of cancer chemotherapeutic drugs.
Mike Brown, a biomedical sciences doctoral candidate working in Valentovic's lab, also presented at the conference. He discussed his research examining ways to reduce liver damage caused by acetaminophen use.
In addition, Valentovic served as chairman of the meeting's Renal Toxicology Session.
The conference is the largest toxicology meeting and exhibition in the world, with attendance of more than 7,500 scientists from academia, government and industry from around the globe.
Another biomedical sciences doctoral candidate, Johannes Fahrmann, will be presenting his research to explore the effects of omega-3 fatty acids in early stage chronic lymphocytic leukemia at next month's Experimental Biology conference in San Diego.
Fahrmann works in the lab of Dr. W. Elaine Hardman, a professor in the Department of Biochemistry and Microbiology.
Valentovic will also be presenting at Experimental Biology. In that talk, she will discuss her work to examine the mechanisms for reducing cancer chemotherapy adverse effects to the kidney. That research was funded by the National Institutes of Health.
Nearly 14,000 scientists and exhibitors representing academic institutions, government agencies, non-profit organizations and private corporations attend the annual Experimental Biology meeting to share information about recent developments in anatomy, physiology, biochemistry, pathology, nutrition and pharmacology.
For more information, contact Valentovic at (304) 696-7332 or valentov@marshall.edu, or Hardman at (304) 696-7339 or hardmanw@marshall.edu.
###
Photo: Dr. Monica Valentovic, Professor, Department of Pharmacology, Physiology and Toxicology
---
Contact:
Ginny Painter
, Communications Director, Marshall University Research Corporation, 304.746.1964