Wednesday, June 29, 2011
---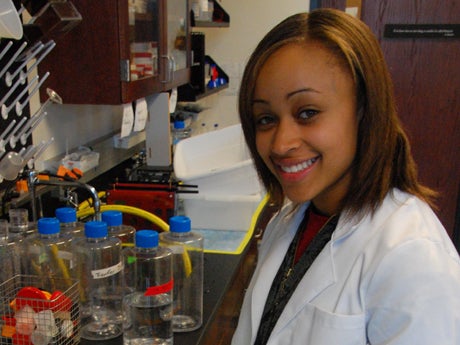 HUNTINGTON, W.Va. – Fifteen undergraduate students from nine institutions are spending their summer doing biomedical research in Marshall University's laboratories.
The students are participating in two nine-week programs—one sponsored by the West Virginia IDeA Network of Biomedical Research Excellence (WV-INBRE) and the other by the university's Biomedical Sciences Summer Research Internship for Minority Students (SRIMS) program.
Dr. Elsa Mangiarua, a professor in the cardiovascular disease, obesity and diabetes research cluster at Marshall, is the director of the WV-INBRE Summer Research Program. She said both programs allow participants to gain valuable, hands-on experience doing graduate-level research in the labs of some of Marshall's top scientists.
"We are providing in-depth, mentored research opportunities for very talented undergraduates," she said. "The programs also promote awareness of graduate degree programs and careers in biomedical research."
Diana Maue, who coordinates the SRIMS program, added, "This is a chance for these students to do meaningful scientific research, share their findings, network and build academic competitiveness for graduate school."
While at Marshall, the interns are working in state-of-the-art facilities on research projects related to cancer, cardiovascular disease, obesity and diabetes, toxicology and environmental health, and infectious diseases. The students will present their research results at a symposium held during the last week of the program.
In addition to the formal research training they each receive from their Marshall faculty mentors, the interns are taking part in workshops and seminars about a variety of topics related to research and graduate education. Students in the two programs attend many of the same seminars and interact socially through a bowling outing, ice cream socials and other special events intended to help them get to know one another outside of the laboratory environment.
The students participating in the WV-INBRE Summer Research Program include (with their hometowns indicated in parentheses) Rebekah Sine (Wardensville) and Megan Smith (Huntington) from Alderson-Broaddus College; Daniel Mai (Seal Beach, Calif.) and Sarah Monsheimer (Silver Spring, Md.) from University of Charleston; Benjamin Kordusky (Sod), Emma Levin-Nielsen (Vienna) and Richard Phil Thomas (Elizabeth) from West Virginia Wesleyan College; Hannah Cavender (Charleston), Josh Kim (South Charleston) and Niraj Nepal (Dunbar) from West Virginia State University; and Andre Lamyaithong (Man) from Wheeling Jesuit University.
The students participating in the SRIMS program are Kelsey Cowen (New Hudson, Mich.) from Cedarville University; Rebecca Furby (Charles Town) from Shepherd University; Amber Mills (Carbondale, Ill.) from Murray State University; and Marie Southerland (Ravenna, Ohio) from Ashland University.
The WV-INBRE Summer Research Program is funded through a $16 million grant from the National Institutes of Health. Marshall—in partnership with researchers at West Virginia University—received the award to help build expertise in biomedical research.
Support for the SRIMS program comes from the university's Joan C. Edwards School of Medicine and the Federation of American Societies for Experimental Biology/ Minority Access to Research Careers program.
Each student receives a stipend. Depending on the program in which they are participating, they may also receive room and board, lab fees, and reimbursement for travel to and from Marshall.
For more information about the WV-INBRE Summer Research Program, visit http://www.wv-inbre.org or contact Mangiarua at mangiaru@marshall.edu or (304) 696-6211. For more information about the SRIMS program, visit http://bms.marshall.edu/srims or contact Maue at maue1@marshall.edu or (304) 696-3365.
---
Contact: Ginny Painter, Communications Director, Marshall University Research Corporation, 304.746.1964.