5 p.m., Thursday, May 9, 2019
Keith-Albee Performing Arts Center
Commencement Speaker – Dr. David Allen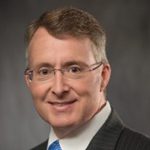 Dr. David D. Allen is dean of the University of Mississippi School of Pharmacy, professor of pharmacology and executive director and research professor of UM's Research Institute of Pharmaceutical Sciences.
Dean Allen received his bachelor's degree in pharmacy and Ph.D. in pharmaceutical sciences at the University of Kentucky. He has been licensed to practice pharmacy in five states and has been a visiting scientist in Chile, France and Switzerland, as well as at the Laboratory of Neurosciences' Neurochemistry and Brain Transport Section of the National Institute of Health's National Institute on Aging, where he also was an Intramural Research Training Award Fellow.
He serves as the 2018-2019 president of the American Association of Colleges of Pharmacy. He was designated a Fellow of the American Society of Health-System Pharmacists in 2004, the National Academies of Practice in 2009 and the American Pharmacists Association in 2011. He is a member of the American Association of Pharmaceutical Scientists, the Society for Neuroscience and the American Association of Colleges of Pharmacy's Council of Deans, which he chaired. He also chaired AACP's Biological Sciences Section and Student Services Special Interest Group.
Our event will not show until approximately 24 hours prior to graduation.
---
Ceremony Details
The 2019 Commencement Ceremony is by invitation only and is not open to the general public.
Guests will not be able to enter the Keith-Albee Performing Arts Center until approximately 45 minutes prior to the event.  Please allow ample time to park and walk from your parking area to the ceremony, as traffic will be heavier than normal that day.
Videography and photography will be allowed, but from the seats. Guests cannot obstruct the stairs or walkways and cannot have cameras on tripods that block the view of other guests. Professional photographers will take a class photo as well as a photo of each graduate receiving his or her diploma which will be made publicly available
---
Parking & Driving Information
Parking
Parking is not reserved for the commencement ceremony, however many locations offer parking within a short walking distance of the Keith-Albee Theatre.
Huntington Parking Garage
325 8th Street on Corner of 3rd Ave. and 8th St.
Pullman Square Parking Garage
2291 9th Street
City Municipal Parking Lot (formerly by Glenn's Sporting Goods)
1023-1051 4th Ave.
Metered parking until 6 p.m.
On-street and side street parking is also available on 9th Street (Center Plaza).
Driving Directions
The Keith-Albee Performing Arts Center is located at 1021 4th Ave, Huntington, WV and can be accessed easily from I-64 Eastbound and Westbound and US-52E Ohio River Scenic Byway from Ohio.
---
---
Contact Information
For additional information regarding commencement ceremonies, contact the Office of Student Affairs at (304) 696-7302.