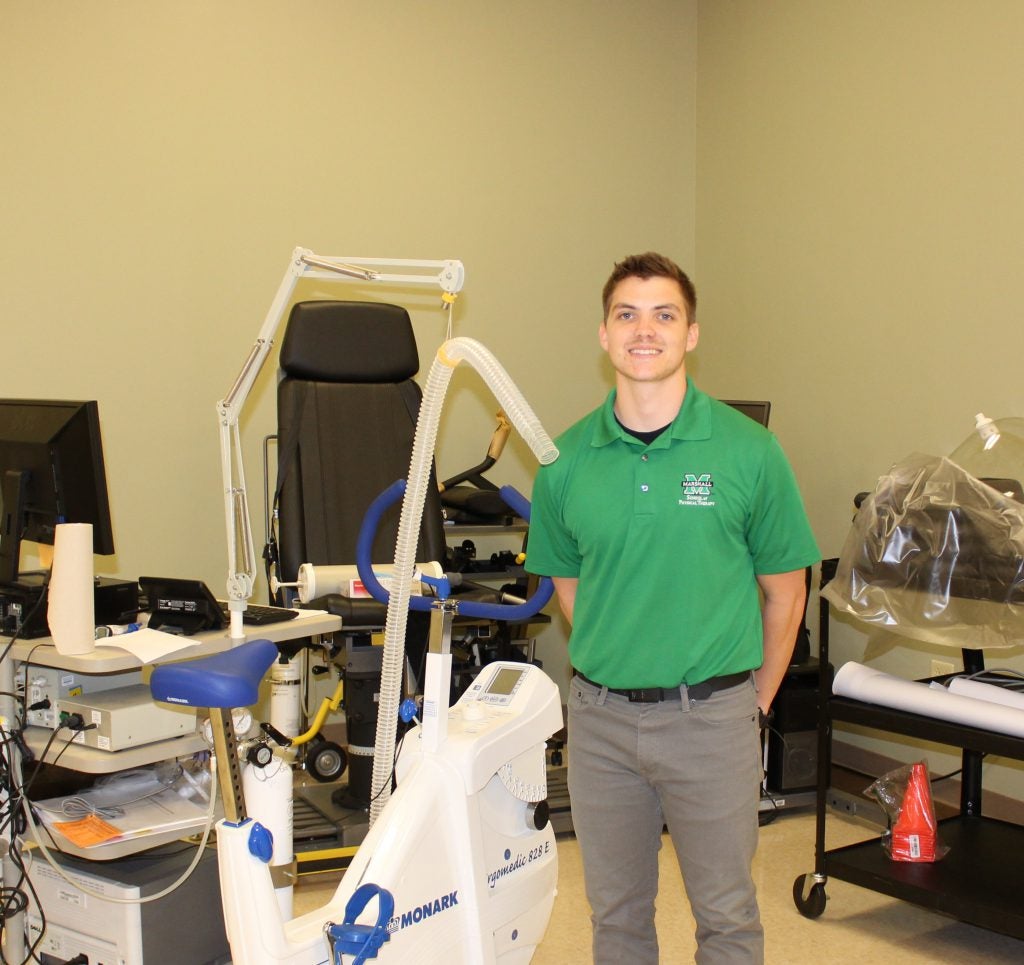 Where are you from?
I am a local student from Wayne, WV. It is a one stoplight town about thirty minutes south of Huntington with a population of less than 1,500 people.
Why did you choose the Marshall School of Physical Therapy for your DPT education?
Growing up locally and receiving my bachelor's degree from Marshall, I feel a personal connection with the city and university. I know the strong sense of community the area has and I also felt that during the interview day at the school. I wanted to go to a PT school that had experienced faculty that could provide a quality education. Marshall School of Physical Therapy has given me everything I looked for during the application process:  quality education in an accredited program, an experienced and approachable faculty, sense of community, up-to-date facilities, and financially reasonable.
What has been your favorite PT class thus far in the program? Why?
My favorite class so far has been the Musculoskeletal Series. I have always been interested in learning musculoskeletal pathologies that impact function and their associated rehab processes. However, what I really loved about the course were the hands-on manual lab sessions centered around diagnosing and treating orthopedic injuries. Over the course of the series, I became more knowledgeable and confident in my ability as a future PT.
What do you see as the strength of the Marshall School of Physical Therapy?
Marshall School of Physical Therapy has two equally valuable strengths that facilitate a learning environment for students. The first is the amount of faculty that hold certifications in specialized fields. The Marshall faculty currently has cardiopulmonary, geriatric, neurology, and multiple orthopedic certified specialists who are all teaching courses in their specialized fields. Furthermore, there are members with PHD's, certifications in strength and conditioning, and a certified athletic trainer. Marshall School of Physical Therapy has a well-qualified staff that produces a learning environment and prepares students as future Doctors of Physical Therapy. The other strength is the family atmosphere that I have experienced since day one of the program. Once you get into the program, it is no longer a competition with your peers. Everyone comes together to help each other succeed not only in courses but also work toward becoming the best physical therapist you can be. The faculty have an open-door policy and are a large part of the sense of family that you can go to at any moment for assistance or just to have a casual conversation with (and even coffee or candy for those long days). I truly feel like a part of a Marshall PT community.
How is PT school different than your undergraduate education?
The main difference is the amount of work required. I quickly learned in my first summer how much more time and effort it was going to take compared to undergrad. I had to develop new study habits and time management skills. One thing I can say about PT school is it has made me develop a strong work ethic and how to be more efficient. The content is more in depth and more difficult than any of my undergraduate courses, and it also requires application to clinical scenarios and reasoning. There were definitely high stress times but the challenge is what makes you more prepared and successful in your career as a PT.
What advice would you give to prospective students who are starting the application process?
The process is long and grueling, but don't be discouraged by the amount of work. I promise it will all be worth it. Finish strong in any classes you may have left to get the best GPA you can going in to the application process. Although you may be trying to get in any school, I encourage you to find a school that fits you and shows the best promise to make you a great PT.