Marshall University is accredited as an institution of higher learning by the Higher Learning Commission (HLC) of the North Central Association (Phone: 800.621.7440 / 312.263.0456.Fax: 312.263.7462; info@hlcommission.org; 230 South LaSalle Street, Suite 7-500, Chicago, Illinois 60604-1413) The program has received approval from the Marshall Board of Governors to offer the DPT program, and program approval from the North Central Higher Learning Commission.
---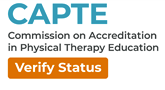 The Doctor of Physical Therapy Program at Marshall University is accredited by the Commission on Accreditation in Physical Therapy Education (CAPTE), 3030 Potomac Ave., Suite 100, Alexandria, VA 22305-3085; phone: 703-706-3245; email: accreditation@apta.org; CAPTE website.  If needing to contact the program/institution directly, please call 304-696-5614 or email davis1090@marshall.edu.
CAPTE has a mechanism to consider formal complaints about physical therapy education programs that allege a program is not in compliance with one or more of CAPTE's Evaluative Criteria or has violated any of CAPTE's expectations related to academic integrity. (http://www.capteonline.org/Complaints/) In reviewing and acting on a complaint, CAPTE cannot and does not function as an arbiter between the complaint and the institution. Should CAPTE find that a complaint has merit and that the program is out of compliance with the Evaluative Criteria or the integrity statement(s), CAPTE can only require the program to come into compliance with the Evaluative Criteria. CAPTE cannot force a program into any specific resolution of the situation that resulted in the complaint. Students or other interested parties may file a formal complaint about a PT program with CAPTE at any time. To obtain the materials necessary for submitting a complaint, contact the APTA Accreditation Department at (703) 706-3245 or at accreditation@apta.org.