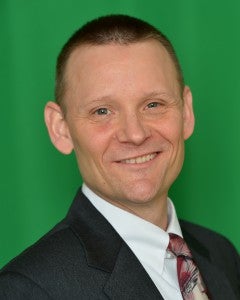 Associate Professor
Email: dauber@marshall.edu
Phone: 304-696-5609
Office Location: SOPT 132
Education:
MPT, University of Pittsburgh, 1994
DPT, Temple University, 2007
DSc, Baylor University, 2007
Clinical Expertise:
Musculoskeletal Physical Therapy, Sports Medicine and Manual Therapy.
Research/Scholarly Interests:
Studying comparisons of low back pain outcomes between traditional Maitland and McKenzie treatment systems, and more recent classification systems based on clinical practice guidelines.
Teaching Philosophy:
Strong emphasis on the basics, particularly anatomy, biomechanics, and function, with a constant focus on maximally objectifying data. Published research should be presented not in isolation, but meshed with experience and real clinical examples. An adult learning model emphasizes mutual respect and a mutual expectation of excellence. Lectures should be two-way academic discussions. A structured yet nonthreatening environment, where students can reach outside their comfort zone without fearing failure, results in an enhanced learning experience. Combinations of lecture, questioning, repetition, pictures and text, models, and hands-on practice maximize academic success by leveraging individual preferred learning styles through sight, touch, voice, and hearing.