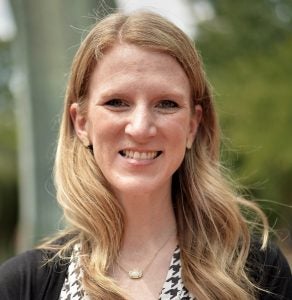 Assistant Professor
Email: lambertme@marshall.edu
Phone: 304-696-5604
Office Location: SOPT 146
Education:
DPT, University of Kansas Medical Center, 2009
APTA Board Certification:
Orthopaedic Certified Specialist, 2014
Clinical Expertise:
Orthopedic and Sports Physical Therapy
Research/Scholarly Interests:
Professional formation in DPT students, community based service learning, teaching and learning, the tactical athlete.
Teaching Philosophy:
With a healthcare system that is continually evolving, we as physical therapists are charged with not only increased clinical responsibilities, but also a societal obligation to act as agents of change for the greater good. For these reasons I put great weight on helping students unlock their individual potential and empower them to push past their own perceived boundaries. I believe that a strong foundation of knowledge is vital, and that learning should be engaging, non-threatening, and relevant to our existing patients and communities. I believe the classroom should always be a comfortable space to question and struggle in a safe environment, engage in open discussion, and stimulate professional growth. With various teaching methods I try to maximize preferred learning styles and continually foster a learner centered environment. I find inspiration from professionals who have continually challenged themselves to move beyond the status quo and I hope to inspire the same passion for lifelong learning and pursuit of knowledge in my students.