Rania Karim, PT, DPT, GCS, CEEAA

---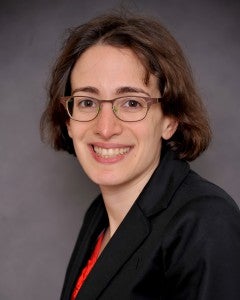 Associate Professor


Email: karimr@marshall.edu
Phone: (304) 696-5604
Office Location: SOPT 146
Education:
BS, Duquesne University 2004
DPT, Washington University in St. Louis 2008
---
APTA Board Certification:
Geriatric Certified Specialist, 2012
Clinical Expertise:
Geriatric Physical Therapy
Research/Scholarly Interests:
Interprofessional education and training, frailty, dementia.
Teaching Philosophy:
I am passionate about the profession of PT and want this passion to be noticeable when I teach.  By incorporating case examples during class, I aim to convey information in a way that is meaningful to the students. I believe that teaching is a dynamic process that involves adapting methods and styles based on both the content and the audience. By tailoring courses to students, learning should also be a dynamic exchange of information between the student and professor. Lastly, by listening to students, I gain valuable insight into the efficacy of teaching methods and their unique needs.