Brian Coleman, PT, DPT, CSCS (Class of DPT 2017)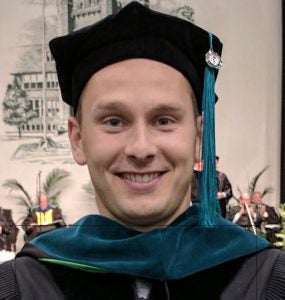 Dr. Coleman is a 2017 graduate of the Marshall University Doctor of Physical Therapy program. Brian received his Bachelor's degree in Exercise Science from Fairmont State University in 2014. During his time at Marshall University, Brian served as the Activities and Community service coordinator for the Class of 2017 and was selected as the 2017 recipient of Stephen J. Kopp Leadership Award. While in PT school, Brian also became a Certified Strength & Conditioning Specialist (CSCS) through the National Strength & Conditioning Association. He is currently the Managing Physical Therapist for Orthopedic & Sports Physical Therapy Associates (OSPTA) in Mt. Morris PA and residing in Morgantown WV.
Why did you choose the Marshall School of Physical Therapy for your DPT education?
Although Marshall's DPT program was still relatively new, I felt that this university would provide me with the greatest opportunities for growth and success. This program was built by very passionate and caring individuals who strive to make each student better and motivate them to achieve their goals. It was evident during the interviewing process and my visit, that the faculty truly care about the students that they are teaching, which meant a lot to me.
What was your favorite aspect of the MUSOPT?
My favorite part of MUSOPT was the faculty/staff that guided us through the DPT curriculum. Several of our professors are making an effort to help combat the drug epidemic that has hit our region so hard, while others have represented our University by serving on State or National committees. Additionally, several professors have obtained specializations and/or have published research; all in an effort to better educate us. One of the best opportunities I had in school was being able to represent MUSOPT at the National Physical Therapy Conference in San Antonio, Texas. It was an incredible opportunity that Marshall University provided me with that allowed me to network and be around some of the brightest minds in our field.
As a successful graduate of a challenging professional curriculum, to what do you attribute your success?
I think the biggest factor that played into my success was my desire to learn. I sought out learning opportunities outside of the regular academic curriculum, attended conferences, and earned various certifications to enhance my PT skills. Also, my family and loved ones supported and encouraged me every step of the way during my schooling which made things easier.
What advice would you give to prospective students who are applying to physical therapy school?
The best piece of advice I have for prospective DPT students is to find ways that separate yourself from other applicants. Graduate programs such as Physical Therapy are becoming more and more competitive as the years go on. This means that there may be several hundred applicants with the same academic credentials that you may have. It is imperative that applicants show that they are committed to the profession and demonstrate a willingness to learn.
What advice would you give to current MUSOPT students?
Take advantage of the knowledge you have around you. Marshall University has put together an excellent faculty that has high levels of expertise in many areas. Don't be afraid to ask questions, take the time to shadow your professors, take part in events in the community, and most importantly collaborate/share ideas with classmates and colleagues.
Begin networking now: it's never too early to begin networking. In addition, shadow PTs, spend some time with Physicians, ATs, OTs, Chiros, or anyone else that can help you improve your clinical decision making.
Love what you do: it can be so cliché to hear this but it is true. Find an area in our profession that you're passionate about, commit yourself, and seek every opportunity to improve your knowledge within that area. Don't chase the money because ultimately you won't be happy with the clinician you are.
---