Derrick White, PT, DPT (Class of DPT 2018)
Dr. White is a 2018 graduate of the Marshall University Doctor of Physical Therapy program. Derrick grew up locally in Wayne County and received his Bachelor's degree in Exercise Science from Marshall University in 2014. Derrick excelled academically and professionally in the Doctor of Physical Therapy program. He was awarded the Class of 2018 Outstanding Academic Achievement Award for his outstanding PT School grade point average. After graduation Derrick accepted a position at Huntington Physical Therapy (HPT) here in Huntington, WV. He is currently pursuing an Orthopaedic Residency through Evidence in Motion.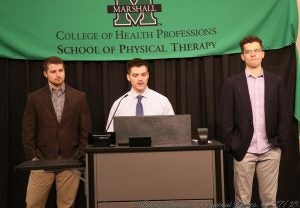 Why did you choose the Marshall School of Physical Therapy for your DPT education?
I received my undergraduate degree in Exercise Science from Marshall University and knew that if given a chance, I wanted to continue my education as a son of Marshall. I knew a few people already in the program that told me how close of a relationship students and faculty had with each other. The school seemed to have an environment conducive to learning that would provide me with a great education.
What was your favorite aspect of the Marshall University SOPT?
My favorite aspect of Marshall University SOPT is how dedicated the faculty is to ensure a quality education is provided to enable success in the clinic. One of the major attractions the school has is the amount of board certified and credentialed faculty teaching subjects they have both educational and clinical experience in.
As a successful graduate of a challenging professional curriculum, to what do you attribute your success?
I would not have made it through the program if it had not been for my strong work ethic. There are many long days and nights of studying and preparing far beyond what I had experienced in undergrad. In a graduate PT program, it was important for me to stay on top of academic work to keep from getting overwhelmed, which will almost certainly happen at some point anyway.
What advice would you give to prospective students who are applying to physical therapy school?
Spend time considering a program that not only has a good academic record, but also a faculty that is well qualified and approachable. One of the hardest things is getting into PT school, let alone finding a school that also suits you. Be open during the interview process and find a way to set yourself apart from the rest of the competition.
What advice would you give to current Marshall University SOPT students?
Explore as many opportunities and settings during your observation time and clinical rotations as possible. You may think you have your mind made up on exactly what setting and population you want to work with. Then one day it may change because of an experience you've had.  Also, don't forget to enjoy PT school. Although you may be ready for it to be over within a semester of it starting, you're going to make some lifelong friends and create memories that will always be one of the most special parts of PT school.
---
Brian Coleman, PT, DPT, CSCS (Class of DPT 2017)
Heather Galloway, PT, MS, DPT (Class of DPT 2016)