THE MIRACLE WORKER
BY WILLIAM GIBSON
October 4 – 7 & 12 – 14 / 7:30 PM
The Francis-Booth Experimental Theatre at The JCE Performing Arts Center
William Gibson's 1960 Tony Award for Best Play adapted from Helen Keller's autobiography, The Story of My Life.  This classic play tells the story of Annie Sullivan and her student, blind and mute Helen Keller. The Miracle Worker dramatizes the volatile relationship between the lonely teacher and her charge. Trapped in a secret, silent world, unable to communicate, Helen is violent, spoiled, almost sub-human and treated by her family as such. Only Annie realizes that there is a mind and spirit waiting to be rescued from the dark, tortured silence. With scenes of intense physical and emotional dynamism, Annie's success with Helen finally comes with the utterance of a single, glorious word: "water".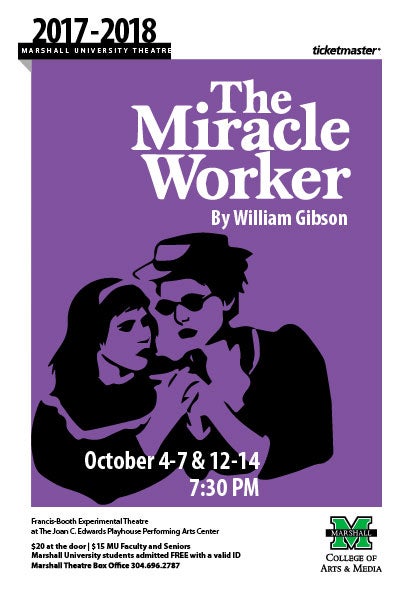 ---
A CHRISTMAS CAROL
BY CHARLES DICKENS
ADAPTED BY ROMULUS LINNEY
November 15 – 18 / 7:30 PM
The Joan C. Edwards Playhouse at the JCE Performing Arts Center
An adaptation of the story of Ebenezer Scrooge's journey from an embittered, ungenerous creature into a giving, caring human being at the hands of three spirits, who, one Christmas Eve, show him what life means. This richly textured play brings the full spirit of the book, as well as those of Christmases Past, Present and Yet To Come, to life on the stage. Now in the third year of this magnificent holiday tradition!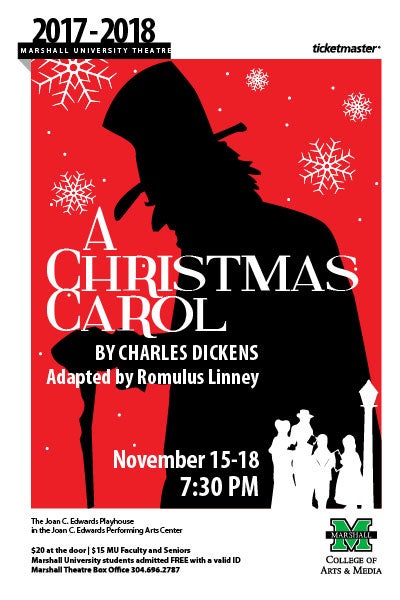 ---
THE HUNTINGTON NUTCRACKER
PRESENTED BY HUNTINGTON DANCE THEATRE
December 8-9 / 8:00 PM
December 10 / 2:00 PM
The Joan C. Edwards Playhouse at the JCE Performing Arts Center
Traditionally set in a Victorian era household, Huntington Dance Theatre's Nutcracker offers a twist on the classic by setting the story in historic downtown Huntington in the 1950's in the Anderson-Newcomb Department Store.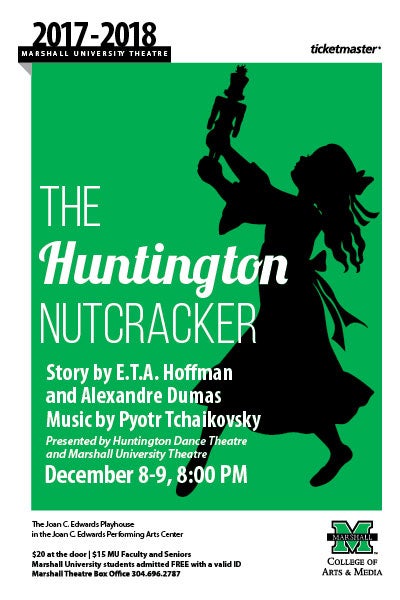 ---
ALABAMA RAIN
BY HEATHER McCUTCHEN
February 14 – 17 & 22 – 24 / 7:30 PM
The Francis-Booth Experimental Theatre at The JCE Performing Arts Center
In Alabama Rain, Heather McCutchen tells the tale of five sisters living in a mythical southern town where it has not rained in 40 years. The play examines the perils of a stagnant existence as the sisters' thirst for fertility and growth. Monty Lou's been pregnant for 10 years; Laurie Laurie's dead spirit sings from the old magnolia tree; Pheenie's walking the entire coast of Florida; Rachel's gone to fetch the Ouija board; and little Dallas LaDean is determined to save them all. When the order of their lives suddenly deteriorates the LaDean family begins a magical quest for water. They struggle with a mysterious well that runs deep in their own backyard, which may or may not have water somewhere at the bottom. In Alabama Rain, these women do battle with the powerful force of "the way things have always been.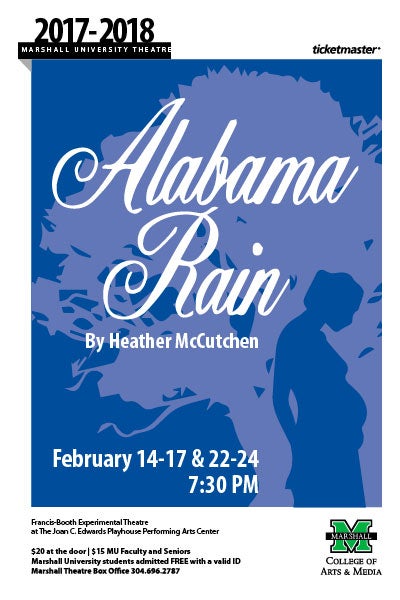 ---
AS YOU LIKE IT
BY WILLIAM SHAKESPEARE
April 18 – 21 / 7:30 PM
The Joan C. Edwards Playhouse at the JCE Performing Arts Center
One of William Shakespeare's great comedies, As You Like It subverts the traditional rules of romance, confusing gender roles, nature, and politics. Uncertain of their standing in court and fearing for their lives, Rosalind and Orlando are forced into exile in the Forest of Arden, only to become entangled in a beguiling game of love, lust, and mistaken identity.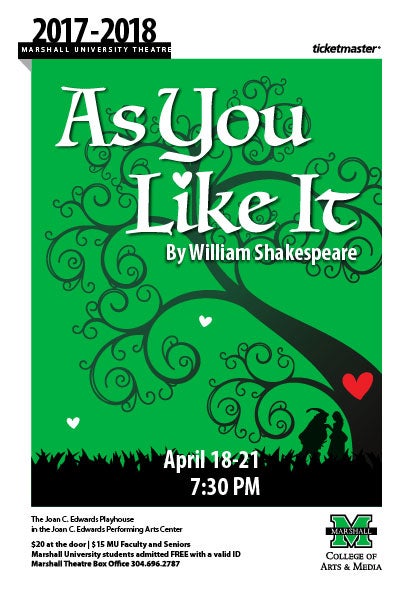 ---
Single Show Tickets:
| | |
| --- | --- |
| Main stage general admission | $20 |
| Main stage faculty / senior | $15 |
| Children five to twelve | $7 |
Free to full-time Marshall students with valid ID.
Season Tickets:
| | | |
| --- | --- | --- |
| Mainstage Season Ticket | $80 | (Save $20) |
| Faculty and Seniors | $60 | (Save $15) |
Includes 4 season productions AND Huntington Dance Theatre's production of THE NUTCRACKER plus complimentary parking in the new MU parking facility adjacent to the theatre. Discounted season tickets are available for the remainder of the season.
To purchase season tickets, please call the box office at 304-696-ARTS (2787)
---
 Venue:
All shows take place in the Joan C. Edwards Performing Arts Center.