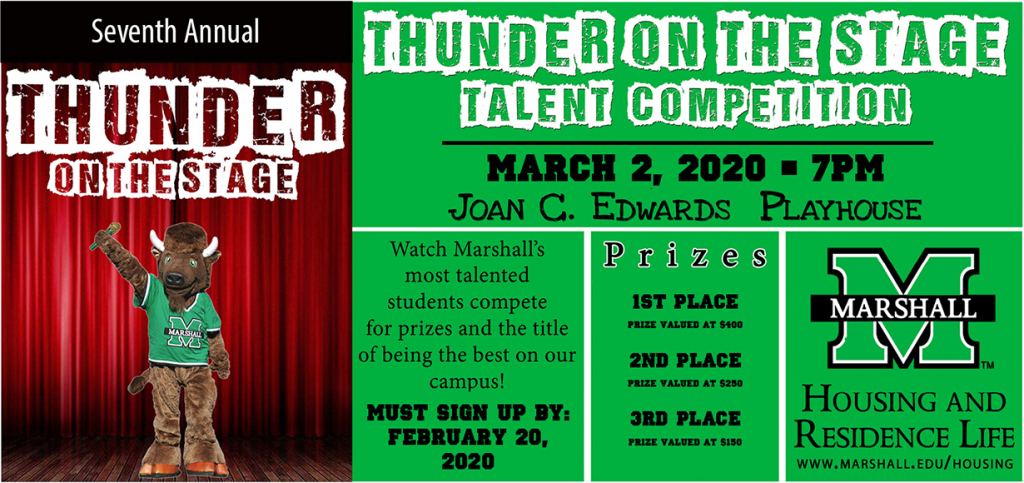 Marshall Housing and Residence Life is hosting Thunder on the Stage, the 7th annual showcase of Marshall's most talented students!
Event Information
Thunder on the Stage will take place Monday, March 2nd, 2020 at 7:00pm (Doors open at 6:30pm) at the Joan C. Edwards Playhouse located on 5th avenue between 17th and 18th Streets.
Attending the Event
Thunder on the Stage is open to the general public and there is no cost for admission.
Want to be a Performer?
We are looking for students with a variety of talents, any Marshall University student is eligible to sign up for consideration through the green link at the bottom of the page. A member of the host committee will contact you to discuss your participation in the event. The event is open for registration until February 20th at noon.
If I Perform, What Equipment Will be Provided?
The host committee in conjunction with the Edwards Playhouse staff will work with the performers to ensure we can provide whatever equipment is needed or to make arrangement for the performer to bring in the equipment prior to the event.
If I Perform, What Can I Win?
Prizes will be awarded to the 1st, 2nd, and 3rd place acts. Prizes will be valued at:
1st Place – $400
2nd Place – $250
3rd Place – $150
Interested in Performing?
For more information please contact Michaela Bishop bishopmi@marshall.edu