The Board of Directors shall act in an advisory capacity to Marshall University regarding the Program and its operations and support. Included in these duties are the election of officers and the approval of the annual budget; to assist Marshall University and the Marshall University Foundation in furthering the advancement of the Program and in maintaining its educational quality; and to encourage potential donors in providing support for the Program and Marshall University. Members of the Board of Directors will be expected to contribute financially and to perform such assignments as the Board of Directors may deem appropriate to further the objectives of the Program.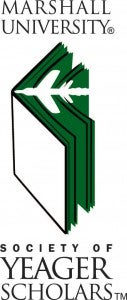 Officers
Rex Johnson
President
Martha Hill
Secretary
John K. Kinzer
Treasurer
Members
Barbara Moses Atkins
Bill Bissett
Barry Burgess
Rebecca K. Cheney
Anthony G. Crutchfield
J. David Daniels
Julie DeTemple
G. Kurt Dettinger
Jamie Dickenson
Jack Eblin
Tony Fenno
Donald D. Ferguson
Laura Greer
Carol Hill
Martha Hill
Rex Johnson
Jessica Kennedy
John K. Kinzer
Kheng McGuire
Victoria M. Neighborgall
Matthew M. Powers
Paula George Tompkins
Harry K. Tweel
Greg White
Tamela J. White
Martha Woodward
Ex Officio
Jerry Gilbert, Marshall University President
Gayle Ormiston, Marshall University Provost
Ronald G. Area, Chief Executive Officer of Marshall University Foundation, Inc.
James C. Justice, Jr., Governor, State of West Virginia
Nicki LoCascio, Dean, Honors College
Honorary
Brigadier General (Retired) Charles E. "Chuck" Yeager
John R. Hall
Tim Haymaker
Major General (Retired) Albin Wheeler
William E. Willis