Academics
The academic program provided each Yeager Scholar is rigorous and demanding. The program consists of a number of elements:
A core of four interdisciplinary seminars.
The development of proficiency in a foreign language.
Additional courses in the natural/physical and social sciences and in literature to round out the core curriculum of a Scholar's program.
In-depth study in a major or majors selected from those offered by the University.
Independent study, guided by a mentor professor, leading to a senior project.
Summer study at Oxford University.
Support for an additional study abroad experience or (with permission) an approved internship/research experience involving academic credit.
Community mentorships appropriate to the Scholar's major, in government, business, industry or education.
The core curriculum is designed to assist each Yeager Scholar in developing skills in analysis, synthesis and critical thinking. Each scholar will be expected to demonstrate superior skills in written and oral communication. In order to remain in the Yeager Scholar's program, each student must maintain a cumulative grade point average of 3.50.
International Study
An important component of the Yeager Scholars Program is the opportunity to learn about and experience life beyond the shores of the United States. Scholars attend a summer program at Oxford University in an educational environment that tests their abilities as thinkers and writers. Here they also have the chance to expand their knowledge about the United Kingdom and the European Community
The Yeager Scholar is also encouraged to gain an international perspective through the acquisition of a proficiency in a foreign language, followed by an opportunity to study at a foreign university. It is vitally important for the successful professional of tomorrow to be able to communicate with people who speak another language, andf Yeager Scholars are encouraged to experienceanother culture first hand.
Leadership
The academic core is only one part of the Yeager program that is designed to assist the Scholars in attaining their potential as leaders of tomorrow. A variety of enrichment opportunities has been created that have long-lasting value for each Scholar.
Each Yeager Scholar is expected to develop leadership skills that will be a life-long asset. Participation in a variety of campus organizations and activities is a part of each Scholar's contribution to the University during his or her time on the campus. Scholars have already established a strong presence in many campus organizations ranging from student government to fraternities and sororities to campus honoraries in particular disciplines.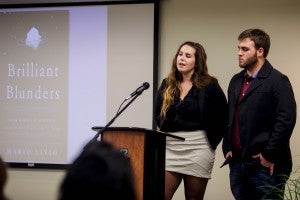 Yeager Scholars are encouraged, and have been active, in forensics, both debate and individual events, University Theatre productions, and WMUL-FM radio as a means of sharpening skills in communication. Written communication skills have not been neglected as Yeager Scholars have written for the student newspaper, The Parthenon, and won the honors categories of the Maier Awards, given annually for outstanding student work.
Strong emphasis is placed on the development of an awareness of the cultural heritage of the United States and the rest of the world. For that reason, Yeager Scholars are expected to take advantage of the cultural opportunities offered by by the University Artists Series, the annual Yeager Symposium, as well as the wide variety of University sponsored events open to all students. The opportunity to broaden their knowledge of the world through travel at home, as well as through travel abroad, is also a part of the Yeager program. Trips in the United States are arranged to enable the Scholars to visit historic sites, museums, businesses and industries, and scientific and research centers, to enhance and build upon work done in the classroom.