Directors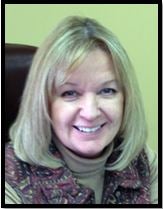 (304)696-6316
Painter@marshall.edu
Myers Hall Room 158, Marshall University Main Campus
Debbie Painter assumed the position of Interim Director of the H.E.L.P. Center on January 26, 2013. A part of H.E.L.P. since January 1991 when she began as a graduate assistant while obtaining her Master's Degree in Learning Disabilities, she was most recently Assistant Director/ Coordinator of Diagnostics. H.E.L.P. is fortunate that a person of Mrs. Painter's caliber agreed to fill this position. Her twenty-two years of experience is invaluable in directing the H.E.L.P. Center.
Mrs. Painter is enthusiastic and passionate about H.E.L.P., and she is dedicated to empowering students with Specific Learning Disabilities and/or Attention Deficit Hyperactivity Disorder to reach their full potential. She has touched countless lives through the years and will continue to do so as the program moves forward.
Married to Charles Painter, they are the parents of two adult children, Scott Painter and Courtney Urbach. Mrs. Painter's interests include reading, gardening, and traveling (especially to Colorado to visit their only grandchild, Cassidy Urbach).
Mrs. Painter says that she looks forward to leading the H.E.L.P. team during this time of transition.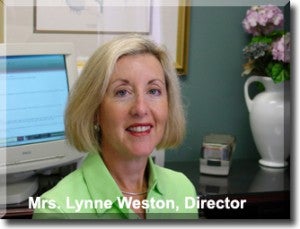 (304)696-7085
weston@marshall.edu
Myers Hall Room 158, Marshall University Main Campus
The tradition of excellence continued as Lynne Weston became the new Director of the H.E.L.P. Center, August 1st, 2005 until July 31st, 2012.  Mrs. Weston took over the leadership of H.E.L.P. with her own vision, as it grew to meet the challenges of  higher education for learning disabled students in the 21st century. She received her undergraduate degree in Special Education and Elementary Education from Marshall University. Her Master's Degree in Education was obtained from the the University of North Carolina at Charlotte. She later became certified in Learning Disabilities at Marshall University. She holds an Ed.S degree in Leadership Studies / Higher Education Administration. She has taught many grades in the public schools system but loves working most with college students.
Mrs. Weston has been a part of the Marshall University H.E.L.P. Program for the past twenty five years. She has seen the program grow from seventy students to two hundred students. She has great admiration for students in H.E.L.P. and feels grateful to be a part of the growth and excitement of such an outstanding program. She is married to Rick Weston. They have two sons. The oldest son recently received his PhD. in Neuroscience and the youngest is an attorney in Huntington, WV.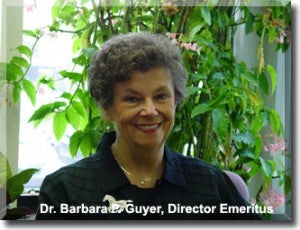 Dr. Barbara Priddy Guyer is the Director Emeritus of the H.E.L.P. Program. She received her B.S. degree from Virginia Commonwealth University in Education, a Master's degree from Ohio State University in School Administration, a Master's degree in School Psychology from the College of Graduate Studies of Marshall University, and a doctorate in Learning Disabilities/Educational Administration from the University of Virginia.
Dr. Guyer taught grades 2-6, remedial reading in a women's prison and was a principal of several schools including two Learning Disabilities Centers in Richmond, Virginia, which she organized. She began the H.E.L.P. Center in 1981 after she tested a particularly bright young man who had failed in college four times. H.E.L.P. has grown from 3 students with 2 employees to 200 students with 10 full-time employees and 50 part-time employees.
The greatest joy of her life has been working with college students and seeing them succeed. "The joy that one sees in their eyes or the excitement in their voices is a reward like none other. When H.E.L.P. students begin to believe in themselves and see that there is hope for the future, life begins to take on new meaning."
Dr, Guyer retired as Director of H.E.L.P. as of August 1st, 2005 but will continue to be an integral part of the program. She will continue to work with Medical H.E.L.P., continue to work in fundraising, and to represent H.E.L.P. at conferences.
She is married to Ken Guyer and they have two daughters. Both have a Learning Disability and one has ADHD. Her daughters have proven that academic success is possible. One is a physician and the other is an attorney.