Welcome, #MarshallUFamilies!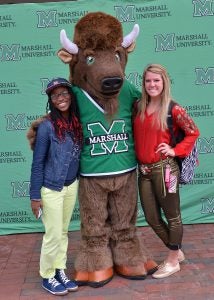 Every new semester, Marshall University undergoes a transition with the arrival of new sons and daughters. We are by your side as the Marshall community grows and changes in exciting new ways. Parent and Family Services can assist you and guide you through the resources and administrative processes of the university. Think of us when you have any questions about campus, housing, student organizations, or anything concerning your role in your student's college success.
Be sure to check back here for exciting updates, featured college articles and more from Marshall University's Office of Parent and Family Services!
---
Parent and Family Weekend!
***Registration now closed***

We have reached a cap we never thought we needed and that is great news! Your response to Parent and Family Weekend has created a magnificent problem: We're running out of room. Unfortunately, for the first time ever, we are imposing a registration deadline for Friday, September 13th at 5:00pm. We are sorry for any inconvenience this may cause, but we have never had so many people register before. Again, it's a great problem to have.
We are excited to host this year and cannot wait to see you all here!
Remember: DEADLINE Friday, September 13th, 5:00 pm.

We will be doing things a bit differently this year for Parent and Family Weekend but I believe the changes we are making will make for a great time at Marshall University! We will not be hosting PFW along side Homecoming this year. Instead, Parents and Families will have their own weekend with a plethora (Three Amigos? Anyone?) of activities, events and, yes, even a great football game! This year, the Thundering Herd will be hosting the Cincinnati Bearcats. Click here to register now!
Benefits this year will include:
Welcome Reception (Sept. 27 4:3–6:30 pm)
Tailgate Party (Saturday Time TBA)
Game/Movie Night
Free shirts!
Discounted Football Tickets
Sunday Brunch
And MORE!
FOOTBALL TICKET INFORMATION: After registering for Parent and Family Weekend, you will receive a confirmation email within 24 to 48 hours with instructions on purchasing your football tickets.
All P&FW tickets will be for the same section of the stadium.
IMPORTANT! If you would like your student to sit with you during the game, you must purchase a ticket for them. Free student tickets are only for the student section.
New Marshall University Parents Facebook Group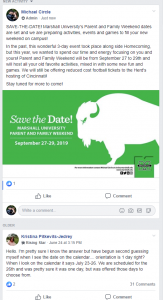 Marshall University Parent Programs would like to invite you to join our new parents group made just for you! We have recently removed the parent page because we wanted to give parents and families of the Herd a chance to not only get information but to communicate back! Here, you will meet hundreds of #MarshallUFamilies, connect with Sons and Daughters of Marshall in your own town and learn all there is to learn about Marshall University.
We will continue to update this website, but we will also share fun Collegiate Parent articles, informative reads about topics like Summer Preparation, First Semester Jitters and Final Year Logistics.
---
Parent Session Orientation Slide Show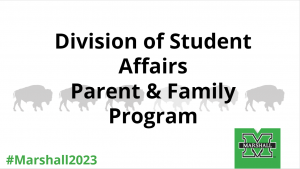 If you would like to review the information given during the 2019-20 Orientation Parent Session, please visit the link below. Our full slideshow is available, so check it out and always ask if you have any questions at all.
---
Parent and Family Newsletter

Would you like to stay up-to-date on the news around campus? Sign up for our Monthly Parent and Family Newsletter here!
With great stories on featured families, student resources and academic and athletic events, the Parent and Family Newsletter is a great way to stay in touch with your young adult's future alma mater.
---