Class of 2021: Get Ready for WOW!
August 15-18, 2017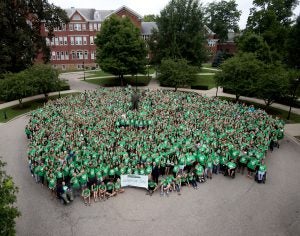 Mission of Week of Welcome and UNI 100 Freshman First Class
Week of Welcome is part of the First Year Experience at Marshall University. Week of Welcome serves as more than a class or program; it is an experience that is essential to the success of Marshall freshman students. It is a collaborative, introductory effort to welcome, educate, and socialize new students to the Marshall University campus, academic expectations, personnel, resources, and traditions during the first few weeks of the fall semester. Participants in Week of Welcome and UNI 100 will:
Understand what it means to be an accountable member of the Marshall University community
Identify and understand important academic and campus resources, procedures, and policies to create a successful Marshall experience
Explore essential technology that will aid in student success
Develop positive and influential relationships with university officials and peers
Marshall's Week of Welcome is an opportunity for freshmen to ease the transition into college and so much more! It's a time to find out what it means to be a student at Marshall University and get acquainted with campus before upperclassmen return. It's a time to learn how to take advantage of the academic and support services provided, meet new friends and HAVE FUN! 
An integral part of Week of Welcome (WOW) is UNI 100 Freshman First Class, an introduction to academic structures and expectations of college life. UNI 100 is literally the first class most freshmen will take at Marshall. Successful completion of the course earns one hour of elective credit. The course is made up of two parts: (1) attending large group and small class sessions during Week of Welcome, and (2) attending eight additional 50-minute class sessions, once per week in the first eight weeks of the semester.
Schedules for WOW 2017 will be available mid-summer. Check out sample schedules from 2016 below.

See you at WOW! Go Herd!
Questions? Contact us by calling (304) 696-3169 or emailing wow@marshall.edu.
Need IT help? Check out our new IT Student Guide!