High School Journalism Workshop, June 22-25, 2020
The W. Page Pitt School of Journalism and Mass Communications at Marshall University invites students in grades 9-12 to apply for admission to a program that will help them improve communication skills in a summer-camp setting, while preparing for college. Students will study writing for news and sports, film making, law of the press and social media, during four days and three nights of study and fun on the Huntington campus.
These valuable skills will be provided at no charge to students and their parents. The cost of instruction, housing and meals will be covered by the workshop program. Applicants should have overall grades of at least a B-minus and submit letters of application. Students should apply early because space is limited.
The workshop is scheduled for June 22-25, 2020. Apply by 5 p.m., May 30. Additional information is available at www.marshall.edu/wooddsonlyceum. Questions should be addressed to Professor Burnis Morris, workshop director, morrisb@marshall.edu
Deadline
Email applications by May 30 at 5 p.m.
Instructions for Application
All applications should be emailed as Microsoft Word or PDF attachments in 12-point type, to morrisb@marshall.edu. Follow these steps:
Write a letter of application indicating your interest in the workshop. There is no required length, but students should write enough to demonstrate potential as good communicators. The letter should state how the student would benefit from the workshop experience – such as improving writing, learning video skills, preparing for college or improving their high school media.
State your mailing address, cellphone number, home phone number, email address, name of your parent or guardian, phone number of your parent or guardian, name of your school and its address and your grade level. Please include all of these items.
Describe grades earned in school. The Selection Committee may request additional information, including a grade transcript.
State your experience writing and using video and social media.
State the kinds of jobs you've held and any volunteer work you've done.
List student organizations in which you've participated in school.
Discuss your maturity. Can you handle living in a college dormitory for four days?
It is not a requirement, but if you've published articles, videos or photographs please attach copies or include links for consideration.
Sate the best time and number to contact you to discuss this application. Include your e-mail address, home phone number and cell phone number.
Attach a letter of support from a teacher or other responsible adult who knows you well enough to recommend you for this program.
Sign and date your letter. If you are under 18 years old, please also have a parent or guardian sign and date your letter giving you permission to apply to the program.
Email your letter with attachment(s) to morrisb@marshall.edu.
2019 Dow Jones News Fund Workshop
June 23-28, 2019


Workshop students with counselors, workshop faculty, Steve Williams, mayor of Huntington, and Les Smith, editor of The Herald-Dispatch.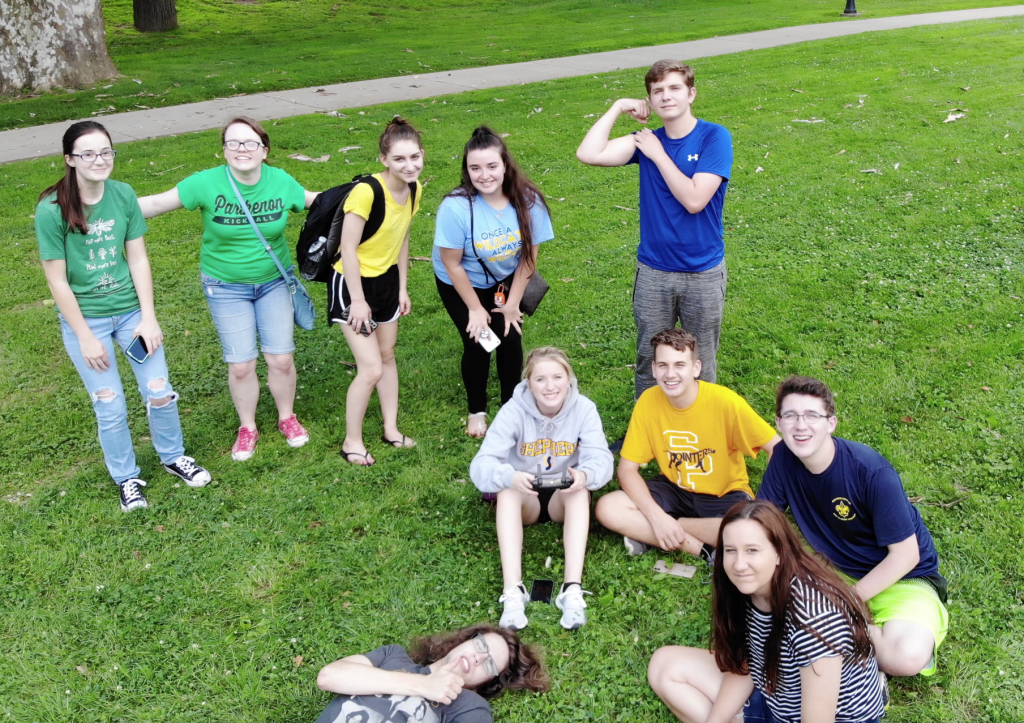 Workshop students take a selfie during a session on drone photography/videography.
Work produced by students during the Dow Jones News Fund Workshop

This short documentary is about person-first language, meaning, the individual involved before the condition in order to emphasize the human in the situation. Lyn O'Connell, Associate Director of Addiction Sciences at Marshall Health and the Joan C. Edwards School of Medicine, talks about the importance of using person-first language, especially when describing people involved in the opioid epidemic.
Film by: ELLIOTT BLACKWOOD AND JOEY DOSS
HER Story Before HER Place is a short documentary about Nicki May, a resident at HER Place. HER Place is a women's substance use recovery outreach center in Huntington, West Virginia. Nicki takes us through her story and what HER Place means for her and her recovery.
Film by: KALEA FLEMING, ESTELLE BALSIROW AND ADDIE BACKEL
PROACT (Provider Response Organization for Addiction Care & Treatment) is a new recovery center located in Huntington, West Virginia. It opened on October 1st, 2018. This short documentary follows Michael Haney, the director of PROACT, as he discusses what the facility offers toward the community effort of recovery.
Film by: EMMA JOHNSON AND DREW FRYER
"Our Children, Their Future" is a short documentary about a program that helps mothers who are recovering from a substance abuse disorder. Janie Fuller- Phelps walks us through River Valley CARES and shows us how they help the children. Phelps speaks about all of things the community can help with. RV CARES is always willing to take donations and sponsors.
Film by: EMMA JOHNSON, MADISON AUSTIN AND MORGAN SHERWOOD
Angela Saunders, leader of the PEP program at United Way of the River Cities, began her journey with the organization 10 months ago. This documentary emphasizes her work with youth in the community to educate them about substance use prevention. She is adamant about the involvement of the community in helping to educate a new generation about the drug epidemic and sees children as the key to ending the opioid epidemic.
Film by: GABRIELLE JACKSON AND ALYSSA PEYTON
Recovery Point is a rehabilitation center in Huntington, West Virginia which offers 100 beds for men seeking treatment from substance use disorder. A former resident, Michael Robinette, is now the intake coordinator for Recovery Point Huntington. Recovered is a short documentary which follows Michael Robinette around the facility while learning about his struggles dealing with substance use disorder.
Film by: MADISON AUSTIN, HUNTER KIMMICK AND MORGAN SHERWOOD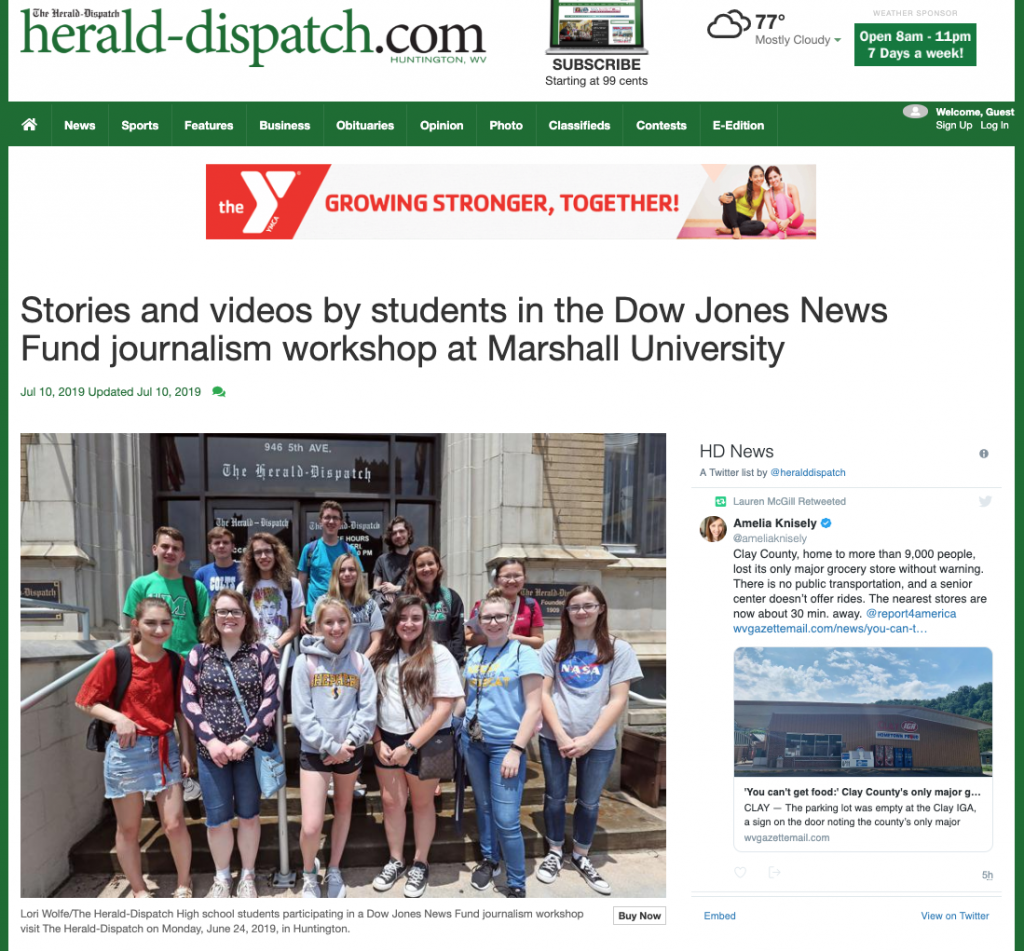 Diversity Statement
This statement affirms the W. Page Pitt School of Journalism and Mass Communications' commitment to an environment of teaching and learning, which recognizes and welcomes diversity of race, color, culture, sex, sexual orientation, age, religion, national origin, marital status and economic, political and ethnic backgrounds. Consistent with Marshall University's dedication to this principle, the School of Journalism and Mass Communications is committed to developing the potential of all students by creating and maintaining an environment that promotes and fosters understanding in a multicultural, global community. The dean and faculty believe that a diverse faculty, staff and student population value differences and similarities among people and supports the mission of the organization.
Burnis R. Morris
Carter G. Woodson Professor of Journalism and Mass Communications
Marshall University
304-696-4635 voice