The 2021 Teacher's Institute for Black History
June 19 – 23, 2021
This Institute for Black History Instruction is a graduate humanities course that provides a stipend and tuition-free credits to teachers who successfully complete the course. The 2021 institute is The Lyceum's fourth such program in support of teacher education, following previous institutes in 2017, 2019 and 2020 – all conducted with major grants from the West Virginia Humanities Council.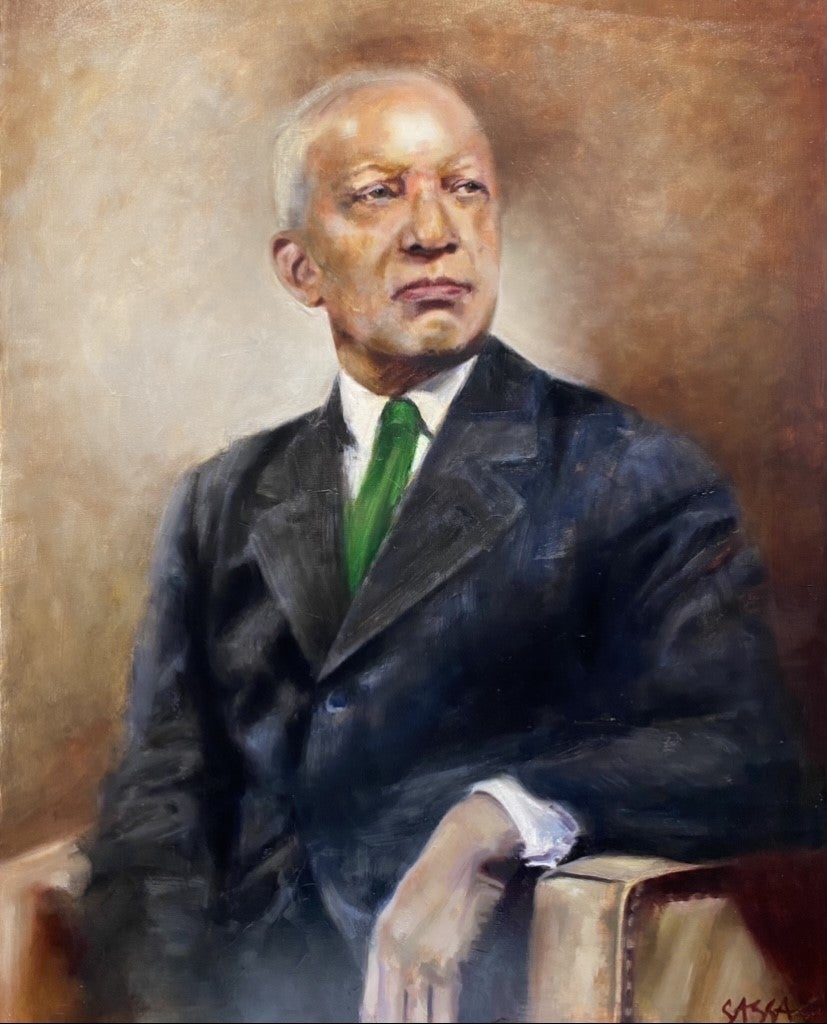 2021 Black History Month Events
4 p.m. Feb. 1– Unveiling a new portrait of Dr. Carter G. Woodson. The artist, Sassa Wilkes, is a Marshall graduate. Jack Houvouras, editor of Huntington Quarterly, will unveil his magazine cover with Woodson. Huntington Mayor Steve Williams will read the 2021 Black History proclamation. Sylvia Cyrus, executive director of the Association for the Study of African American Life and History, will provide remarks and react to the portrait. Ms. Cyrus' organization was founded by Dr. Woodson in 1915 (as the Association for the Study of Negro Life and History), and she holds his title. Co-sponsor – Huntington Tri-State Branch, Association for the Study of African American Life and History. Link to this virtual event:  https://tinyurl.com/lyceum2121
2021 Black History Month Opening Celebration Program
4 p.m. Feb. 3 – Presentation by Angela Dodson, a member of Marshall's Journalism Hall of Fame and the first Black journalist to edit a section of The New York Times. She will read from her book, "Remember the Ladies," and discuss her lifelong ties to Huntington. Three copies of Ms. Dodson's book will be given away during the program Dr. Gayle Brazeau, dean of the School of Pharmacy and donor of the books, will read her favorite Maya Angelou poem. The School of Pharmacy is co-sponsoring this event, courtesy of Gayle and Daniel Brazeau. Also co-sponsoring is Huntington Tri-State Branch, Association for the Study of African American Life and History. Link to this virtual event:  https://tinyurl.com/lyceum2321
2021 Black History Month with Angela Dodson Program
Angela Dodson presentation video
4 p.m. Feb. 10 – "Disparities in Health Care During the Pandemic," with Jill Upson, chair of the West Virginia COVID-19 Advisory Commission on African American Disparities and executive director of the Herbert Henderson Office of Minority Affairs; Dr. Joseph Shapiro, dean of Marshal University's Joan C. Edwards School of Medicine; Dr. Lauri Andress, West Virginia University School of Public Health; Dr. Leonard White, Marshall University's Joan C. Edwards School of Medicine. Dr. Andress will discuss infant mortality disparities in West Virginia, Dr. White will urge African Americans to get the vaccine, and Huntington Mayor Steve Williams will give remarks about how Dr. White saved his life. Co-sponsor – Huntington Tri-State Branch, Association for the Study of African American Life and History.  Link to this virtual event: https://tinyurl.com/lyceum21021
Disparities in Health Care During the Pandemic Program
6 p.m. Feb. 26 – Winners of the Annual Black History Month Essay Competition will be announced during a program co-sponsored by The National PanHellenic Council on behalf of the Office of Fraternity & Sorority Life, the Psi Beta Beta Chapter of Omega Psi Phi Fraternity Inc. and The Dr. Carter G. Woodson Lyceum. The link to the event will be available soon on the NPHC Herdlink Page https://herdlink.marshall.edu/organization/nphc. For additional information, contact  Cunningha189@marshall.edu.
June 19-23 – With funding from West Virginia Humanities Council, The Dr. Carter G. Woodson Lyceum is offering a Black History Institute for all K-12 teachers, especially those who teach art, English, literature, history and social studies. Teachers selected for the program will receive $500 stipends, and they may receive three graduate professional development credits with paid tuition. This is The Lyceum's fourth institute since 2017. Deadline: by 5 p.m. March 31, 2021. Contact Professor Burnis Morris, morrisb@marshall.edu, or apply online at  https://marshall.az1.qualtrics.com/jfe/form/SV_1FTTHmaZiBcSW2O
Marshall receives grant for Black History Institute, announces winners of 2021 Black History Poster Contest
The Dr. Carter G. Woodson Lyceum at Marshall University announced a major grant from West Virginia Humanities Council supporting its summer Black History Institute, as well as winners of the 2021 Black History Competition. The Lyceum also previewed short documentaries by local filmmakers and announced upcoming events involving commemoration of the 95th annual salute to African Americans in history.
The grant from the West Virginia Humanities Council will support K-12 teachers who will study history and how to better integrate Black history within their lessons. The award covers three hours of graduate credit and provides teachers with $500 stipends.
This summer's Black History Institute will be the fourth such program since 2017 at Marshall University and is scheduled for June 19-23, 2021. Tentative plans include travel to historic sites; however, the pandemic may require virtual presentations if travel remains unsafe in June.
The program also is made possible through support from Glenwood Foundation and other Woodson Lyceum resources, including Marshall University's College of Arts and Media, College of Education and Professional Development, Intercultural Affairs, W. Page Pitt School of Journalism and Mass Communications and West Virginia's Herbert Henderson Office of Minority Affairs.
The deadline for applications is by 5 p.m. on March 31. Instructions for applicants will be available by mid-February. In the meantime, teachers with questions should feel free to contact Professor Morris at morrisb@marshall.edu. Applications can be submitted to:  https://marshall.az1.qualtrics.com/jfe/form/SV_1FTTHmaZiBcSW2O.
Also celebrating Black History is the annual Black History Poster contest, sponsored by the Dr. Carter G. Woodson Lyceum. The 2021 Poster Competition winners are:
Marshall University winners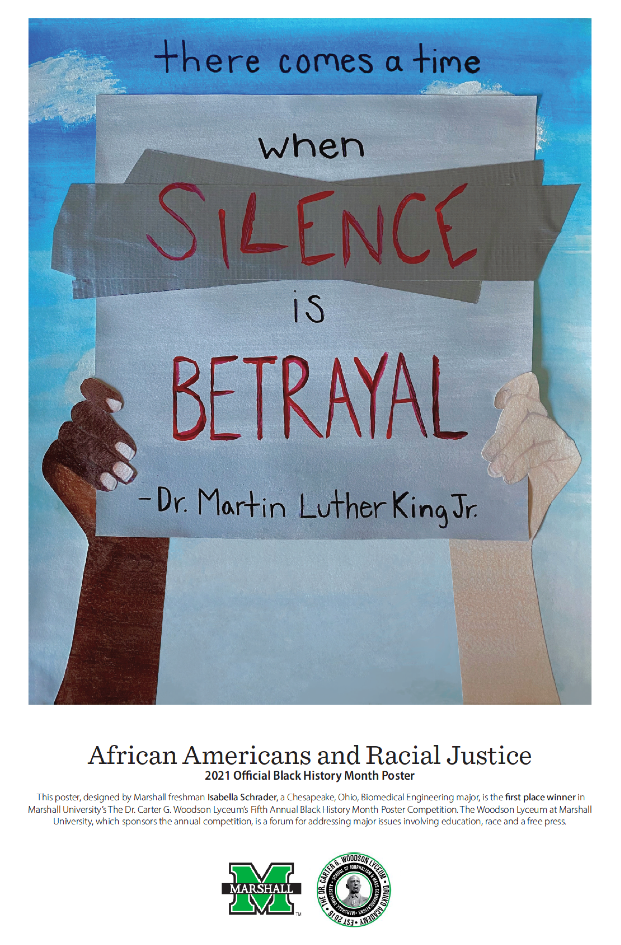 1st Place: Isabella Schrader, freshman, Biological Engineering, from Chesapeake, Ohio
"For my poster, I decided to portray two separate individuals, holding up a poster in protest," Schrader said. "As you can see, the two people are of different races, symbolizing that everyone must work together for any progress to be made regarding racial justice. I used a quote from Dr. Martin Luther King Jr., because his words greatly resonate with the overarching theme of the project, as well as current events surrounding racism. The words also added to the effect of the protest sign, as part of it appears to be directly written on the sign. The tape over silence is meant to show that if people are being silent, they are doing damage and the tape must be removed in order for real change to be accomplished. The sky behind the poster and hands is bright blue and has white, puffy clouds to show that even if a day is 'calm' or 'nice,' the fight is not over, and we must continue to take action. Overall, I wanted this poster to show that racial justice is essential to a better society, and we will only achieve this goal if people are united."
2nd Place: Shawna Lockard, freshman, Biology Major, Minor in Chemistry, from Kermit, West Virginia
"No one knows a single right way to go about combatting the systematic institution of racism," Lockard said. "However, there is a wrong action- no action at all. No matter what you are able to do to assume the role of an antiracist or what resources you have to go about fighting for true equality, the important part is that you do something. You break away from the shackles of indifference and inaction that keeps you bound and raise your fist to join the movement. I've learned that if a group of Americans are being mistreated, it is a problem for ALL Americans and demands immediate action. For this poster, I used only acrylic paint and white ink."
3rd Place: Tyler Hebert, freshman, Civil Engineering with a minor in Chemistry, from Huntington
"As a white individual, I felt it was necessary to focus primarily on African American college students and specifically a female African American Marshall student rather than focusing on ideals that didn't directly impact Marshall students," Hebert said. "My model is a freshman student who I met and became close friends with during my first semester at Marshall. Utilizing her in my poster was a way to convey her troubles, experiences, and overall opinions on how to showcase and improve racial justice. My concept is to show that racial injustice is an ongoing issue and will continue to persist no matter what happens, linking directly to the historical quote located in my poster, 'You can kill a man, but you can't kill an idea,' by Medgar Evers. With continual abuse and neglect of African Americans through our country and government, the cause is gaining more traction and attention now due to the exposure of people to the issue. My poster is intended to draw your attention and be impactful in that this fight for racial equality will not be silenced, hitting to the metaphor of the women ripping the tape off her face which has 'silence' written on it."
Elementary School winner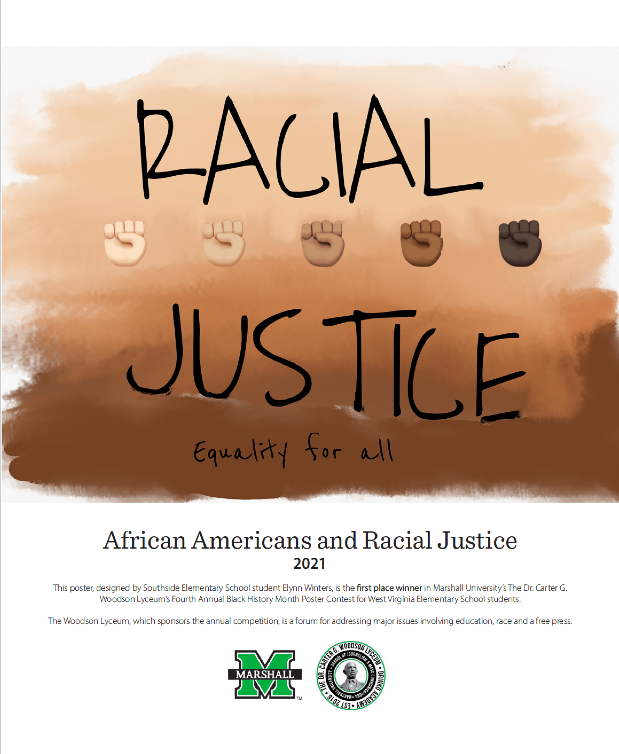 1st Place: Elynn Winters, 5th Grade, Southside Elementary School, Teacher Courtney Arnold
This poster is commended for its forthright representation of the "Racial Justice" theme; clarity of message; color scheme; and also for use of technology in the creation of the design. The use of emojis situates this as a youthful entry of these times.
"My poster is about supporting equal rights for people of color," Elynn said. "I put equality for all at the bottom because everyone needs to take that in."
Middle School winner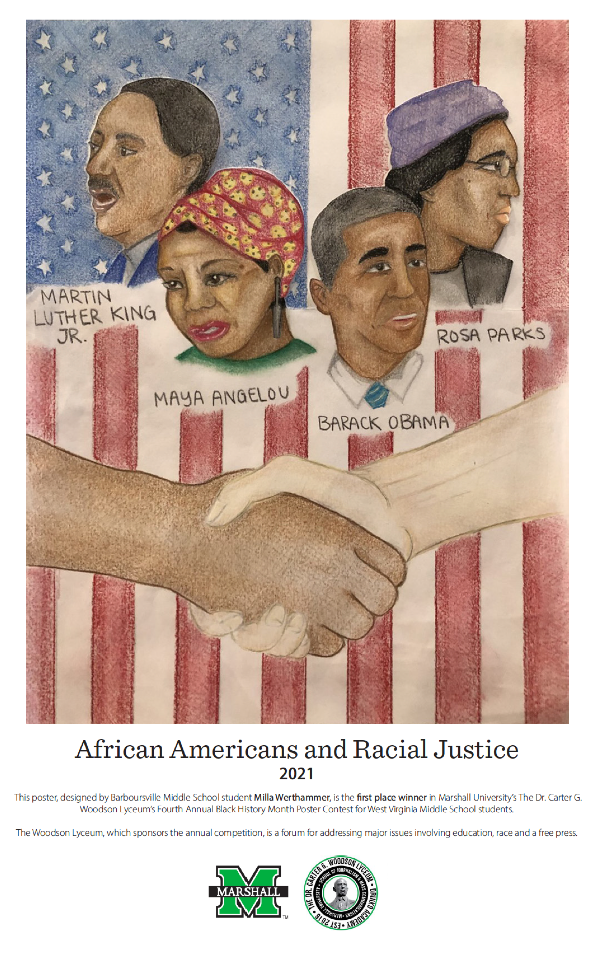 1st Place: Milla Werthammer, 8th Grade, Barboursville Middle School, Teacher Molly Fisher
Commended for color, subtle skin tones, scale shift from hands to portraits, and featuring both prominent African American men and women.
"While preparing my submission for this contest, I learned many facts about black history and was inspired by the four most influential African American leaders," Mill said. "I chose to illustrate Martin Luther King Jr., Rosa Parks, Maya Angelou, and Barack Obama because they fundamentally helped shape the world in which we live today."
High School winners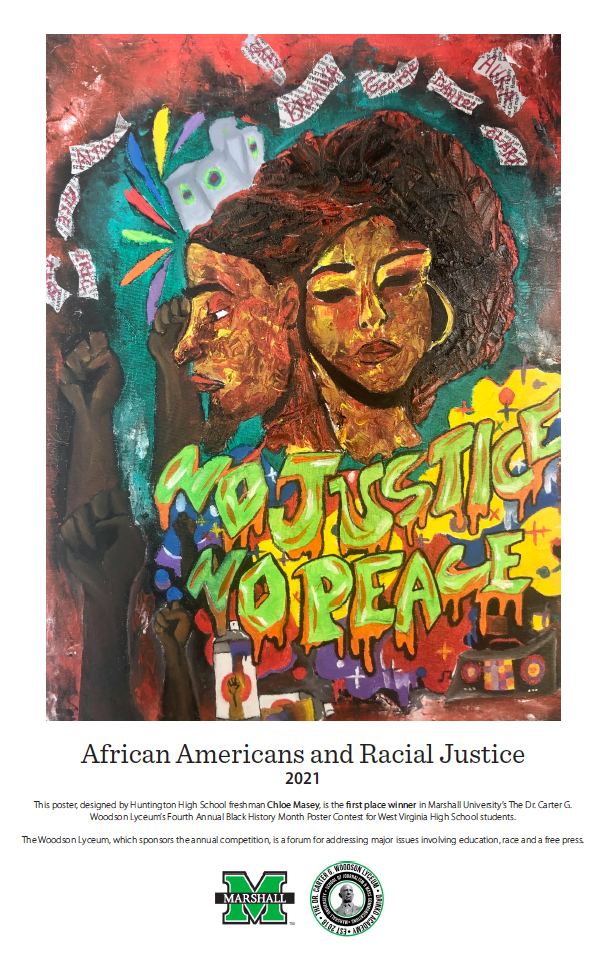 1st Place: Chloe Massey, 9th Grade, Huntington High School, Teacher Anthony Loveday
Commended for powerful expression of the 2021 theme, the honoring of those who have died recently in police custody, and a moving use of color, paint, word, and image. All areas of this ambitious poster were filled with meaning, with supporting subject matter positioned around the central focus on two African Americans. The original typography of "No Justice, No Peace" is exceptional – bold, dimensional, emotional. This entry is both a successful poster design and a work of fine art.
"I learned that race-based inequality is a major issue in the world we know today," Chloe said. "I learned that I can push my artistic skills and make a beautiful piece of art that means something and could help someone. I painted this painting to show that no matter where you came from, no matter your skin tone, religion, or culture you can make a change and stand together to make a world a better place. I'm so happy that I got the chance to make this because I never knew I was capable of making something so powerful. This piece made me realize that I have a place in this world and it's to help other people. So that hopefully they can help others and the world can be the way it should be. Equal."
2nd Place: Alexandria Lindberg, 12th Grade, Huntington High School, Teacher Diana Frazier
The light-hearted and appealing color scheme and decorative border effectively draw
viewers to notice that this is in fact an image of protest and proclaims ideals of racial
justice.
"I demonstrated the history of protests in my submission, as well as emphasizing meaningful quotes that showcase the emotions of those who demanded equal rights," Alexandria said. "Dr. Woodson pushed for recognition of black history in schools, this contribution has developed into an entire month of awareness and appreciation of those who fought and continue to fight for equal rights. Especially now and within the past few months, the recognition of the current problems African Americans are currently facing has opened up more attention towards the importance of voting for change."
3rd Place-Tie: Kyleigh Hoey, 11th Grade, Huntington High School, Teacher Diana Frazier
This entry takes an original approach to the use of the fist as a universal symbol of
protest. The text on the fist is well chosen for the theme and also relate well to the forms of the hand. The collaged, photographic images in the space around the fist are diverse in subject, scale, and source, and link contemporary and historical times.
"I was inspired by Carter G. Woodson's education and teaching career and feel an even greater connection to his inspiring story given our shared experience of growing up in Huntington," Kyleigh said. "My poster includes a central Black Lives Matter fist to represent the ongoing struggle African Americans to achieve full equity and justice in this country. In white are the words of Carter G. Woodson and the title of my poster. Along the edges are pictures torn out of old National Geographic magazines that date to the 60s and are intended to symbolize something of this continuing struggle and elements of black history. The more prominent photos are of Woodson and important symbols of his past."
3rd Place-Tie: Nicole LeGrow, 12th Grade, Huntington High School, Teacher Anthony Loveday
This image is bold and yet it also rewards the careful viewer. The tear, the draped chain around neck and shoulders, and the American flag covering the mouth combine to create a notable sense of pathos. The choice to present a woman relates well to the role of women in founding the Black Lives Matter movement.
"I chose to incorporate specific symbols like the chains around her body and the American flag taped over her mouth to spotlight how we silence and ignore the issues on race inequality because as white people we feel like in does not pertain to us," Nicole said. "In reality black people must deal with systematic racism and discrimination every day which effects an entire class of people and if we stay silent about racial inequality, nothing will ever change. I also chose to add newspaper to the background to symbolize how Black Lives Matter is negatively portrayed in the media and how racial issues are almost never covered or given the positive attention that it so desperately needs to show the world that racism is still happening and yes it is up to us the fix it."
2020 Teachers Institute on Black History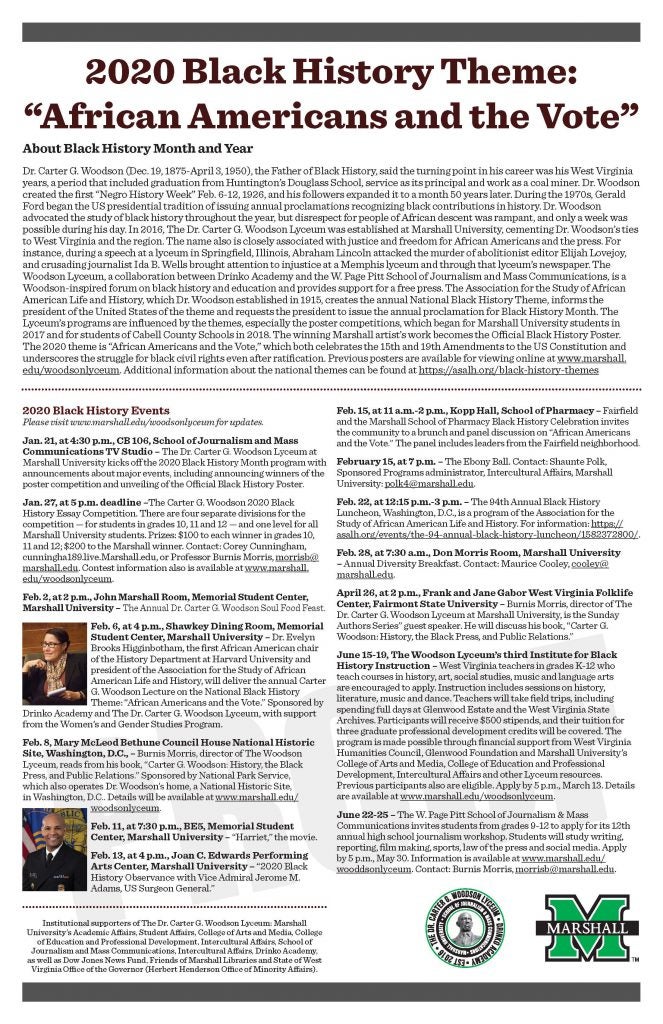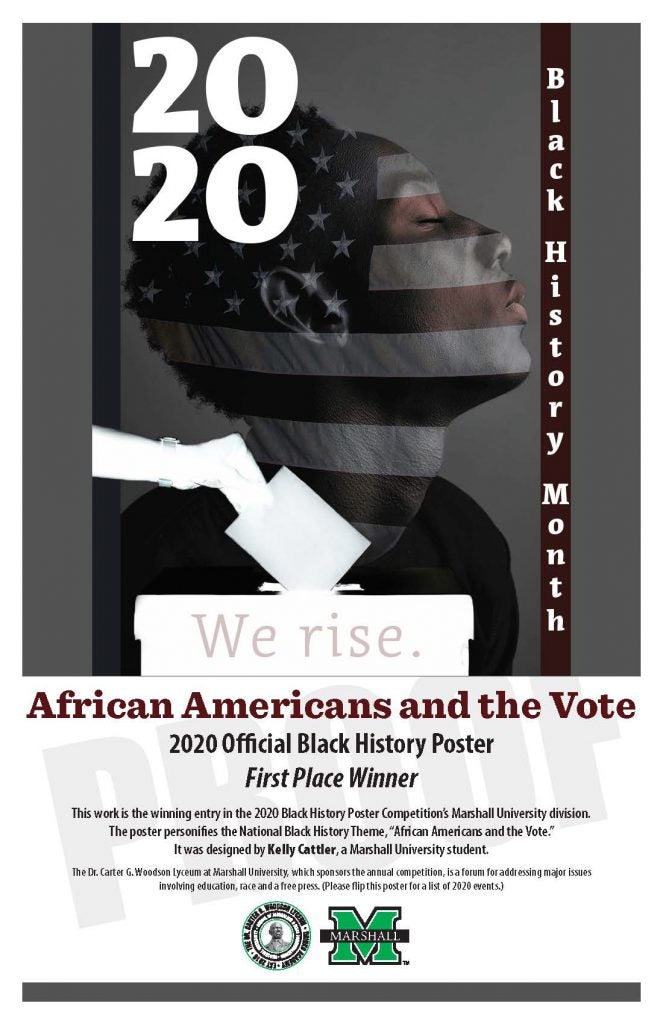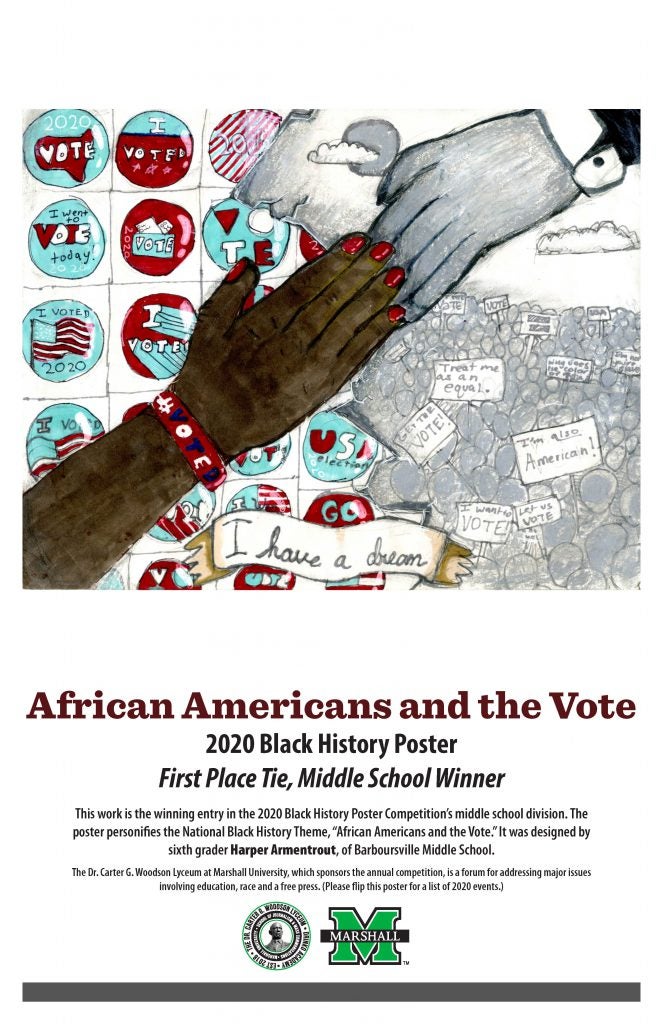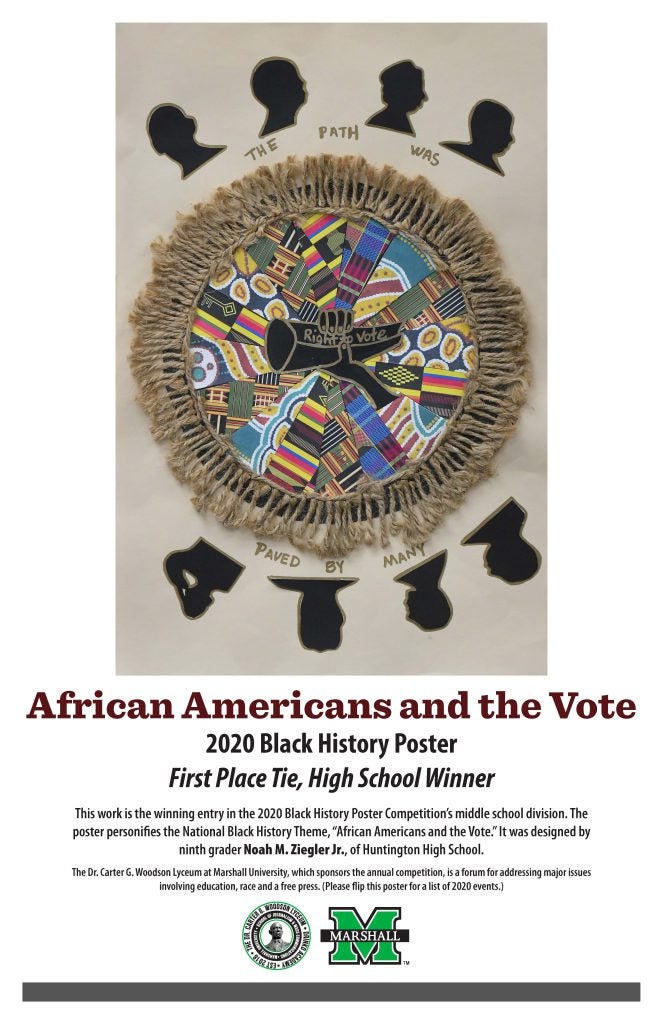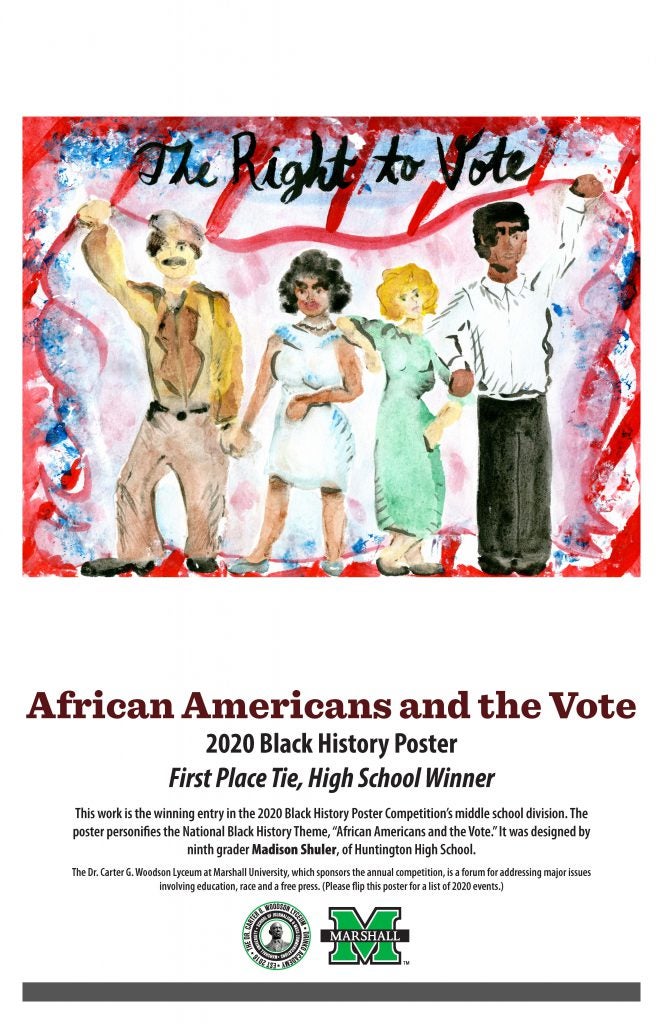 Burnis R. Morris: Woodson's black history blueprint laid out ideals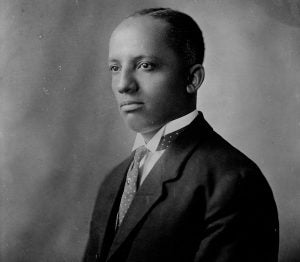 The Lyceum is named in honor of Woodson (1875-1950), one of the leading educators of the 20th century, a former West Virginia coal miner and a former resident of Huntington, where he graduated from high school in 1896 and served as the school's principal from 1900 to 1903. Woodson was the second African American student to receive a Ph.D. in history at Harvard and the first person whose parents were former slaves to earn a doctorate in history from any institution. The lyceum's name also is inspired by Aristotle's lyceum, a school founded in 335 B.C. as a place for thinking and learning.
At Marshall, The Lyceum will reflect influences of Woodson and Aristotle – while addressing critical issues involving education, freedom of expression and race/ethnicity. The lyceum will support scholarships for minorities and disadvantaged students and encourage full participation of all groups and individuals seeking the American dream.
This website is supported as part of a 2016 grant from West Virginia Humanities Council to create a summer institute on black history instruction. The site extends the reach of the June 2017 institute to many students and teachers across the country who could not attend in person.