Your Voice, Our Actions, WE ARE… The Marshall SGA
Collectively, we promise to serve as the vehicle of the Marshall student body, to field its concerns, to provide students with real results, and to create programs and initiatives to enhance the collegiate experience here at Marshall University.
___________________________________________________
Senate Apprenticeship Program!
To our incoming, first semester freshmen, we want to offer you your first foray into the excitement of collegiate-level student government: the Senate Apprentice Program. Below are some common questions about the program. Further below is the application for the program.Contact Darby McCloud, Senate Apprenticeship Director at mccloud56@marshall.edu.
The Rogner/Williams Administration Enters Office
On May 5th, Stephanie Rogner & Anna Williams, took the Oath of Office for their new roles as the Student Body President and Student Body Vice President at President Gilbert's home. Both Stephanie & Anna, delivered inauguration speeches, outlining their goals for the university and their appreciation of their dedicated cabinet, advisors, and families.
SGA Attends the HEPC Leadership Conference 
In May 2019, the new administration attended the annual Jackson's Mill Leadership Conference. Our campus leaders were wonderful representatives of Marshall University and had the opportunity to attend leadership workshops and connect with campus leaders across the state.

What's New in SGA?
House of Representatives Meeting
President Hunter Barclay announced the creation of an executive committee titled "The House of Representatives," which will provide a platform for one representative from each officially recognized campus organization to discuss their organization's concerns and ideas for an improved student experience. The third meeting will be on Tuesday, March 19, at 5:30 in room 2W22 of the Memorial Student Center. A meal will be provided to accompany this informal House session.
Registration Visibility

President Hunter Barclay and Vice President Hannah Petracca worked with the College of Science's excellent administration to make most professors' names visible whenever students register for intro-level classes. Don't forget to register for spring semester classes.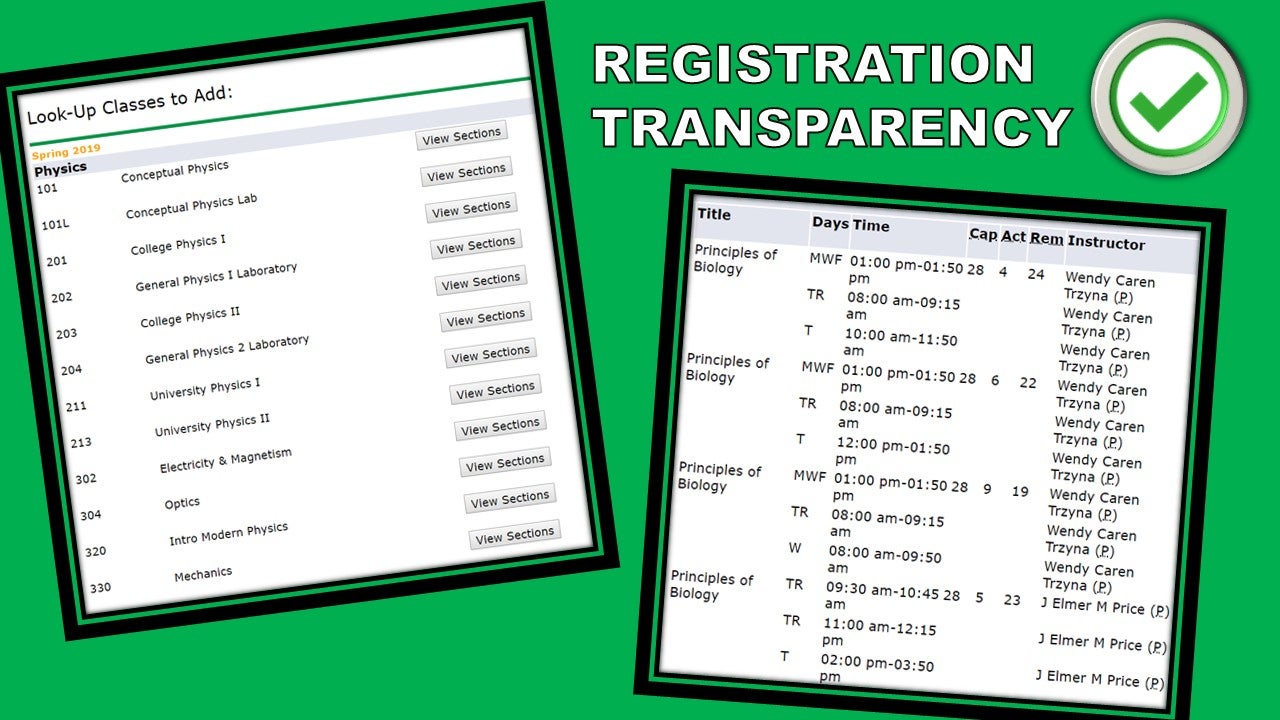 Barclay and Petracca Advocate for Affordable Educational Materials
Presenting professors with a menu of affordable options, President Hunter Barclay and Vice President Hannah Petracca have discussed strategies for adopting affordable educational materials with the Faculty Senate, Deans Councils, the College of Business faculty, and university administrators. Exciting Updates Coming Soon!
The Green Machine

Don't know where the Green Machine is? Click here to look up its location. Select Route-10 for times before 5pm and Route 10.1 for times after 5pm. The bus does not run on Sundays.