News Release News Archive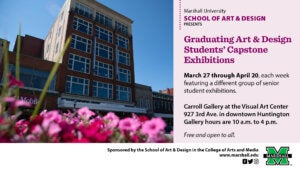 Marshall University's senior art students will have their capstone projects on display weekly, beginning on Monday, March 27, through Thursday, April 20.
Nearly two hundred people, including local high school students, university students and area lawyers attended a special oral argument session of the U.S. Court of Appeals for the Fourth Circuit at Marshall University today.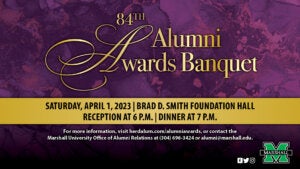 Marshall University and the Marshall University Alumni Association (MUAA) are set to host the 84th annual Alumni Awards Banquet Saturday, April 1, beginning at 6 p.m. with a reception followed by dinner and awards at 7 p.m. at the Brad D. Smith Foundation Hall. The Marshall University Alumni Awards Banquet recognizes outstanding alumni, university supporters
The Marshall University Board of Governors today approved personnel athletics contracts including a three-year extension for veteran men's basketball coach Dan D'Antoni.  
Fourth-year medical students from the Marshall University Joan C. Edwards School of Medicine found out today during the annual Match Day event where they will train for the next three to seven years. A total of 78 students from the Class of 2023 matched to residency programs, representing a 99% match rate for the class.
Marshall University will host a concert of British music by the Brass Band of the TriState at 7:30 p.m. Tuesday, March 21, in Smith Recital Hall. Among the pieces to be performed are Holst's Second Suite, Elgar's Nimrod, a movement from Handel's Water Music Suite and a brand-new tribute to the late Queen Elizabeth II.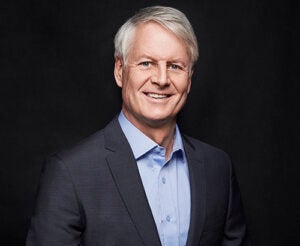 NIKE, Inc. President and Chief Executive Officer John Donahoe, a longtime leader in the global business world, has been selected as the keynote speaker for Marshall University's Spring 2023 Commencement.
Marshall University and its Joan C. Edwards School of Medicine selected eight high school seniors from across West Virginia as the newest class of students for the B.S./M.D. program.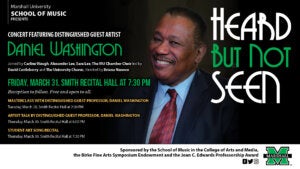 Guest artist Daniel Washington visits Marshall University this month to present a concert, "Heard But Not Seen — The African American Voice: A Musical Landscape," as well as teaching a master class and leading an artist talk. His visit is part of the Birke Fine Arts Symposium, a university-wide celebration of art featuring the theme
With the support of the U.S. Department of Health and Human Services' Office on Women's Health, the National Center on Domestic Violence, Trauma, and Mental Health will partner with agencies across the state, including the West Virginia Behavioral Health Workforce and Health Equity Training Center at Marshall University, to launch Weave West Virginia: Weaving Together Communities of Support for People Experiencing Substance Use and Domestic Violence.