Art News Archive
Marshall University's School of Art and Design will host a group art exhibition titled How Close is That to Richmond? curated by Gallery Director Courtney Chapman. It will be open June 12 through July 6 in the Charles W. and Norma C. Carroll Gallery, with a closing reception planned for 5 to 6:30 p.m. Thursday, July 6, that is free and open to all.
Researchers at Marshall University seek participants aged 55 or older for a new health study designed to examine the impact of visual art activities on the well-being of aging adults.
Marshall University Art Professor and Drinko Fellow Sandra Reed has a solo art exhibition on view in Room 119-A of Smith Hall, formerly the Birke Art Gallery. It will be open from 3 to 5 p.m. Wednesdays, May 3 and 10, and from 12:30 to 2:30 p.m. Fridays, May 5 and May 12.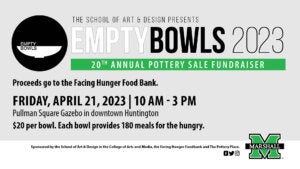 The Marshall University School of Art and Design will host its 20th Annual Empty Bowls pottery sale fundraiser from 10 a.m. to 3 p.m. Friday, April 21, in the gazebo at Pullman Square in downtown Huntington.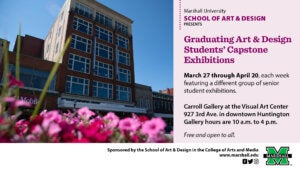 Marshall University's senior art students will have their capstone projects on display weekly, beginning on Monday, March 27, through Thursday, April 20.
Two faculty members from Marshall University's School of Art and Design, Associate Professor Hanna Kozlowski and Professor Sandra Reed, received grants from the West Virginia Department of Arts, Culture and History to support creative work and promote lifelong learning and healthy aging.
Marshall University's School of Art and Design will present its 12th Annual National Juried Exhibition, featuring works by artists from more than a dozen states and works of regional artists from West Virginia and Ohio.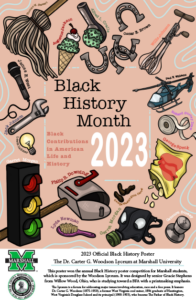 The Dr. Carter G. Woodson Lyceum at Marshall University kicked off Black History Month 2023 Tuesday, unveiling the 2023 Official Black History Poster and honoring the Marshall University and K-12 student winners of the Black History Poster Competition and their teachers.  The event featured keynote speaker Dr. Leonard White, physician, and associate dean for diversity at Marshall's Joan C. Edwards School of Medicine.
The School of Art and Design will present Simulacrum: How to Make Money (While Destroying Photographs), an exhibition of conceptual art made by artist and former School of Art and Design faculty member Ariel C. Wilson. The exhibition is one of the offerings of the Birke Fine Arts Symposium.
Marshall University Libraries and the School of Art and Design are presenting "Optimism in Appalachia: Reclaiming Hope through Artwork, Crafts, and Poetry," an exhibition that will be on display through May 5 in Drinko Library on the Huntington campus. An opening reception is planned for 4 p.m. Thursday, Feb. 2, in the Drinko Atrium. It